30th Street Station
30th Street Station, located in Philadelphia is another storied architectural railroad landmark that has thankfully stood the test of time and today continues to serve in its original capacity playing host to both commuter and intercity passenger trains from both Amtrak as well as the Southeastern Pennsylvania Transportation Authority (Amtrak). Built by the venerable Pennsylvania Railroad, which was also headquartered in Philadelphia, the station was situated along the railroad's very busy Northeast Corridor (NEC) and meant to replace an outdated building, Broad Street Station. 30th Street slightly resembles New York's majestic Pennsylvania Station not nearly as large or ornate. In any event, the station is one of the great's still standing seeing millions of passengers and commuters passing through its restored halls on an annual basis.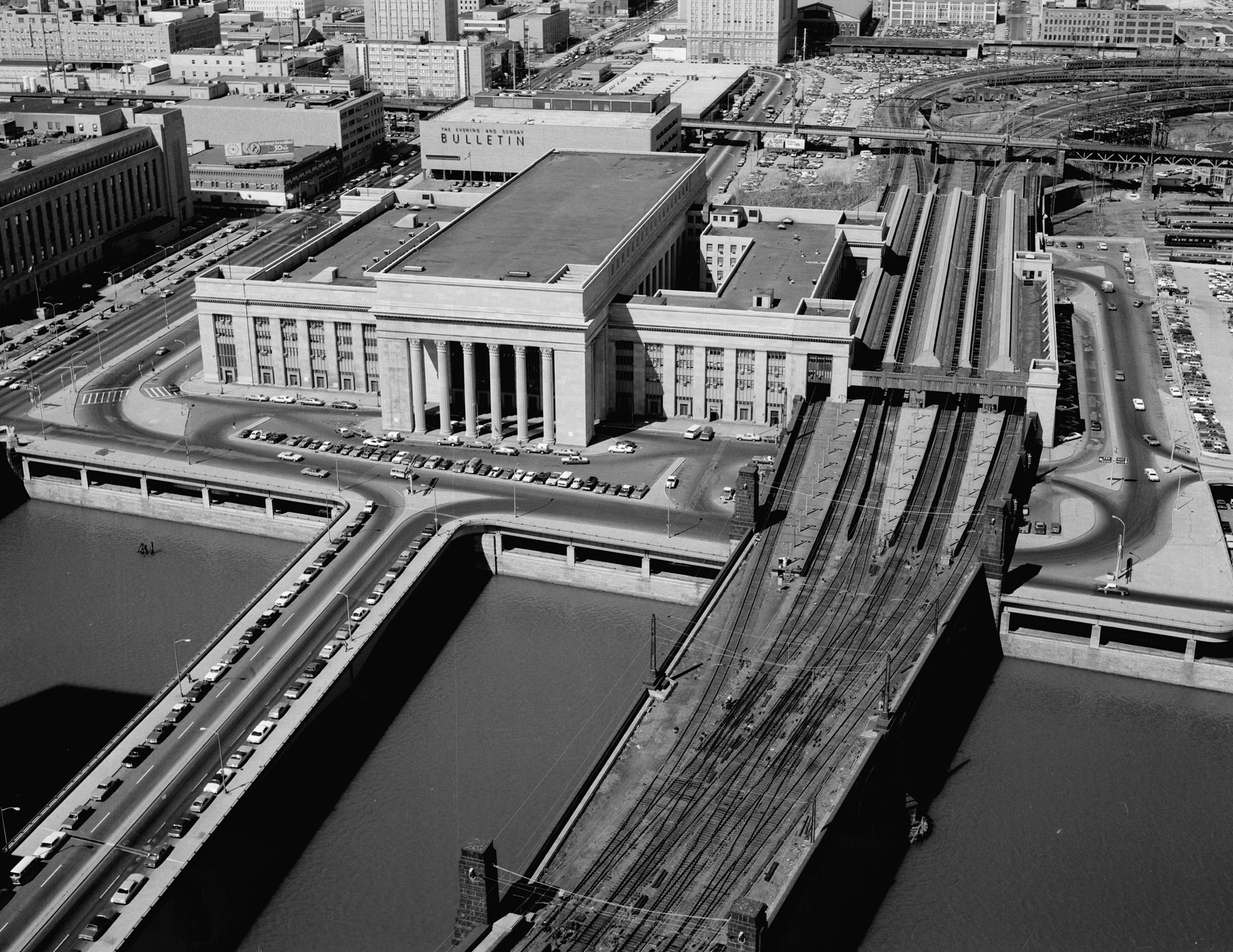 This aerial view of 30th Street Station, like the one below, was likely taken some time during the 1960s.
Broad Street Station was the first major passenger terminal used by the Pennsylvania Railroad for the city of Philadelphia. The station opened in 1881, located at Broad and Market Streets (hence its name) and was a gigantic structure that also housed the railroad's main offices. It was designed by Wilson Brothers & Company and later expanded by Frank Furness. The terminal enabled the PRR much greater flexibility in moving more people and trains, thus increasing efficiency and overall profits. However, it always held one major handicap, as a stub-ended design it forced the Pennsy to back passenger trains into and out of the station, which was both awkward and very time consuming.
To alleviate this problem the railroad decided that it needed that was a "through" design were trains did not have to perform any such backup moves. Along with this the PRR also simply needed a larger building as Broad Street was becoming too small for the large volume of traffic it was handling. So, in the 1920s, despite the fact that the country would soon be immersed the black days of the Great Depression, plans began to be made to construct what would become 30th Street Station (officially known by the railroad as the Pennsylvania Station–30th Street) and the PRR hired the architectural firm Graham, Anderson, Probst & White from Chicago to oversee the project.
What they came up with was a beautiful Art Deco inspired interior design with an exterior look that somewhat resembled the railroad's iconic Pennsylvania Station in New York. Overall the building measured 700 feet long (over two football fields!) by 325 feet wide and featured over 560,000 square-feet of interior space. Also similar to Pennsylvania Station, 30th Street Station was designed so that passengers boarded their trains below ground, completely away from the concourse and above ground sections of the station (30th Street was also split between commuter and intercity passenger trains to keep the flow of traffic more organized). After several years of construction the new station finally opened in 1934, demoting Broad Street Station which was eventually razed in 1953.
While 30th Street Station served at capacity for the first 15 years or so since it was first opened the terminal was never truly successful, at least as the PRR originally intended. The Great Depression saw traffic plummet and while things rebounded during World War II, between 1941 and 1945 things again tailed away following the war. During the 1950s more and more folks left the rails for their own, private automobiles and things only got worse in the 1960s. Still, before passenger traffic really began to take a hit after the war the station was able to see several famous trains pass its way, both from the PRR as well as other railroads.
---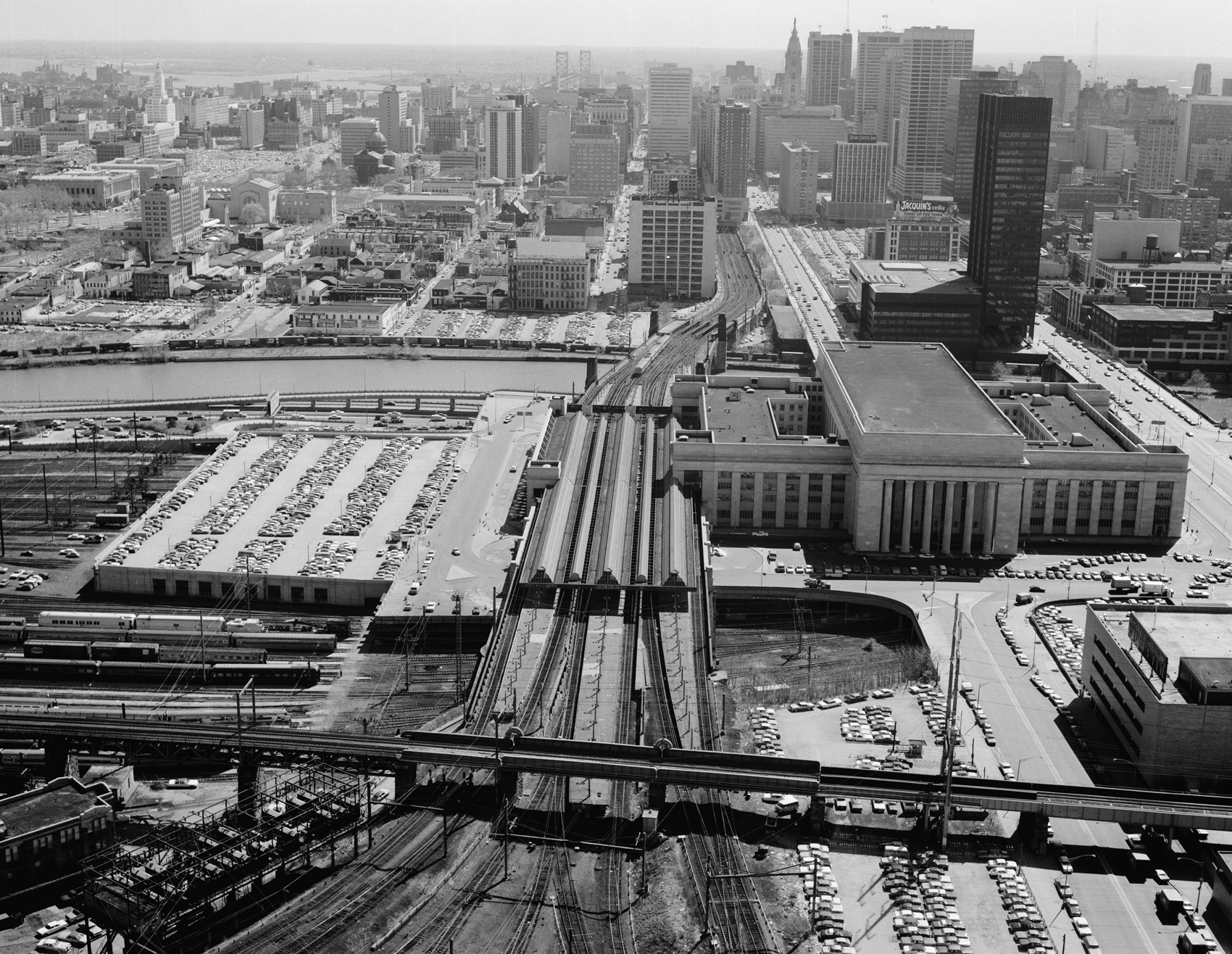 This interior view of 30th Street was taken on September 26, 2007 showing its ornate art deco design.
Streamliners, which you could find stopping at 30th Street included the Pennsylvania's own Colonial, Broadway Limited, Congressional, Senator, and countless other unnamed commuter runs. Additionally, the Atlantic Coast Line and Seaboard Air Line's popular Northeast-Southeast trains like the Champion and Silver Meteor passed through the terminal.   Today, 30th Street Station is on the National Register of Historic Places and holds a distinction as a major Philadelphia landmark.  It is perhaps the closest example still standing of New York City's once majestic Pennsylvania Station. The building is also the headquarters of Amtrak and along with playing host to its trains also serves commuter consists of NJ Transit and the Southeastern Pennsylvania Transportation Authority (SEPTA), which serve millions of commuters annually.  For more information on 30th Street Station please click here to visit its website.
Related Reading