The Alco C430

The Alco C430 was the builder's final model in its Century line of four-axle road switchers. It was the most powerful four-axle design the American Locomotive Company (Alco) would produce although by the late 1960s railroads had finally begin to recognize the value of six-axle locomotives and began to purchase them in larger numbers. As such, once again Alco found little success with its C430 line as the model was the worst sales performer in the series selling less than 20 units to a handful of Class I railroads. The C430 would also close out Alco's line of four-axle diesel locomotives forever as the once-iconic manufacturer, whose history dated back to 1901, would bow out to General Motors' Electro-Motive Division (EMD) and General Electric in early 1969. Today, at least five examples of the C430 remain preserved around the country.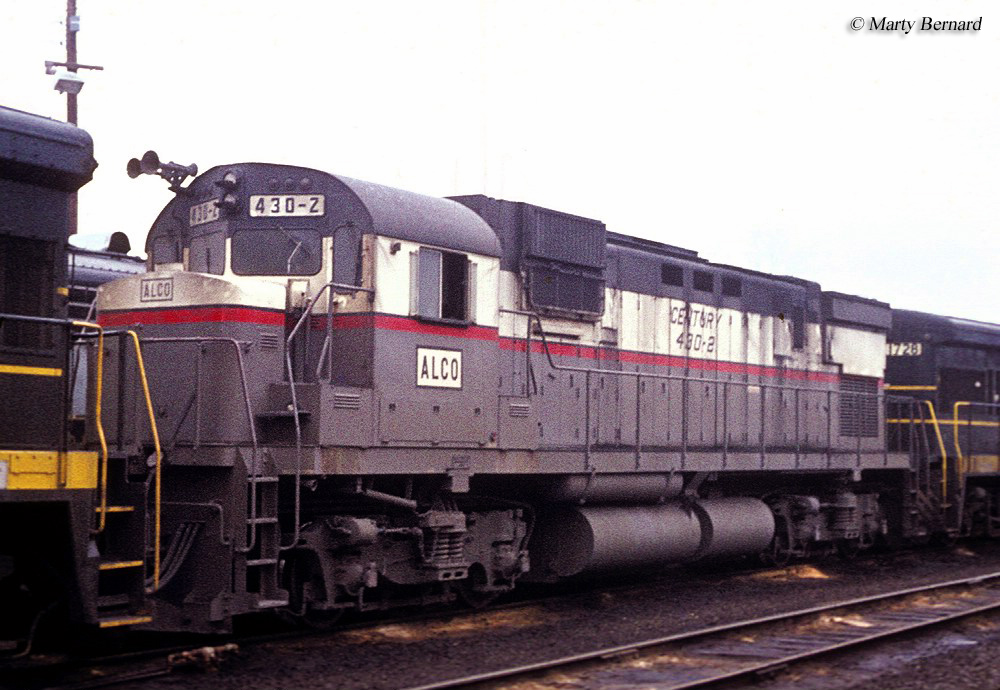 Alco demonstrator C430 #430-2 (one of three produced) sits in Richmond, Virginia on September 3, 1969 among Seaboard Coast Line units.
The Alco C430 began production in 1966 and used the latest version of Alco's 251 prime mover the 251E, which was also one of the final such modifications of its standard prime mover. The unit could produce a hefty 3,000 horsepower and came equipped with standard features for its day such as turbocharging (an Alco trademark) and dynamic braking and through the end, continued to outsource internal parts like traction motors and generators to General Electric, a company which by the mid-1960s was working to put the company out of business. Unfortunately, Alco just could no longer find success as a locomotive manufacturer as its early prime mover issues continued to haunt it. In the end Alco would sell just 16 C430s; ten went to New York Central, one to Green Bay & Western, two were sold to Reading, and the three Alco demonstrators (#430-1, #430-2, and #430-3) were sold to the Seaboard Coast Line.
By the mid-1960s railroads were finally beginning to see the benefits that could be achieved through six-axle, C-C setups. As such, four-axle models were purchased in ever decreasing numbers. Unfortunately, for both General Electric and Alco, EMD had all but captured the remaining four-axle market during the 1960s. For instance, its GP30, GP35, and GP38 models (all of which were released during the 1960s) sold a combined 2,987 examples! In comparison, GE's B-B, Universal models sold a little over 1,000 combined units and Alco's four-axle Centuries sold less than 500.
Despite the C430's poor sales numbers it did offer incredible tractive effort including 68,220 pounds starting and 57,200 continuous. The model featured Alco's now-classic carbody design for its Centuries (it had slightly tinkered with the nose length on earlier models) of a long, sweeping long hood and very short nose ahead of the cab. Overall, however, the model's appearance was quite pleasing and generally carried a look of designs being offered by both GE and EMD. Interestingly, while the six-axle market had yet to take off, Alco would actually find improved sales with its C-C Centuries, which were being offered at around the same time.
Even during its time, Alco was an iconic locomotive manufacturer with a history that had dated back to 1901 being formed through a merger of several smaller companies. It became legendary during the steam locomotive era and was the top builder along with the Baldwin Locomotive Works (Lima was a somewhat distant third) producing thousands of high quality, durable, and powerful locomotives. Unfortunately, Alco could simply never foresee that the future of the locomotives in the 1930s would be powered with diesel engines and not steam.

Alco C430 Production Roster

| Owner | Road Number(s) | Quantity | Date Built |
| --- | --- | --- | --- |
| Alco (Demo) | 430-1, 430-2, 430-3 | 3 | 1967 |
| Green Bay & Western | 315 | 1 | 1968 |
| New York Central | 2050-2059 | 10 | 1967 |
| Reading | 5211-5212 | 2 | 1966 |
---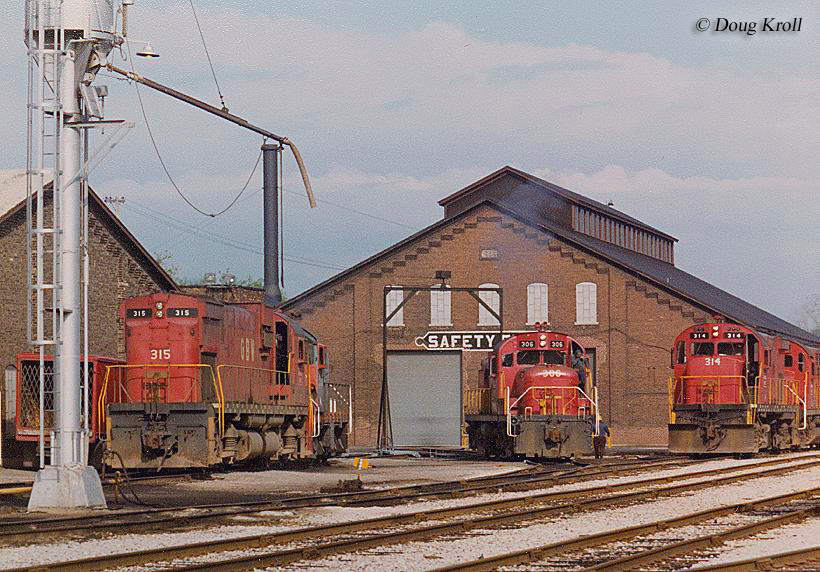 At the engine terminal and maintenance facility in Norwood Yard several Alco road-switchers rest from their duties on May 20, 1979. Of note is C430 #315 to the left, the only such example the GB&W ever owned, purchased new in February of 1968.
As such it produced very few innovative designs outside of early test models and the first three Road Switcher (RS) series designs (the RS1, RS2, and RS3).  This is somewhat ironic considering the company was one of the first to begin experimenting with diesel locomotives and laid the groundwork for the appearance of road switchers when it released the RS1.  Today, five Alco C430s are known to survive, the best known of which is Green Bay & Western's #315 preserved at the National Railroad Museum in Green Bay, Wisconsin.  If you would like technical information on the model please click here. Finally, for more information about the C430 please refer to the chart above.
Related Reading

Adam Burns, Site Author