Altamont Commuter Express, Serving Stockton and San Jose

The Altamont Commuter Express commuter rail service, better known as simply ACE, is a relatively new commuter operation having just been started in 1998. It has become steadily popular over the years (going from operating two trains a day to four) and currently operates over Union Pacific Railroad trackage connecting Stockton and San Jose, California on a route that covers nearly 90 miles. Because of the success ACE has had since its inception future plans are already in the works to extend the system to Pittsburg (via Stockton) and a connection between Sacramento and Modesto. All in all if you live in the San Francisco Bay area and the ACE is an option for you to commute to work you may want to consider using their trains as it sure beats the rush of the highway.
ACE F40PH-3C #3101 has its train along California's Altamont Pass on the morning of October 21, 2005.
California is continually growing its commuter, transit, and light rail systems (LRT, or light rail transit). The state is a leader in commuter railroad operations and one reason behind this is its attempt to find ways to reduce its large amounts of carbon monoxide emissions, mostly from highway traffic. The state's commuter rail system includes the CalTrain (the Bay Area), Metrolink (Southern California), and Altamont Commuter Express (serving the Central valley and the Silicon valley). Of course, the state is also home to plenty of local services like Amtrak's Surfliner and Capitol Corridor operations part of the passenger carrier's and state's Amtrak California services as well as San Francisco's famous trolley system.
The Altamont Commuter Express, named for the Altamont Pass in which the Union Pacific line passes through between Stockton and San Jose, has its beginnings dating as far back as 1989. The Union Pacific Railroad (UP), the largest and one of the most powerful railroads in the country has been with us since 1862, some 146 years. The Union Pacific is far older than any other American Class I railroad today with the Kansas City Southern Railway in a nearby second at 107 years (beyond that CSX Transportation ranks in third at 27 years). In that time the railroad has become not only one of the most highly respected institutions in the nation but also has seen nearly every major railroading event in our country's history, and accordingly has a very long and storied history.
Amtrak and Amtrak California equipment mingle at the engine terminal along Kirkham Street in Oakland on the night of August 1, 2007.
The current ACE system, which stretches 86 miles, serves ten stations and connects with three other commuter/light rail systems which include Amtrak's Capitol Corridor, the Bay Area Rapid Transit (BART), and Caltrain (which connects Gilroy with San Francisco). The stations the system serves include (from south to north) San Jose, Santa Clara, Great America, Fremont, Pleasanton, Livermore, Vasco Road, Tracy, Lathrop/Manteca, and finally Stockton.  One note about Caltrain, it is another of California's many commuter rail agencies serving the San Francisco region. Fully funded and operated by the City of San Francisco, San Mateo County Transit District, and Santa Clara Valley Transportation Authority it came about after the venerable Southern Pacific opted out of commuter rail service to the region in the late 1970s (the railroad once had extensive commuter rail operations throughout California, this during a time well before state/city funded such operations).
---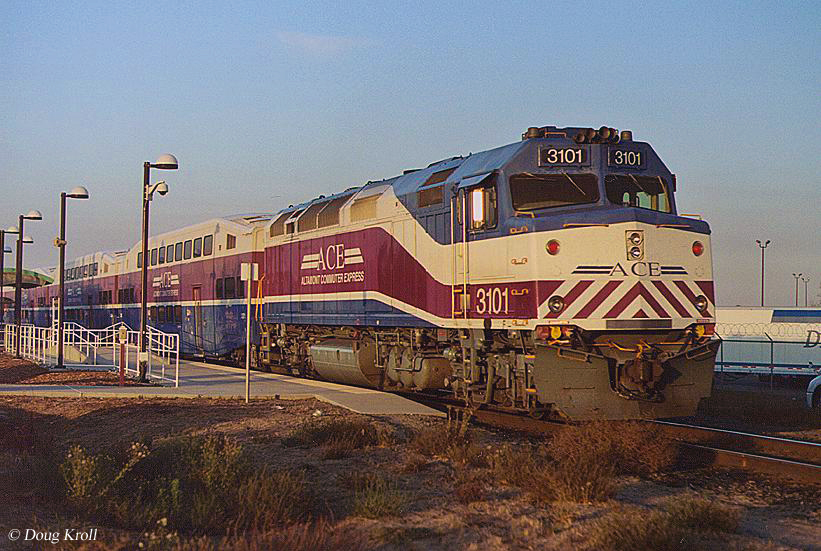 ACE F4OPH-3C #3101 and its all-matching bi-level cars makes a station stop in Lathrop, California on October 21, 2005.
Between 1980 and 1987 Southern Pacific continued to operate commuter service to the San Francisco area under contract by the California Department of Transportation. After 1987 the Caltrain service was launched operating its own equipment and connecting Gilroy with downtown San Francisco. Since its inception the service has become very popular with several future extensions and upgrades already either in the planning stages or soon to happen. If you would like to learn more about Altamont Commuter Express or are perhaps considering using the system please click here to visit their website.