Amtrak Careers And Jobs

Because of the railroad's unique position within the industry, Amtrak careers are sometimes either forgotten or simply unknown. However, the railroad does hire a private workforce for a wide variety of positions from the more traditional (such as conductors and engineers) to various management and related positions. The history of Amtrak dates back to the early 1970s when the government created the National Railroad Passenger Corporation to takeover intercity passenger train operations from the private sector. Not only were railroads losing money from passenger trains but many were also having difficulty avoiding bankruptcy. Since its creation Amtrak has attempted to provide top quality service although lack funding has made that difficult. Still, travelers usually report that their trip was enjoyable and the staff very friendly.
Amtrak F40PH #374 and a mate lead a consist through Rockville, Maryland as they are about to hit the Randolph Road grade crossing on August 23, 1994.
Amtrak is unique within the railroad industry. It owns almost none of the trackage it uses outside of the Northeast despite the fact that its passenger trains can be found from coast to coast operating in most states. Instead, the railroad has a longstanding agreement in place to use private freight rail lines, which often results in train delays and in some cases disagreements. After all of these years there remains a fine line of agreement with Class I railroads for Amtrak to continue using their tracks. For a greater understanding and history of Amtrak please click here to learn more about the carrier.
Since its creation in May of 1971 Amtrak has been dreadfully underfunded as passenger trains almost never turn a profit (which is why the private sector exited the market). Despite this Amtrak careers vary from a wide range of fields depending on what your skills or interests may be. According to Amtrak it hires positions in the following areas:
Business Development
Customer Service
Engineering
Environmental, Health & Safety
Finance
Government Affairs & Communications
Human Resources
Information Technology
Inspector General
Labor Relations
Law
Marketing & Product Development
Mechanical Operations
Police & Security
Procurement & Material Management
System Operations
Transportation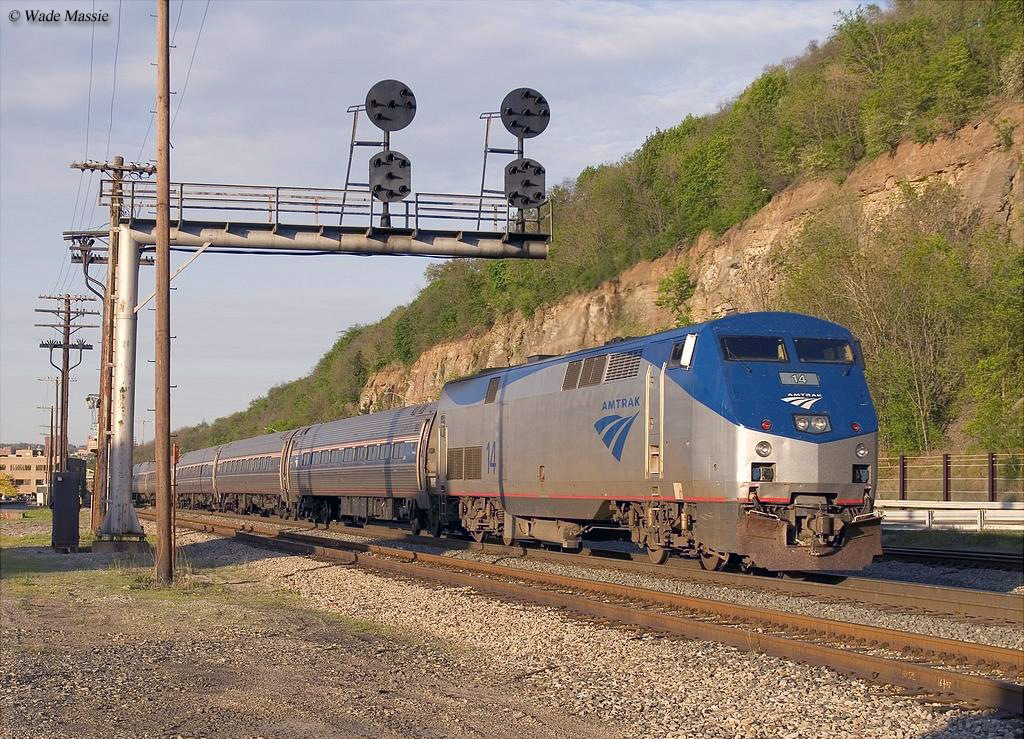 Amtrak P42DC #14 pushes his train eastward to a nearby wye in Pittsburgh, Pennsylvania on May 1, 2006.
While the private freight railroads offer similar positions Amtrak is quite different in that because it is so heavily involved with the general public many of its employees must have very good "people" and communication skills. This means either helping passengers during actual trips or by public relations, something that freight railroads almost never deal with today.
If your interest in a job with Amtrak involves the more traditional positions such as conductor or engineer I really cannot comment on what the work environment will be like. For instance, freight conductors and engineers spend countless hours away from home and have a totally unpredictable work schedule. Is this the same for Amtrak employees working aboard train? I cannot say, you will simply need to contact Amtrak to get an idea of exactly what their expectations are.
However, I can say that from what I have read and understood about Amtrak, in general they are an upstanding company to work for, offering a friendly, open work environment. This also appears to be the case from passengers and patrons, many of whom have said similar things about the carrier. Again, in general, if you are interested in a job at Amtrak communication skills will go a long way in helping your chances of being hired. For more information about Amtrak careers please click here to visit their official careers page. Also, to search for Amtrak careers please feel free to use the search box below from Indeed.com, one of the leading online career resource guides.
---
---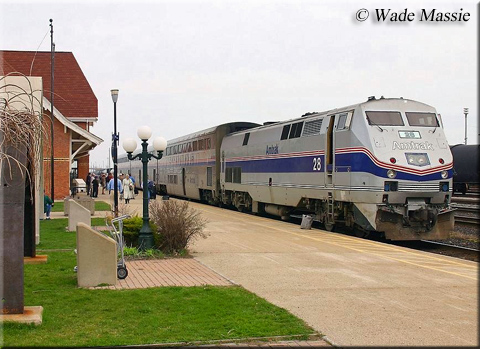 Amtrak P42DC #28 has the "International" at the VIA station in Sarnia, Ontario on April 18, 2004.
If you would like to learn more about Amtrak before considering applying for a position with the company consider one, or both, of these books; Amtrak by Brian Solomon and Amtrak in the Heartland by Craig Sanders. Mr. Solomon's book gives an excellent general history of the carrier since its start up in 1971 while Mr. Sanders' book covers Amtrak mostly in Midwestern regionals. In any event, both books are filled with information and pictures so if you have an interest in Amtrak or are interested in learning more about the carrier you certainly won't be disappointed in one, or both books. If you're interested in perhaps purchasing either (or both) of these books please visit the links below which will take you to ordering information through Amazon.com, the trusted online shopping network.
---
---