For years, the AN had relied on models like 4-6-0 Ten Wheelers, 2-8-0 Consolidations, and 4-6-2 Pacifics (which powered their passenger trains). While its steam fleet was entirely made up of American Locomotive Company (Alco) product, beginning in September of 1947 it received its first order of four Electro-Motive NW2 switchers, #701-704. The company would stick with EMD for all of its future orders. Passenger services on the AN had been provided since it began although by the 1940s this had been reduced to a single diesel motorcar. A somewhat unique setup, the railroad abandoned all passenger movements by 1955. From that time period forward the AN focused solely on freight and continued to remain a fairly profitable operation serving the large St. Joe mill through the 1990s.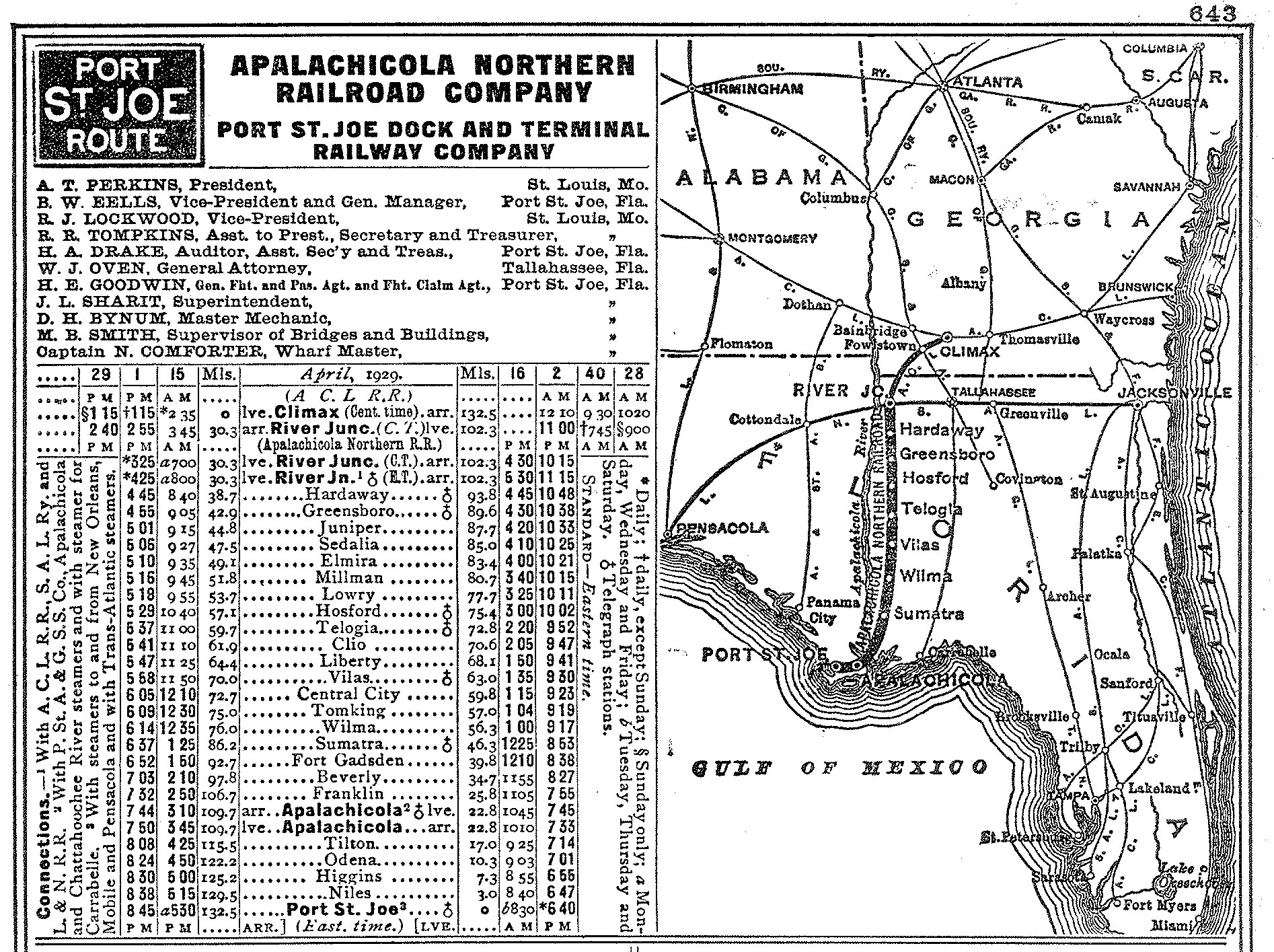 The first signs of change here occurred in 1996 when Dupont sold the mill, which was renamed as the independent St. Joe Company. A few years later the railroad's largest customer closed its doors, which resulted in the Apalachicola Northern Railroad being sold to the Rail Management Corporation on September 1, 2002. Under new ownership the system was renamed as the AN Railway but struggled to survive after the loss of mill. On June 1, 2005 the Genesee & Wyoming purchased Rail Management and since then has looked to breathe new life in the property. Traffic has been diversified to chemicals, woodchips, lime, scrap paper, bauxite and lumber.

Apalachicola Northern Diesel Locomotive Roster
| Builder | Model Type | Road Number | Notes | Quantity |
| --- | --- | --- | --- | --- |
| EMD | NW2 | 701-704 | Acquired new: September, 1947 | 4 |
| EMD | SW9 | 705-711 | Acquired new: 1952-1953 | 7 |
| EMD | SW1500 | 712-719 | Acquired new: 1969-1970 | 8 |
| EMD | GP15T | 720-722 | Acquired new: April, 1983 | 3 |
Finally, the AN became known within the railfan community for its use of a rare EMD product, the GP15T, purchased by only one other railroad; unique for being a small four-axle Geep that is turbocharged. Today, its three, #720-722, are still in use since first arriving on the property in April of 1983. To a lesser extent, the AN is also notable for being one of only a few shortlines to purchase all of its diesel power new from its first NW2s to the GP15Ts. While the AN has owned as many as 22 diesels over the course of its time in service, on the Geeps are still on the property today, as all other switchers have since been sold.
Related Reading You May Enjoy


Home

›

Short Lines

› Apalachicola Northern Railroad