Over the next 40 years or so a wide range of articulated steam locomotives was designed and built, from experimentals to what are now regarded as true classic wheel arrangements.  Directly after "Old Maude" entered service numerous examples of early articulateds began popping up on various railroads.  One of the first was the 2-6-6-2, which the Great Northern was interested in as early as 1905 although a true locomotive carrying such a wheel arrangement did not appear for another five years until 1910.  In subsequent years the design was widely used by both large Class I railroads as well as smaller examples built for service in logging operations.  Most of these 2-6-6-2s were simple expansion versions but some, like the Chesapeake & Ohio's Class H-6 examples were compounds.
Interestingly, some railroads did use articulated steam, like the B&O's "Old Maude," without lead or trailing trucks (the B&O itself also rostered 30 examples of 0-8-8-0s).  However, the lack of these important features, particularly the lead pilot which literally guided the engine into curves meant that they were normally assigned to either helper or switcher duties on most lines; some railroads that operated them included the New York Central (0-8-8-0), Erie (which used the only 0-8-8-0 Camelback ever built), Delaware & Hudson (0-8-8-0), Boston & Maine (0-8-8-0), Rio Grande (0-6-6-0), Norfolk & Western (0-8-8-0), and Pennsylvania (0-8-8-0).  There were also several experimental articulateds tested such as the 2-6-8-0 (GN), 4-4-6-2 (Santa Fe), the Triplex design, and others.  Most proved unsuccessful although the Great Northern did roster some 25 examples of the 2-6-8-0, a design that offered poor ride quality and slow speeds but could move significant tonnage.
By far the most famous articulateds was the late era designs of the 1930s.  One of the first, and most successful, was the 4-6-6-4 "Challenger" model developed by Union Pacific's Chief Mechanical Engineer Arthur H. Fetter and Otto Jabelmann.  One of many "Super Power" steamers conceived during this time the Challengers featured all of the latest technologies such as roller-bearings, large fireboxes, feedwater heaters, and exhaust steam injectors among other enhancements.  The 4-6-6-4, built for both power and speed, was one of the most successful late-era articulateds put into service and saw use on nine different Class I railroads including (aside from UP) the Clinchfield, Western Maryland, Spokane Portland & Seattle, Great Northern, Northern Pacific, Rio Grande, Delaware & Hudson, and Western Pacific.  One of the most interesting articulated steam locomotives from this time was the Southern Pacific's Cab Forwards.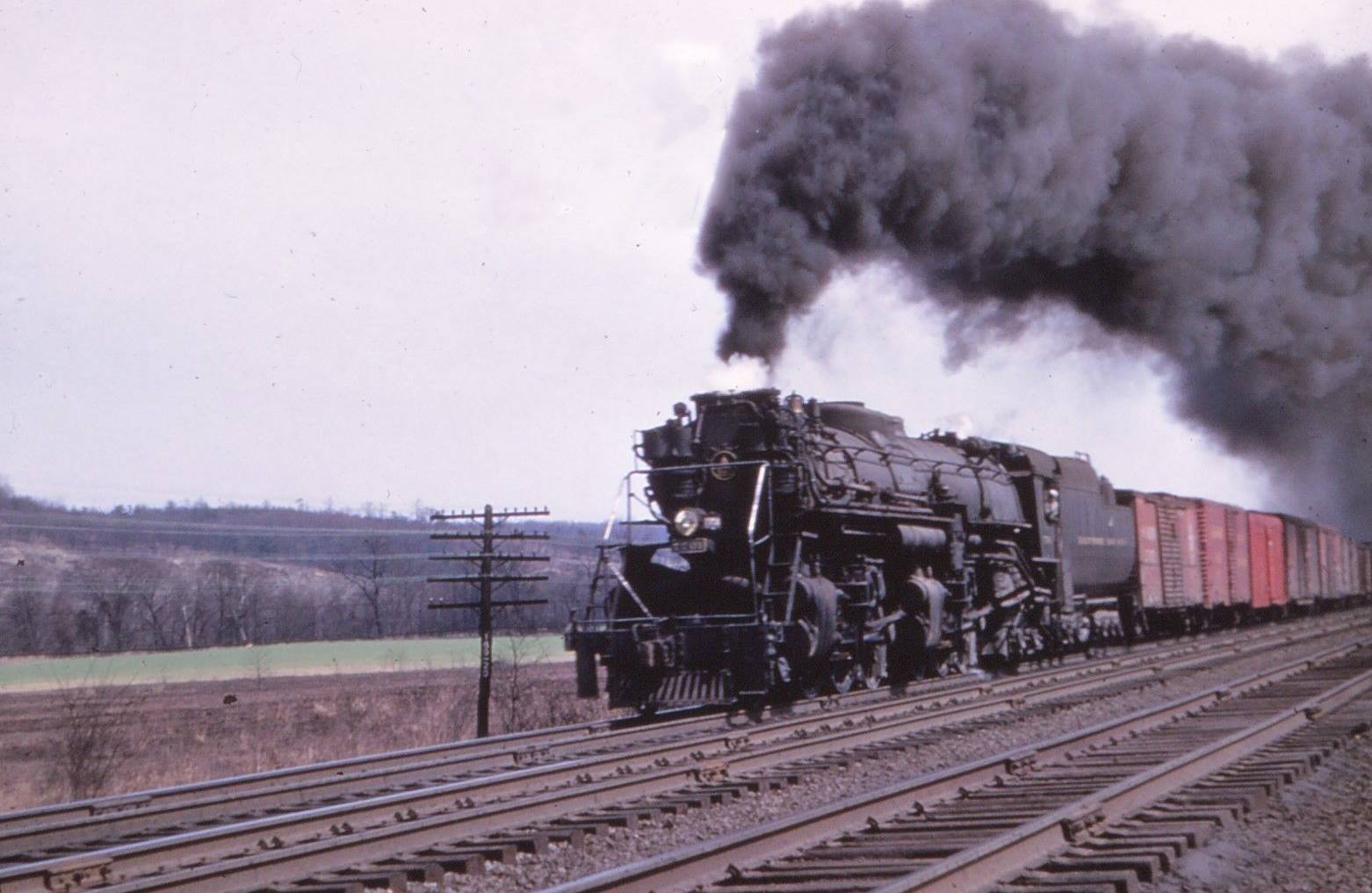 These locomotives were used over the railroad's stiff main lines over Donner Pass and between between Dunsmuir, California and Portland, Oregon where numerous snow sheds and tunnels resulted in breathing problems for crews.  The "Espee" put its first Forwards into service as early as 1908.  However, its final classes built during the 1930s and 1940s featured all of the latest in "Super Power" steam technology.  Unfortunately, the dawn of the diesel age in the late 1930s, at least models built exclusively for main line service, ended further development of steam locomotives over the next decade.  Some of the last "Super Power" examples built were Union Pacific's fabled 4-8-8-4 "Big Boys" of 1941 and Baltimore & Ohio's Class EM-1 2-8-8-4 Yellowstones of 1944 (only built because the B&O could not order diesels due to wartime restrictions).  
Related Reading You May Enjoy


Home

›

Steam Locomotives

› Articulated Locomotives