The Baltimore Belt Railroad

The Baltimore Belt Railroad and Howard Street Tunnel project undertaken by the Baltimore & Ohio Railroad essentially kicked off electrified rail operations in the United States for main line systems in 1895. Of note, however, the actual first electrified railroad operations in the United States occurred in 1888 when General Electric successfully demonstrated the motive power on the Richmond Union Passenger Railway. In any event, the B&O's project was known as the Baltimore Belt Railroad, which was constructed to fill a gap to connect the railroad's New York-Washington (north-south) and Washington – Cumberland (east-west) main lines. Prior to this the railroad had to use a circuitous car ferry operation across Baltimore Harbor to reach the two lines, which made competing effectively with rival Pennsylvania Railroad nearly impossible.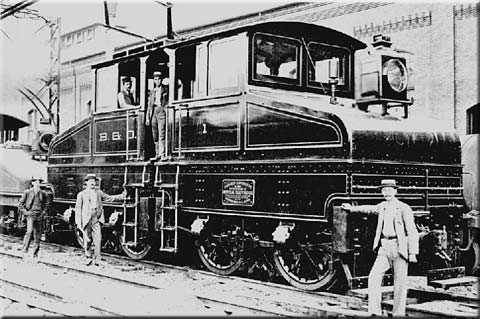 A company photo of B&O Class LE-1 motor #1, taken shortly after she was built in 1895.
After the first successful demonstration in Richmond, which involved a lightly powered electric locomotive, the motive power began springing up on light rail, interurban, and trolley systems all across the country because of its clean, efficient, and reliable means of transportation. However, main line electric locomotives did not appear until 1895 when the Baltimore & Ohio Railroad opened a three mile stretch of electrified territory in Baltimore (to connect both its aforementioned main lines) that operated on a 600 volt direct current system with four gearless, 360 horsepower, locomotives (or "motors" as electrics are often called) for power, all of which was provided by General Electric.
The primary reason for the B&O's electrification of the Baltimore Belt Railroad was to solve a safety issue with its 1.25-mile long tunnel situated under residential neighborhoods in Baltimore where smoke would become a health issue. However, by this time steam locomotive smoke in large urban areas, in general, was becoming a serious health and safety issue and by the early 20th century, particularly after a New York Central passenger train collided with a New Haven suburban train in January of 1902 in New York City (because of a smoke-obscured signal), many cities began passing ordinances banning steam from their city limits.
A photo of Baltimore's Howard Street Tunnel that was once electrified. However, by the time of this scene in March of 1971 the electricity had long since been turned off.
In all the B&O's electrified system stretched three miles with initial power provided by General Electric that employed "steeple cab" electrics. First operated on May 1, 1895 the new line used steam locomotives fired by coke, which burned much cleaner than coal. Finally, the electrified system was completed about a month later and the first electrically powered train completed a test run on June 27th of that year. A few days later on July 1st the B&O introduced the revolutionary new mode of transportation to the public.  Initially the B&O employed an overhead third-rail system, whereby "shoes" picked up power, similar to later overhead systems that used strung wires, or catenary. However, this system proved to be vulnerable to coal smoke and by 1900 a conventional third-rail system running near the ground was used.
In all, the B&O employed six different classes of electric locomotives, which are listed below:
· Class LE-1: B&O's first class of motors were delivered in 1895 and 1896 and were of a boxcab design totaling two units.
· Class LE-2: B&O's second-class of motors were delivered between 1903 and 1906 by GE and were a boxcab design totaling four units.
· Class OE-1: B&O's third-class of motors were delivered in 1910 by GE and were a steeple-cab design totaling two units.
· Class OE-2: B&O's fourth-class of motors were delivered in 1912 by GE and were a steeple-cab design totaling two units.
· Class OE-3: B&O's fifth-class of motors were delivered in 1923 by GE and were a steeple-cab design totaling two units.
· Class OE-4: B&O's sixth, and final class of motors were delivered in 1923 by GE and were a steeple-cab design totaling two units.
One other addition that came from the B&O's Baltimore Belt Railroad was the railroad's beautiful Mount Royal Station, which was constructed at the north end of the 1.25-mile Howard Street Tunnel. Today, the station remains in place and has been beautifully restored.
While the building of the Baltimore Belt Railroad and its electrified lines helped significantly improve operations in and around the Baltimore region for the B&O, the project was extremely expensive and forced costly debt on the railroad that would drive into bankruptcy in 1896 (despite this setback the B&O eventually climbed out of receivership in the early 20th century, including a brief ownership by the Pennsylvania Railroad).  Even though the B&O updated its electric fleet between 1909-1912 and again between 1923-1927, with diesel-electric locomotives efficient and affordable by the mid-20th century the railroad shutdown its electric operations in the early 1950s. However, while electric operations have long since ceased over the line and the B&O itself is gone, today the original Baltimore Belt Railroad remains an important artery under the CSX Transportation banner.
---
An interior view of the B&O's powerhouse showing the rotary converters that took 13,200-volt, three phase, twenty-five cycle alternating current (AC) and converted it down to 675 volts direct current (DC) for use on the railroad. These rotaries were replaced by mercury arc rectifiers in 1936.
For more reading and history about the B&O consider the book Baltimore & Ohio Railroad written by Kirk Reynolds and David Oroszi. While there are several more excellent books, with superb illustrations, out there covering different aspects of the B&O in more detail this publication includes a fine general history of the railroad with wonderful historical photos (many in color).  And, for more reading about the B&O's Baltimore Belt Railroad, and other electric operations consider Electric Locomotives from Brian Solomon. Not only does the book give a nice overview about the B&O's electrified operations it also covers American electric locomotive technology in general. If you're interested in perhaps purchasing either (or both) of these books please visit the links below which will take you to ordering information through Amazon.com, the trusted online shopping network.