The Blue Ridge Scenic Railway

Perhaps the most popular tourist railroad in Georgia is the Blue Ridge Scenic Railway. The railroad is located in the northern mountainous regions of Georgia and operates over 13 miles (a 26-mile round trip) of a former Louisville & Nashville branch line (originally part of the Marietta & North Georgia Railroad), originally part of the railroad's famous "Hook & Eye" route. The railroad has become quite a popular tourist destination in general since 1998 when it first began. Part of the railroad's success has come from its breathtaking scenery afforded from the Blue Ridge Mountains located in the northern regions of Georgia although another reason for its popularity has come from its friendly service and nearby attractions like whitewater rafting and cabin rentals.
Louisville & Nashville/Family Lines U23B #2803 and C30-7 #7068 run light through Patio Yard in Winchester, Kentucky on May 23, 1981.
While the Blue Ridge Scenic Railway is an independently operated tourist line it is actually a subsidiary of a shortline freight hauler, the Georgia Northeastern. This railroad, based in Marietta, Georgia hauls a variety of freight ranging from timber to marble and its tourist line operates a route branching off from its main line at Blue Ridge.  Aside from the Blue Ridge Scenic's standard excursion train the railroad it also plays host to specials such as river rafting/biking adventures and The Santa Express, which runs during November and December. The former activity is provided in conjunction with the Rolling Thunder River Company, where you are dropped off by train. From there they will take you to either the nearby Toccoa River or Ocoee River to enjoy a day of either floating downriver or challenge the rapids. Additionally, they will also drop you off to nearby biking trails or the appropriately-named Lake Kayak. All of these activities are rather popular during the warmer months of the year drawing a lot of folks to the railroad.
While the Blue Ridge Scenic Railroad does not operate any steam locomotives, at least at this time, they do use a small collection of older diesel locomotives, all of which are early Geep (General Purpose, or GP) models. When not being used in passenger service these locomotives are typically pulled into freight duty on an as-needed basis.  As for the railroad's equipment, they currently feature an equipment roster totaling eleven cars. Three of these cars are covered, open-air designs, one has been modified for handicap access (it can load/unload scooters and wheelchairs), a concession car that features light snacks and beverages (along with a small gift shop), and the rest are standard coaches.
So, if you're even in northern Georgia considering stopping by and visiting the Blue Ridge Scenic Railway. Between the scenic beauty of the Blue Ridge Mountains and experience of riding a train (where you can ride in either open or enclosed cars), you shouldn't be disappointed. Lastly, if you have the time please consider volunteering to help them with not only restoration work but also maintaining their railroad. I am sure they would very much appreciate the help! To learn more about the Blue Ridge Scenic Railroad please click here to visit their website. There you can learn more about all of the train rides they have to offer, their calendar schedule, and special trips. Also, if you would like to book your trip ahead you can do so directly through their website by either calling or reserving online (they actually recommend booking in advance as it is not uncommon for trains to sell out).
---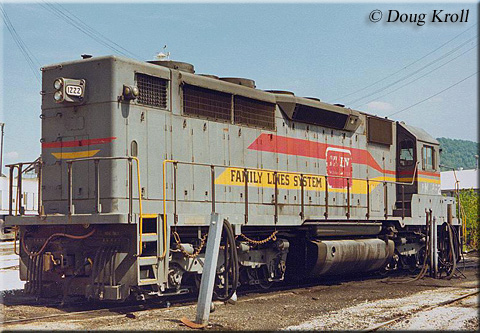 L&N SDP35 #1222 is seen here at the yard in Ravenna, Kentucky on May 23, 1981. The railroad purchased four of these units in 1965 (#1700-1703) for late era passenger operations and they were equipped with steam generators (thus the need for the lengthened carbody). Afterwards they were put to use in freight service.
Also, if you would like to learn more about the history of the line the railroad operates please click here for an overview highlighting the Georgia Northeastern Railroad. For more information about excursion trains like the Blue Ridge Scenic Railway you might want to consider the book Tourist Trains Guidebook, which is put together by the editors of Kalmbach Publishing's Trains magazine. The guide below is the latest, released in just April, 2011 that now includes more than 470 museums and tourist trains. In any event, if you're interested in perhaps purchasing this book please visit the link below which will take you to ordering information through Amazon.com, the trusted online shopping network.