In chapter three, entitled "What Makes A Freight Locomotive?", the book really gets into the actual freight operations of railroads and how it all works. Here, you will learn about the many types of steam locomotives, from small 4-4-0 Americans to large 2-10-2 Santa Fes, 4-8-4 Northerns, and massive Mallets and articulateds. Jim also offers a section describing a steamer's wheel arrangement and what the numbers and dashes mean. If you are confused about this or are interested in learning more you should certainly enjoy this reading. Most of the chapter, however, covers diesel locomotives beginning with the earliest versions found in the boxcab designs and articulated streamliners. Additionally, the Electro-Motive Corporations EA and FT cab models are covered as well as the road-switcher, Geeps, six-axle designs, second-generation units, and the latest locomotives being built today.
In chapter four, The American Freight Train provides a look at rail yards and their importance to operations. Jim covers topics such as switching moves, hump yards, and what you will typically find a standard yard. Overall, this is one of the shortest chapters in book although quite interesting, especially if you are not familiar with the inner workings of yards. By chapter five, entitled "King Coal," the book takes a bit of a different course and begins discussing various commodity types, how they are moved, and the cars used to do so. This essentially makes up the rest of The American Freight Train. In chapter six Mr. Boyd highlights the movement of steel/iron and chapter seven looks at the many types of boxcars and what you can usually find in them (from early cars to livestock, and everything in between).
In chapter eight the book discusses the movement of food-related products over the years from early refers that used ice to present-day covered hoppers for grain and mechanically refrigerated cars. Perhaps it was Jim's intention to save the best two chapters for last first by highlighting the often-forgotten logging railroads (and other movement of timber products) and finally taking a look at the classic caboose. Here, Mr. Boyd gives an ever-so-brief history of the car in about ten pages covering its earliest years of use to the final designs of the 1970s and early 1980s that offered sleeping quarters, restrooms, and in some cases even air-conditioning.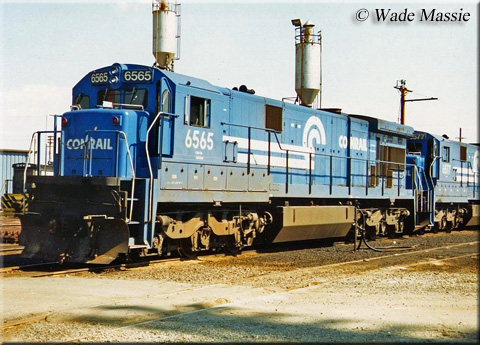 A pair of Conrail C30-7As, #6565 and #6577, sit near the fuel racks at Potomac Yard in Alexandria, Virginia during the summer of 1988.
If you are not that familiar with trains or their history of operations in the United States, after reading through The American Freight Train you should at least have a good overview of the subject. Once again, I really can't stress enough just how good the photography is throughout the book. While several photographers' work is featured much of it comes from Jim's own collection and in the opening foreword Mike Schafer comments on just how good his stuff was, even decades ago upon first meeting him. If you are already pretty familiar with railroads but just want a book with excellent images you can't go wrong with this one. In any event, if you're interested in perhaps purchasing this book please visit the link below which will take you to ordering information through Amazon.com.