Brian Solomon's Railroad Stations

Brian Solomon's Railroad Stations is a coffee table book written by the well known author that highlights some of the most recognized terminals throughout the country and also features a few such elegant facilities found in other countries including France and Germany. If you are interested in a book describing the history of stations and depots you may want to consider another title as this one is all about the photography (although Mr. Solomon does offer a bit of background on the subject as well as providing brief information on each building included). As such, Railroad Stations does not make for a great research book but its definitely worth having in your collection for the pictures! If you are not familiar with Mr. Solomon he is a renowned author of the railroad industry having released numerous books on a myriad of different subjects.
The Northern Pacific depot in Cloquet, Minnesota was still in service when this scene was captured on an overcast August 22, 1966. Today, the building no longer stands.
Brian Solomon's Railroad Stations opens, perhaps symbolically, with a beautiful photo of the legendary Pennsylvania Station's main concourse during its heyday of operations. After a brief acknowledgements the book's forward highlight's New York's other magnificent station, Grand Central Terminal. Here Mr. Solomon not only provides a brief history of GCT (noting the designers, layout, and development of the station) but also his first visit to the facility in the 1970s as a boy when Penn Central still operated the facility. While the author does not mention it here it was sadly the loss of Penn Station that spurred the public to save GCT and its beautiful restoration is on display through the photography featured in this section.
Next up is the introduction entitled, "The Role of the Railroad." As you might expect here Mr. Solomon offers a look at how trains developed (not just in the United States but also around the world) and their practical uses to the public. If you are not well versed on the history of railroads the reading here offers a bit of overview on the subject. However, I certainly would not use it for research purposes, at least as a primary source, as I certainly do not think the author intended the book to be such (again, it is much more suited for one's coffee table as a display piece). In any event, the photography accompanying the introduction here includes stations in Italy, Austria, Japan, Belgium, France, and Germany. The structures in Europe are particularly ornate and remind one of the grand stations constructed in the United States during the 19th and early 20th centuries.
The beautifully restored Seaboard Air Line depot in Hamlet, North Carolina is seen here on November 9, 2012. The depot is owned by the Hamlet Historic Depot & Museum and hosts daily Amtrak service.
Brian Solomon's Railroad Stations first chapter is entitled, "Down At The Depot", and looks at the countless smaller buildings constructed by railroads over the years to serve the numerous small towns located along their lines. Interestingly, despite their size many of these structures were quite elegant as during the first century or so of the industry railroad's often hired architects to complete the work. As a result, names like E. Francis Baldwin, Charles Frost, and others became widely regarded for their masterful creations, some of which still stand today. Moving into the book's second chapter union stations are highlighted (which is also the name of this section). Typically, these facilities are thought of as large, bustling places although this wasn't always the case.
By definition union stations are merely facilities that are shared by two or more railroads and can be of any size, large or small. For instance, some union stations in more rural areas were not much bigger than what we think of as standard, local depots. However, in Mr. Solomon's book the much larger buildings are highlighted. In the chapter he gives brief mention to Joliet Union Station, Denver Union Station, and Chicago Union Station along with photos and general histories of each structure (it should also be pointed out that all of these buildings still stand). In chapter five terminals are covered, which generally refer to large, grand, elegant stations.
Here the author provides a history of these structures and again features both American and foreign buildings from English and French to German and Canadian. In chapter four of Brian Solomon's Railroad Stations the author looks at classic structures which refers simply to well known facilities regardless of size. Here you can read about stations located in Vermont, Connecticut, California, and even England along with famous buildings like 30th Street Station and Los Angeles Union Passenger Terminal. In the fifth chapter, one of the shortest, the book highlights venerable stations that have since been demolished with most of the pages dedicated to the late Penn Station. Two more fabulous photos of the iconic structure are again presented, one of the main concourse and the other an exterior panoramic view.
---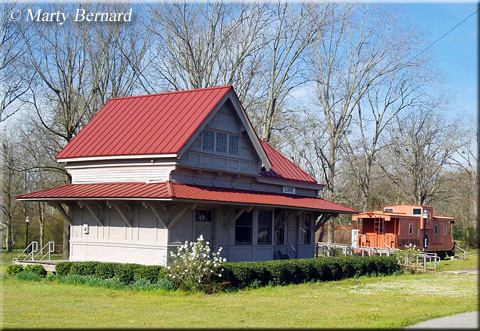 This quaint little work of art is the restored Kansas City Southern depot in rural Lake, Mississippi seen here on March 17, 2008. It was originally built by the Yazoo & Mississippi Valley Railroad.
The book concludes with chapter six entitled, "Adaptive Reuse." As you might expect Mr. Solomon describes several stations that have been preserved and either continue to function in their original fashion or have found other uses from restaurants and malls to art galleries and, most often, museums of some kind. Overall, Brian Solomon's Railroad Stations makes for a fine display piece, again, but I certainly would not rely on it heavily for any type of research purposes as aforementioned. If you're interested in perhaps purchasing this book please visit the link below which will take you to ordering information through Amazon.com, the trusted online shopping network.