The original route opened for rail traffic on November 9, 1885 and, as Richard Steinheimer notes in his article from the September, 1974 issue of Trains Magazine entitled "Cajon Pass Revisited," in 1905 the Los Angeles, San Pedro & Salt Lake Railway, a Union Pacific predecessor, was looking for a means through the mountains. Instead of trying to cut its own way the railroad gained trackage rights over Santa Fe's route and this agreement remained following UP ownership. As a result, not only could one witness famous trains such as the Chief, Super Chief, and El Capitan working their way over Cajon Pass but also some of Union Pacific's best remembered trains including the City of Los Angeles, Challenger, and Gold Coast. 

One of the first significant improvement projects occurred in 1913 to help accommodate growing traffic levels when a second line was built over the pass, which originally featured two tunnels. However, over the years to help curb maintenance costs both of Cajon's tunnels were "daylighted," meaning they were dug out into deep cuts. This second line is not as steep and features only a 2.2% maximum grade but the original line, now known as the westbound track, remains a real challenge with its 3% grade. During the steam era watching the iron horse tackle these grades was truly a sight to behold. One could witness 4-8-2s double-head passenger consists such as the Pacific Limited while 2-10-2 Santa Fes fought heavy freights over the pass, sometimes double-headed, and others cut in mid-train. 

And that wasn't all; even into the early diesel days the AT&SF's gorgeous 4-8-4s could be seen assisting the silvery, sleek Super Chief through Sullivan's Curve, a location made famous by Herb Sullivan who captured several stunning photos thanks to its wide open vistas. The sweeping curve, which now bears the photographer's name, also became the backdrop for a number of publicity scenes while artists such as John Winfield and Andrew Harmantas have immortalized the spot in oils. Steam, of course, offered the most dramatic action. However, interesting lashups could still be witnessed during the early diesel era when Santa Fe FTs, F3s, F7s, and beautiful Alco PAs worked their way over the pass. Also, Union Pacific's gargantuan DD35's and DDA40X's ("Centennials") tackled Cajon's grades.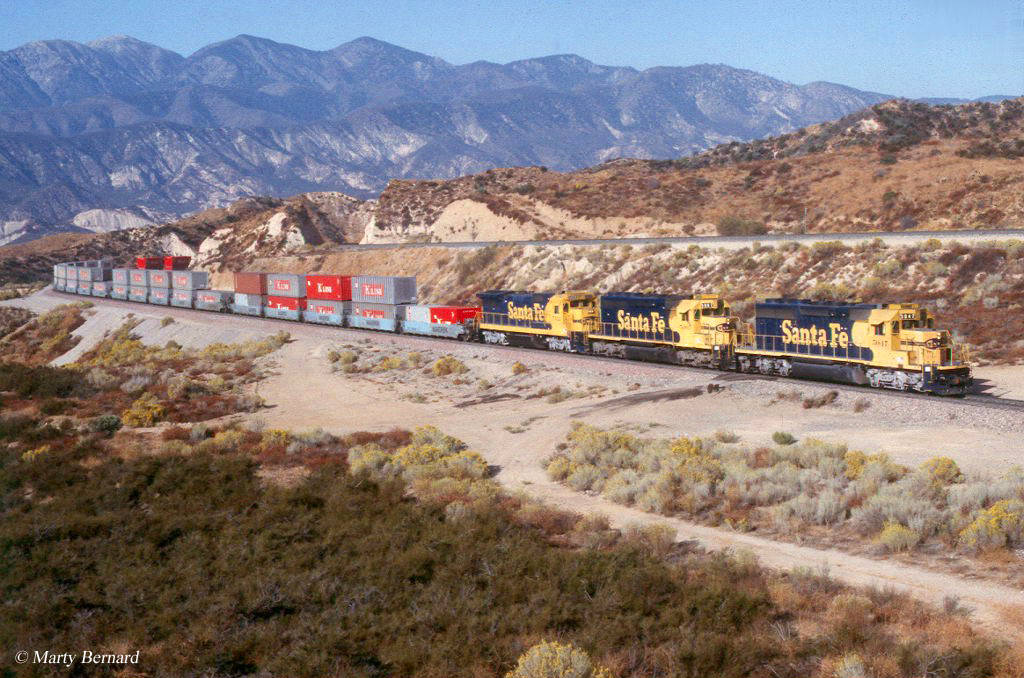 In 1967 the AT&SF received competition when Southern Pacific completed its Palmdale Cutoff through the area, which sits a bit to the east and features a somewhat stiffer gradient. However, it remains in use by owner Union Pacific. Also, today, owner BNSF has constructed a third track along the original AT&SF grade to further help keep up with growing traffic demands. Because of the route's steep grades it has been the scene of many runaways, the most famous of which occurred in May, 1989 when a Southern Pacific freight train lost control and hit a residential area of San Bernardino, killing two civilians as well as the engineer and conductor. Today, with the breathtaking scenery, numerous daily trains, and tough work required to move freight over the pass it is a big attraction for those who like to watch and film trains (aka, "railfans"). 

Related Reading You May Enjoy


Home

›

Railroad Landmarks

› Cajon Pass