One important point which needs to be addressed, and one which I have covered many times before. If you are unfamiliar with the railroad industry but are particularly interested in working for a Class I in either the fields of maintenance or transportation please understand that the work can be quite difficult and dangerous with long hours on the job required. For instance, it is not uncommon for conductors and engineers to work regular 12 hour shifts for days and be away from home on a regular basis. If you have a family or plan to and wish to spend a lot of time with them, railroading may not be the career for you.
There are plenty of positive aspects to being a railroader, however, including great pay and retirement. In the end, it simply comes to down to priorities if you think the job is for you. Of note, if you are in college or plan to attend many Class I railroads offer scholarships and summertime internship/graduate programs. You will need to visit their career pages for more information.  Please note that by contacting me concerning job information is of little use because there simply is not a lot of help I can provide. If you have questions or concerns regarding a particular position you will need to contact the railroad in question.  For more information regarding Class I jobs please click here.

Short Lines And Regionals
Central Oregon & Pacific Railroad: The CO&P is a G&W shortline serving western Oregon and the northern area of California.
San Joaquin Valley Railroad: The San Joaquin Valley Railroad is another G&W operation serving two broken stretches of railroad in central California.
Arizona & California Railroad: The Arizona & California is yet another G&W property serving both states.

California Northern Railroad: Another G&W shortline the California Northern serves the area north of San Francisco on two broken stretches of railroad.
San Diego & Arizona Eastern Railway Company: This independent short line serves the area of San Diego operating about 108 miles of track.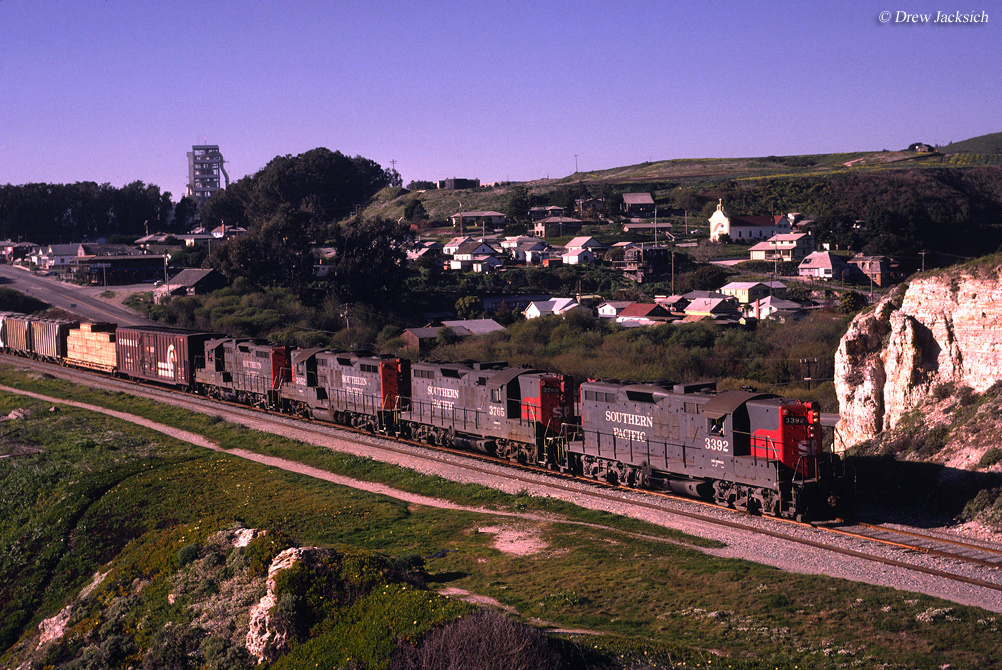 A quartet of Southern Pacific GP9s with #3392 in the lead have the Santa Cruz Local as it departs Davenport, California on a late February afternoon in 1988.
Central California Traction Company: This switching railroad has been in operation since 1905 serving the Port of Stockton.

Los Angeles Junction Railway: Owned by BNSF Railway.
Modesto and Empire Traction Company: A switching/terminal railroad serving Modesto since 1909.

Napa Valley Railroad: A very popular excursion train which may one day operate freight trains again. I am not sure if they offer many employment opportunities.

Oakdale Traction Corporation: This railroad operates a short, one-mile segment of track in Oakland.

Oakland Terminal Railway: Owned by Union Pacific and BNSF Railway.
Pacific Harbor Line, Inc.: The Pacific Harbor Line is a Anacostia & Pacific property serving the Ports of Long Beach and Los Angeles since 1997.

Pacific Sun Railroad: The Pacific Sun is a Watco short line.

Quincy Railroad: This 3-mile shortline is owned by Sierra Pacific Industries.

Richmond Pacific Railroad: A terminal railroad owned by the Levin Richmond Terminal Corporation.

Sacramento Valley Railroad: A Patriot Rail Corporation property.

San Diego & Imperial Valley Railroad: Another G&W property serving extreme southern California.
Santa Cruz, Big Trees & Pacific Railway: Also a popular California excursion train operation.

Santa Maria Valley Railroad: An independent shortline which has been in operation since 1911.

Sierra Northern Railway: The Sierra Northern is an independent short line operating in northern California.

Stockton Terminal & Eastern Railroad: This terminal railroad has been in operation since 1908 serving the Port of Stockton.

Trona Railway: This railroad is owned by Searles Valley Minerals. To contact the railroad: 13068 Main Street Trona, CA 93562.
Tulare Valley Railroad: The Tulare Valley is a 6-mile shortline owned by V&S Railway, LLC of Salt Lake City.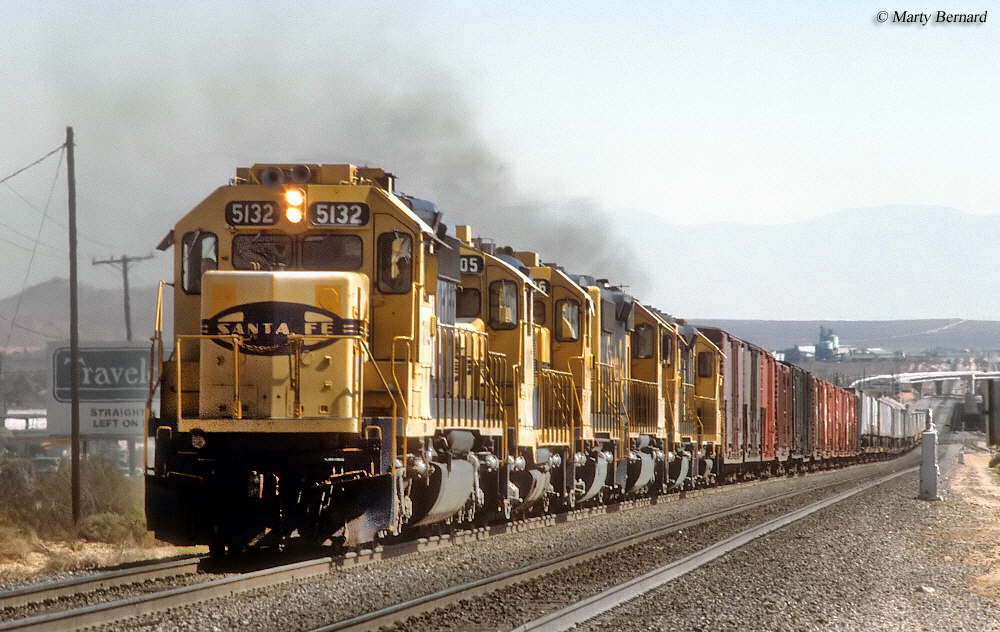 Santa Fe SD40-2u #5132 and five other EMD products climb the grade at Mojave, California with a short freight of boxcars and pigs on September 4, 1990.
Ventura County Railroad: The Ventura County Railroad is another G&W property serving the Port of Hueneme near Oxnard.
West Isle Line, Inc.: This railroad is owned by Western Farm Service by operates under contract, thus, they have no employees of their own.
Yreka Western Railroad: The Yreka Western used to operate excursion trains but now only serves its freight customers in northern California.  For contact information; Yreka Western Railroad Company, 300 East Miner Street, Yreka, CA  96097.
---
---
Various Job Types



Brakeman



Conductor



Engineer


Signal Maintainer


Roadmaster


Tie Gang Laborer



Dispatcher


Trainmaster



Yardmaster