Caltrain, Serving The San Francisco Bay Area

Caltrain is another of California's many commuter railroad agencies serving the San Francisco region. Fully funded and operated by the City of San Francisco, San Mateo County Transit District, and Santa Clara Valley Transportation Authority it came about after the venerable Southern Pacific Railroad opted out of commuter rail service to the region in the late 1970s (the railroad once had extensive commuter rail operations throughout California, this during a time well before state/city funded such operations). Between 1980 and 1987 SP continued to operate commuter service to the San Francisco area under contract by the California Department of Transportation. After 1987 the service was launched operating its own equipment and connecting Gilroy with downtown San Francisco. Since its inception the service has become very popular with several future extensions and upgrades already either in the planning stages or soon to happen.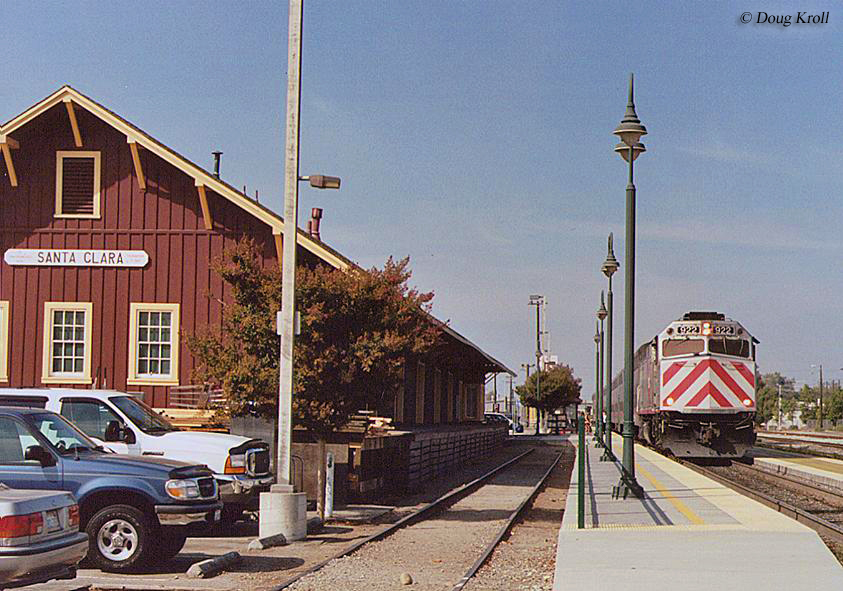 F40PH-2 #922 heads southbound as it boards passengers at the station in Santa Clara on October 20, 2005.
California is continually growing its commuter, transit, and light rail systems. The state is a leader in commuter rail and one reason behind this is its attempt to find ways to reduce its large amounts of carbon monoxide emissions, mostly from highway traffic. The state's commuter rail system includes the CalTrain (the Bay Area), Metrolink (Southern California), and Altamont Commuter Express (serving the Central valley and the Silicon valley). Of course, the state is also home to plenty of local services like Amtrak's Surfliner and Capitol Corridor operations part of the passenger carrier's and state's Amtrak California services as well as San Francisco's famous trolley system.
Today, Amtrak (officially known as the National Railroad Passenger Corporation) and passenger rail, as a whole, are stronger than ever and increasingly gaining support as oil prices soar and we look for cleaner and more efficient ways to travel. Since 2000 when the Amtrak introduced high-speed Acela service (and more trains/routes in general) along its Northeast Corridor growth for the carrier has become much more prominent. Since 2002 Amtrak has broken annual ridership records and continues to do so even today despite being perennially underfunded.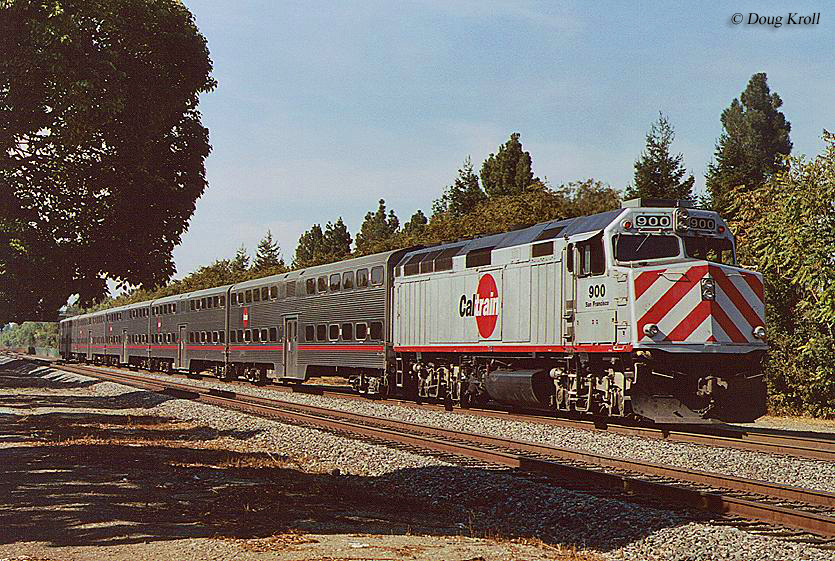 F40PH-2 #800 hustles its commuter train northbound through Mount View on October 20, 2005.
Along with Amtrak, state passenger railroading operations are gaining support and receiving increased attention and funding, particularly as highways become increasingly congested. Perhaps the two most noted states that are giving passenger railroading serious attention include North Carolina and California. Both are doing a magnificent job developing passenger rail corridors in their respective states, particularly North Carolina.  While Caltrain currently only operates one route covering some 77 miles (serving 32 stations), running due south, it is broken down into six different zones (the zones are in place for pricing purposes and the further your trip the higher the price).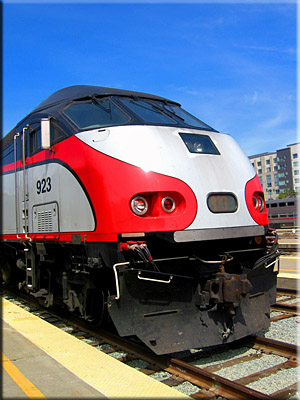 Some of its newer power are MP36PH-3Cs, like #923 seen here in San Francisco at 4th & King Street Station on June 4, 2007.
The different zones are (by stations):
· Zone 1: Serving San Francisco, 22nd Street, Bayshore, South San Francisco, and San Bruno.
· Zone 2: Serving Millbrae, Broadway, Burlingame, San Mateo, Hayward Park, Hillsdale, Belmont, San Carlos, and Redwood City.
· Zone 3: Serving Atherton, Menlo Park, Palo Alto, Stanford, California Avenue, San Antonio, Mountain View, and Sunnyvale.
· Zone 4: Serving Lawrence, Santa Clara, College Park, San Jose DIRIDON, and Tamien.
· Zone 5: Serving Capitol and Blossom Hill.
· Zone 6:  Serving Morgan Hill, San Martin, and Gilroy.
---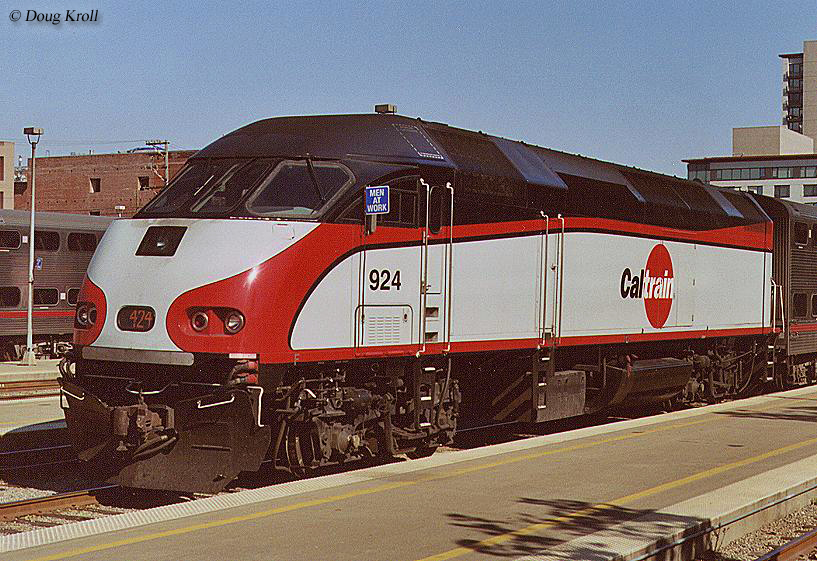 Another view of a MP36PH-3C, #924, is seen at San Francisco's Townsend Street station on October 28, 2006 (note the blue flag, which can only be removed by the worker who placed it there). These locomotives were built in 2003 by MotivePower, Inc. as part of the Baby Bullet trainsets.
The service continues to grow in popularity, today seeing nearly 37,000 weekday riders. It's most popular service is currently the Baby Bullet Express, which shaves down transit times by making fewer stops, while future plans include extensions in downtown San Francisco, south of Gilroy, electrifying the system's tracks, and wireless Internet access. All in all Caltrain has grown to become a very reliable and quite efficient operation, enabling commuters another option of mass transit in the Bay Area. If you would like to learn more about Caltrain or are perhaps considering using the system please click here to visit their website.