The second upgrade included new bi-level, gallery cars purchased from Pullman-Standard and American Car & Foundry between 1955 and 1968.  In all the SP acquired 46 of these cars that offered a modern look and more comfortable accommodations.  They were initially painted in a two-tone grey livery but during the 1960s received a more basic all-grey look.  Over the years the Train Masters were supplemented by other power from Electro-Motive SD9s and GP9s to FP7s and SDP45s (after 1967).  The SP had lost interest in passenger operations dating well back to the early 1960s as its trains were habitually losing money despite the road's best efforts.  Not surprisingly, it petitioned the Public Utilities Commission in 1977 to drop commuter service as well.  This move was partially granted in 1980 when the California Department of Transportation (Caltrans) moved to subsidize SP's service.
(All-time Caltrain locomotive roster.)

| Builder | Model Type | Road Number | Date Built | Notes |
| --- | --- | --- | --- | --- |
| EMD | GP9 | 500 | 1959 | Ex-SP #5811, Sold To MPI 2012 |
| EMD | GP9 | 501 | 1959 | Ex-T&NO #453, Sold To MPI 2012 |
| EMD | MP15DC | 503 | 1974 | Ex-SP #2691 |
| EMD | MP15DC | 504 | 1974 | Ex-SP #2692 |
| EMD | F40PH-2 | 902-903, 907, 910, 914 | 1985 | Overhauled By Alstom, 1999 |
| EMD | F40PH-2CAT | 900-901, 904–906, 908-909, 911–913, 915–919 | 1985-1987 | Overhauled By Alstom, 1999 |
| EMD | F40PH-2C | 920–922 | 1998 | Rebuilt By MotivePower |
| MPI | MP36PH-3C | 923-928 | 2003 | Purchased New |
However, the state eventually felt it could operate the service itself.  To to so it purchased new equipment, introduced  shuttle buses, and upgraded stations to launch Caltrain in 1985.  In 1991 the state purchased the SP's line from San Francisco to San Jose in an effort to preserve future commuter service.  Soon after, then Caltrain operator the Peninsula Corridor Joint Powers Board (formed in 1987) contracted with Amtrak to operate the service while extensions south to Gilroy were implemented.  Over the years Caltrain has witnessed several upgrades and improvements: in 1995 it became wheelchair-accessible and also added more room for bicyclists; during 1997 the carrier's classic red-dot logo was adopted; the summer of 2003 witnessed the new Millbrae Station opened near the San Francisco International Airport; during 2004 it launched its Baby Bullet service, also known as Caltrain Express that provided high-speed, limited-stop runs between San Francisco and San Jose; and in 2006 WiFi was added (wireless Internet access).

An operational change also came in May of 2012 when Amtrak was replaced by new operator TransitAmerica Services, Inc. owned by Herzog Transit Systems.  The corridor is currently broken down into six different station zones and Caltrain currently provides dozens of trains running in each direction on a daily basis.  Such extensive operations are required to meet the needs of this area; as of 2010-2011 Caltrain's annual ridership (12,574,233) placed it as one of the state's busiest commuter systems  Its current fleet of motive power includes several of Electro-Motive's F40PH-class passenger models as well as a batch of MP36PH-3C from MotivePower it acquired in 2006 for the new Baby Bullet service.  When Caltrans first launched it utilized a small fleet of classic GP9s handed down from Southern Pacific, which remained in use until as late as 2012.  Additionally, the rolling stock of commuter coaches includes 93 bi-level gallery cars manufactured by Nippon Sharyo as well as 17 BiLevel coaches built by Bombardier.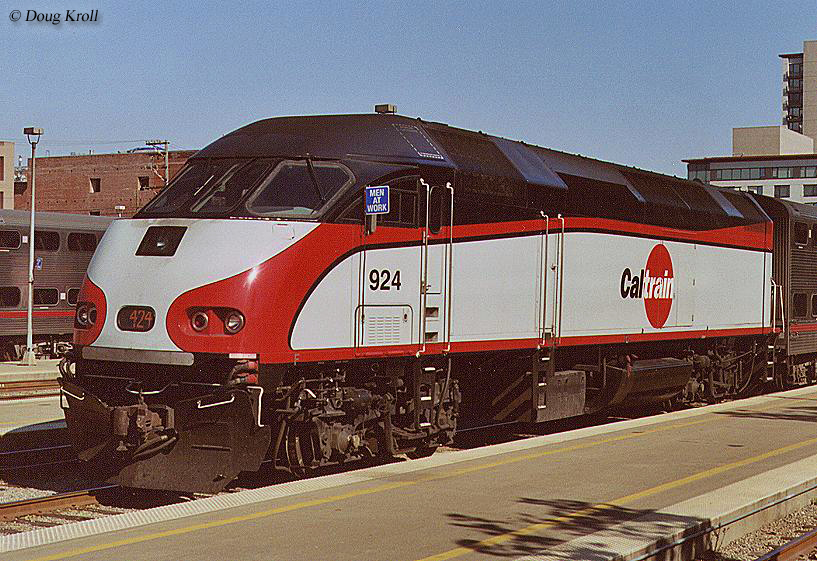 Norfolk & Western Class A #1218 is seen here negotiating the wye at Front Royal, Virginia during May of 1988 as the big steamer prepares a return trip to Alexandria.
As ridership steadily inches upwards Caltrain has several plans for the future although it remains to be seen if any of these expensive projects actually becomes reailty (they almost certainly, though, would result in higher ridership); a proposal is in place to build a 1.3-mile tunnel into downtown San Francisco and rebuild the old Transbay Terminal (this extension would also connect with California's high-speed rail project); the rebuilt Dumbarton Extension would push rails across San Francisco Bay and serve Union City, Fremont-Centerville, Newark, and Menlo Park/East Palo Alto; efforts have been attempted for years to reestablish service over SP's old Monterey Branch as far as Salinas (served by its train known as the Del Monte until Amtrak began operations in early 1971) but funds to rebuild this line have yet to materialize; and finally there has been talk to electrify the entire Caltrain system, which hopes to be in service by 2019.

Related Reading You May Enjoy


Home

›

Commuter Trains

› Caltrain