Canadian Pacific Railway Careers
Being one of the seven largest railroads in North American (known as Class Is), Canadian Pacific Railway careers include a wide range of fields from transportation and maintenance to various office and management positions. The railroad dates much further back than its rival Canadian National Railway, having been established in early 1881. And, unlike CN, CP (which until 1996 was known as CP Rail) was never under the control of the Canadian government. Canadian Pacific is not nearly as large as CN operating in southern Canadian mostly between Vancouver and Toronto and the northern US including New York City, the Midwest and as far west as central North Dakota. While today's CP system is by and large made up of lines it has historically either always owned outright and through takeover the railroad also includes some venerable classic American companies including the Soo Line, Milwaukee Road, and Delaware & Hudson.
A pair of Canadian Pacific SD40-2s lead a Norfolk Southern stack train through the east end of Rutherford Yard in Harrisburg, Pennsylvania on April 11, 2007.
Unfortunately, my familiarity with Canadian Pacific, and Canadian railroads in general is that extensive as I have always focused mostly on American lines. Despite this, because in this day and age CP now operates within the United States they must be covered in terms of the jobs which they offer. And, I must say that being a Class I Canadian Pacific Railway careers offer quite a variety. Also, if you are either attending college or plan to attend and are interested in the field of management CP does offer summer programs (as well as graduate programs). Overall, Canadian Pacific is actually one of the smaller Class I railroads in terms of both earned profits (listing at sixth out of the overall seven railroads) and mileage (despite the fact that the railroad operates from coast to coast).
Like its counterpart, the Canadian National, CP operates more of a point-to-point system with few branch lines. The railroad operates in the southern regions of Canada's provinces as well as touching base in the U.S. Northeast and Midwest. Please keep in mind that if you have an interest in working for CP's maintenance or transportation departments (meaning, out in the field along the main line) it essentially has separate American and Canadian crews. As such, Americans can work along its lines in the Northeast or Midwest while Canadians operate the railroad's Canadian lines. The Canadian National is one of just a very few other such North American railroads to do this as train crews will switch places at the border.
CP power rests at the yard in Nanaimo, British Columbia as switching chores carry on in the background on June 3, 1992.
To give you an idea of just what it means for a railroad to be termed a "Class I", it is essentially a designation by the Association of American Railroads to classify those companies which bring in the most profits within the industry. Aside from CP these companies now include Canadian National, CSX Transportation, Kansas City Southern, Union Pacific, and Norfolk Southern. For more information about Class I railroads please click here to visit the section of the website which covers the subject in more detail.
A final few general thoughts concerning railroading if you are seriously interested in working within the industry, particularly if you plan to go into transportation or maintenance. It can very tough work and requires one to be away from home many hours every day with a schedule that can be very unpredictable. As such, please be sure to take this into consideration before making a decision.
To search for Canadian Pacific Railway careers please feel free to use the search box below from Indeed.com, one of the leading online career resource guides. Finally, for more information about Canadian Pacific Railway careers please click here to visit their career page (which also includes information about summer and graduate programs).
---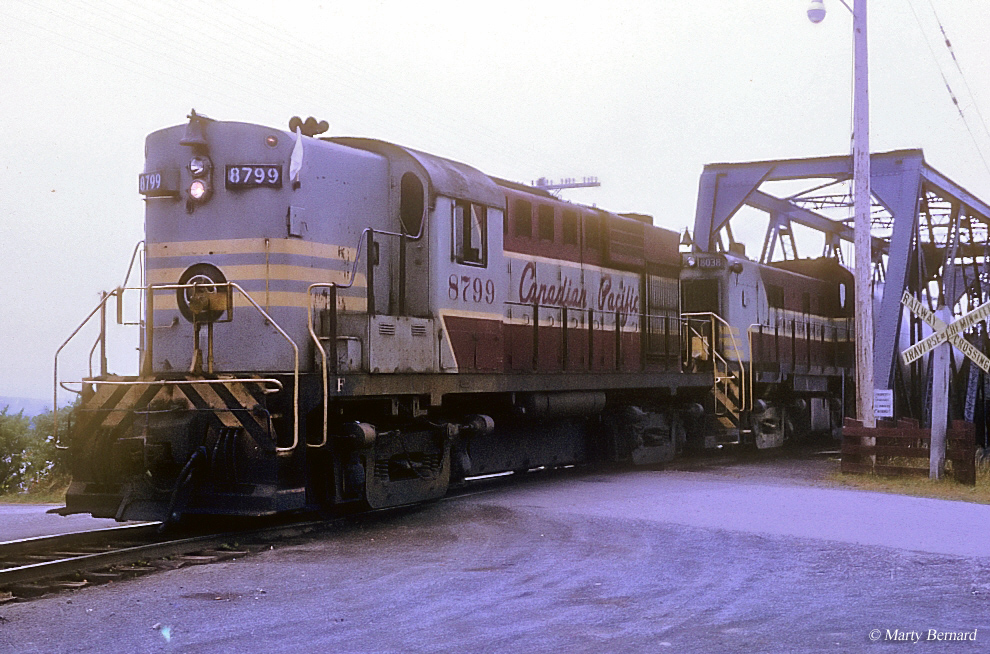 Canadian Pacific RS18 #8799 and RS23 #8038 move through Vallee-Jonction, Quebec on August 20, 1970.
Lastly, if a career in railroading is right for you but would like to learn more about what it takes to work in the industry you might want to consider the book Working on the Railroad from noted author Brian Solomon. Solomon's book details the history of working in the railroad industry and the difficulties and hardship employees faced back then as well as today. After reading this book you should have no doubts about whether working in the industry is something you are truly interested in. In any event, if you're interested in perhaps purchasing this book please visit the link below which will take you to ordering information through Amazon.com, the trusted online shopping network.