Then, in 1990 the train was given a second chance when it was relaunched on May 12 of that year as a through service from Charlotte to Washington, D.C. and on to New York. A year later Amtrak dropped the connection to the Palmetto and without the need to offer connecting trains at Richmond the Carolinian not only saw higher ridership but also lower operating costs. Today, the corridor is 704 miles in length and the train is operated daily as #79 and #80 with station stops (from north to south) at New York (Penn Station), Newark, Trenton, Philadelphia (30th Street), Wilmington, Baltimore, Washington, Alexandria, Quantico, Fredericksburg, Richmond, Petersburg, Rocky Mount, Wilson, Selma, Raleigh, Cary, Durham, Burlington, Greensboro, High Point, Salisbury, Kannapolis, and finally Charlotte.
While North Carolina does subsidize the train it does not own any of the equipment as is the case with the regional Piedmont Service. Because of this standard Amtrak rolling stock is used on the train which normally consists of a GE P42 and Amfleet cars that include coach and business class as well as cafe service. Finally, the train recently received on board Wi-Fi so travelers can enjoy surfing the Internet while on their trip. A typical journey takes about 13.5 hours to complete, thus the reason that Superliner sleepers are not offered. While the Carolinian has not seen such staggering growth in recent years like its counterpart, the Piedmont Service, it has seen steady traffic with more than 300,000 riders in 2011. The route between Charlotte and Raleigh is now owned by the state, known as the North Carolina Railroad (which in total owns 317 miles of track)  with rights leased to Norfolk Southern to provide freight service.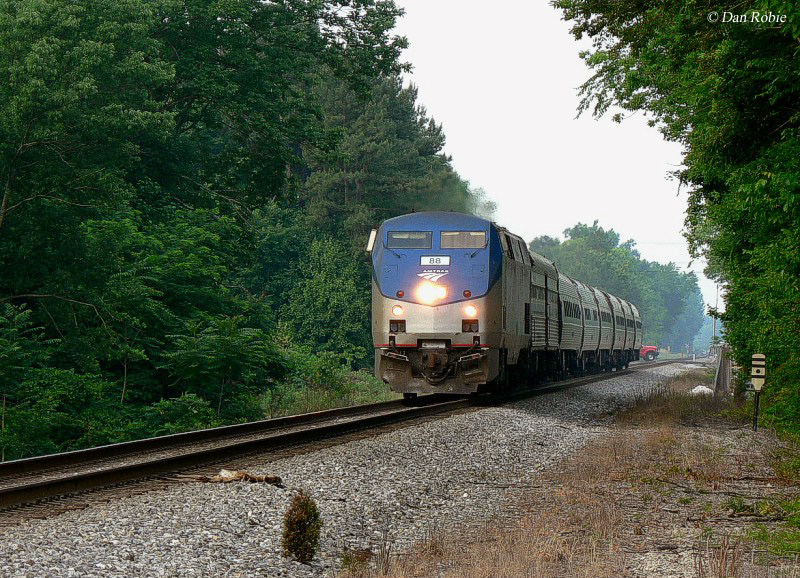 The Tarheel State has big plans for its future rail service as it hopes to establish high speed operations throughout its borders from Asheville to Wilmington. While the North Carolina Railroad has its owns website which you can visit here, to truly learn about the state's incredible plans of passenger and commuter rail services you need to visit the North Carolina Department of Transportation's dedicated website to such called Bytrain.org. This website not only give you the latest scoop concerning ongoing initiatives and plans relating to North Carolina's railroading operations it also informs about the state's steps to preserve right-of-ways for future rail use and keeping industries planted in its borders by providing rail access. All in all, the entire site is the best resource on the Internet to learn about North Carolina's rail industry, from passenger to freight usage.

Related Reading You May Enjoy


Home

›

Amtrak

› Carolinian