One thing which I have constantly stressed if you are considering a career or position in the industry is just how hard the job actually is, especially if you are unfamiliar with railroads and how they operate. In particular this holds true for the large, Class I railroads where, because they operate such a large system an employee can be placed wherever they are needed and work incredibly long hours (usually for 12 hours. For instance, if you are interested in California railroad jobs but hire on with either Union Pacific or BNSF Railway you might be placed along their eastern regions in states such as Illinois, Texas, or Louisiana.  Lastly, once again I must stress that contacting me concerning potential job openings or inquiring about a particular position is of little use because there is simply not much I can do to help. For more information you will need to contact the railroad directly.
Short Lines And Regionals
Cimarron Valley Railroad (reporting mark, CVR):  This large short line operates 254 miles of former Santa Fe trackage in Kansas, Oklahoma, and Colorado.  There are two disconnected lines; one from Dodge City, Kansas to Boise City, Oklahoma while the other runs from Satanta, Kansas to Springfield, Colorado.  For more information about the company please visit their website.

Colorado & Wyoming Railway (reporting mark, CW):  This historic road has a history dating back to 1899.  Today it operates just 4.5 miles of its original network, serving the area around Pueblo.  This system does not have its own website.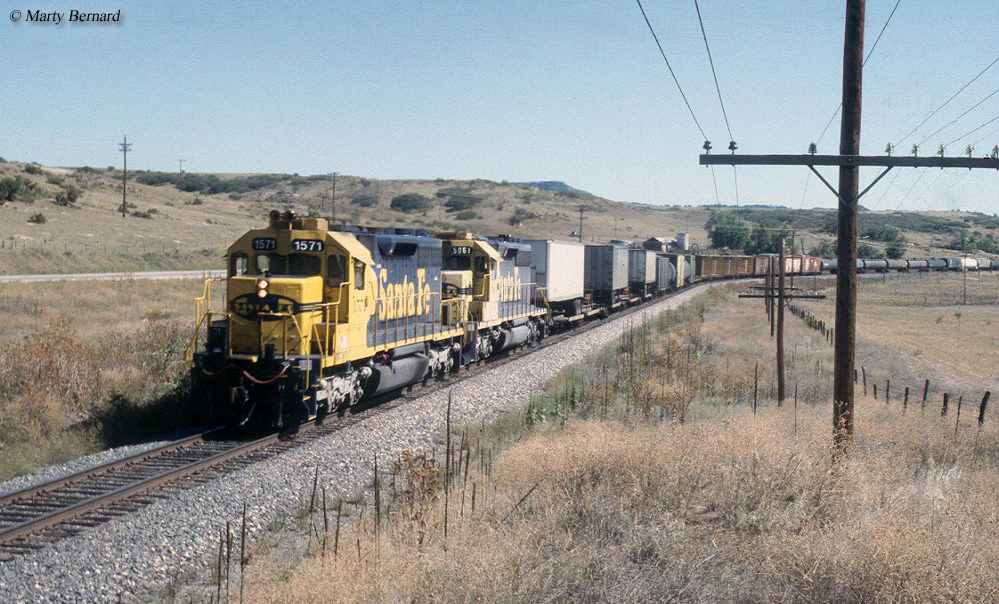 Santa Fe SD39 #1571 and SD40-2 #5061 lead a mixed freight through Castle Rock, Colorado on September 15, 1993.
Denver Rock Island Railroad (reporting mark, DRIR):  This privately owned short line first began service in 1993 on trackage once owned by the Rock Island.  It currently serves three yard near Denver known as the North Washington Park, Stockyards, and Airlawn.  For more information please visit their official website.

Great Western Railway Of Colorado (reporting mark, GWR):  Not to be confused with the English road carrying the same name, this Great Western dates back to its incorporation on October 16, 1901 by the Great Western Sugar Company to serve its sugar plants in Loveland and Greeley.  For many years the railroad moved sugar beets, molasses, processed sugar, and related products.  It also handled passenger business until 1927.  It remained under private ownership for many years before it was acquired by OmniTRAX.  For more information please visit the company's web page at the OmniTRAX site.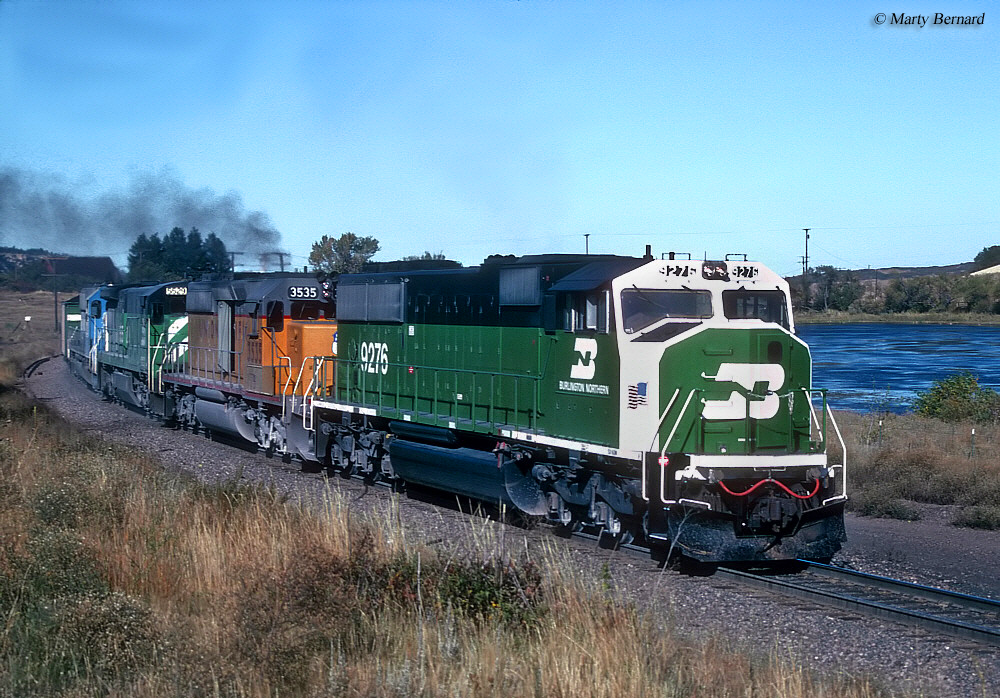 Nearly new Burlington Northern SD60M #9276 and a string of other power lead a Powder River Basin coal train through Palmer Lake, Colorado on October 3, 1992.
Kyle Railroad (reporting mark, KYLE):  This large, Class II, regional system operates more than 500 miles of which most is the Rock Island's former main line between Chicago and Denver.  It also owns some branch trackage north and west of Salina, Kansas with a very short segment reaching into southern Nebraska.  It was a long-time RailAmerica property before that company was purchased by G&W in 2012.  For contact information please visit the railroad's website at Genesee & Wyoming.

Nebraska, Kansas & Colorado Railway (reporting mark, NKCR):  This Class II, regional operates roughly 559 miles of disconnected track predominantly based in Kansas but also reaching Sterling, Colorado.  It has been in service since 1996 with traffic largely made up of coal movements while it also handles wheat, corn, and fertilizer.  For more information please visit the company's web page at OmniTRAX.

---
---
Various Job Types



Brakeman



Conductor



Engineer


Signal Maintainer


Roadmaster


Tie Gang Laborer



Dispatcher


Trainmaster



Yardmaster