Colorado Railroad Jobs

For a state of its size, Colorado railroad jobs are mostly relegated to the Class Is which serve the state, Union Pacific and BNSF Railway, which make up 80% of its total rail miles. Amtrak also operates across Colorado, notably its very popular California Zephyr. It is a bit disappointing that just a handful of railroads now operate in Colorado considering the state's rich heritage with trains (such as the venerable Denver & Rio Grand Western Railroad). Aside from the Class Is just a handful of regional, Class IIs and about the same number of Class III, shortlines operate in the state.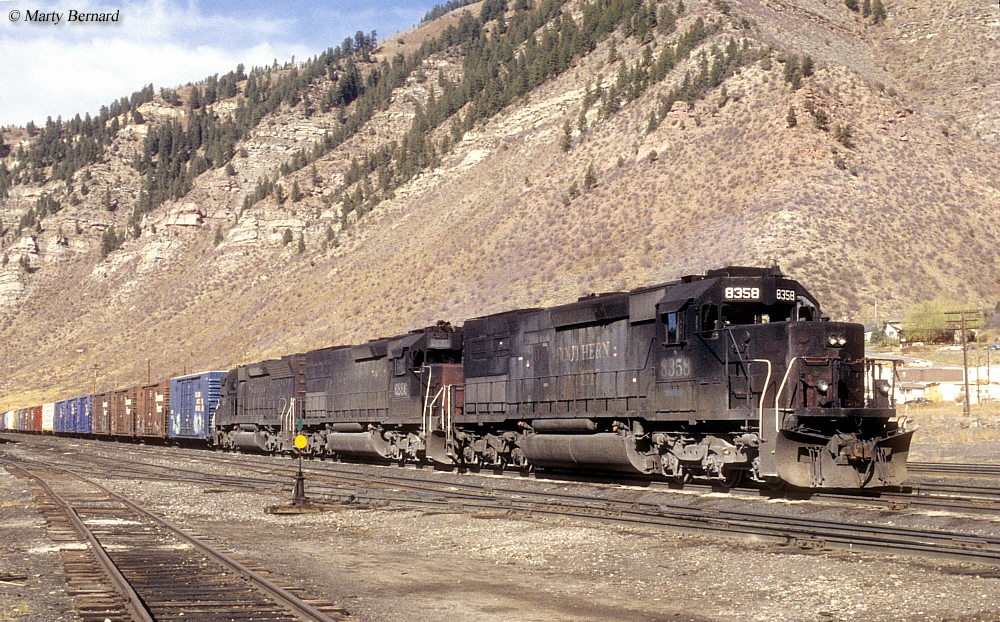 The dirt and grime are quite apparent on this pair of Southern Pacific SD40T-2s and an SD45 as the units move a freight of boxcars through Minturn, Colorado along the former Rio Grande on October 24, 1994.
One thing which I have constantly stressed if you are considering a career or position in the industry is just how hard the job actually is, especially if you are unfamiliar with railroads and how they operate. In particular this holds true for the large, Class I railroads where, because they operate such a large system an employee can be placed wherever they are needed and work incredibly long hours (usually for 12 hours. For instance, if you are interested in California railroad jobs but hire on with either Union Pacific or BNSF Railway you might be placed along their eastern regions in states such as Illinois, Texas, or Louisiana.  Lastly, once again I must stress that contacting me concerning potential job openings or inquiring about a particular position is of little use because there is simply not much I can do to help. For more information you will need to contact the railroad directly. 
(To search for Colorado railroad jobs directly please use the below search box from Indeed.com.)
Class I Railroads
Amtrak
BNSF Railway
Union Pacific
Short Line And Regional Railroads
Many of the regional and short line railroads listed below are subsidiaries of one of the following companies.  To learn more about employment opportunities with them please visit their website:
Genesee & Wyoming
Omnitrax
Iowa Pacific Holdings, Inc.
Kyle Railroad: The Kyle Railroad is another G&W property, operating in both Kansas and eastern Colorado.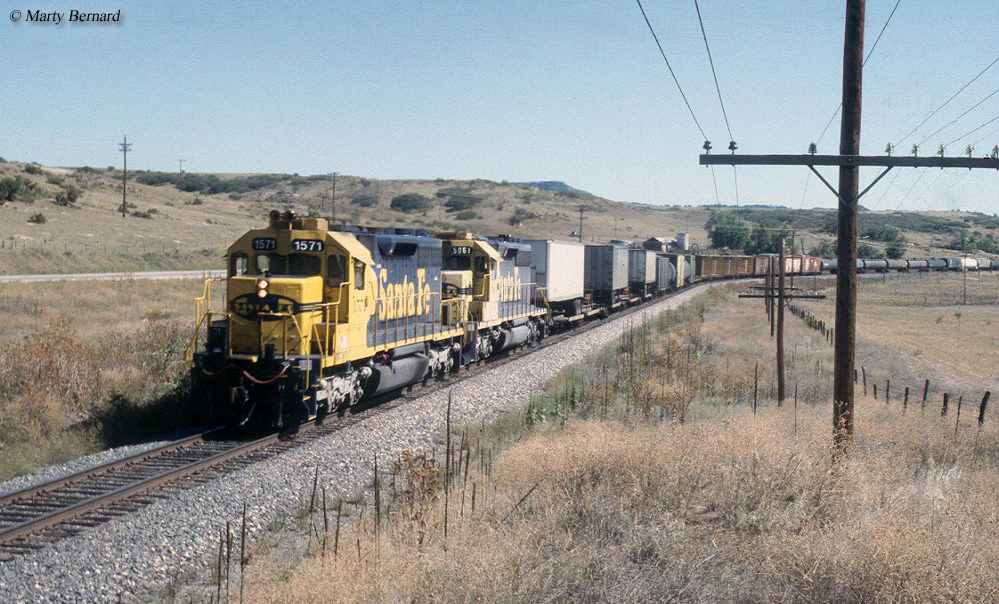 Santa Fe SD39 #1571 and SD40-2 #5061 lead a mixed freight through Castle Rock, Colorado on September 15, 1993.
Nebraska, Kansas & Colorado Railway: The Nebraska, Kansas & Colorado Railway is one of the OmniTRAX properties operating in northeastern Colorado through western Kansas.

Cimarron Valley Railroad: The Cimarron Valley is one the Western Group's small family of short lines.  For contact information please visit their website.
Colorado and Wyoming Railway: 1612 East Abriendo, P.O. Box 316 Pueblo, Colorado 81002.

Denver Rock Island Railroad: This independent shortline serves the Denver region connecting to both the UP and BNSF.  For contact information please visit their website.
Great Western Railway of Colorado: The Great Western is another OmniTRAX property, which serves the area south of Fort Collins.

---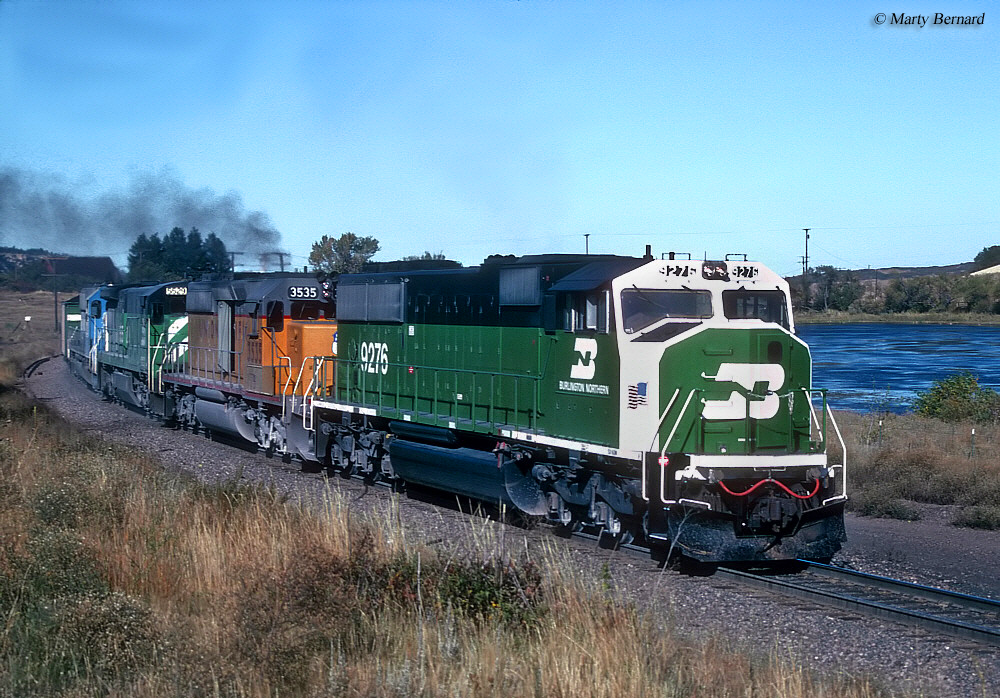 Nearly new Burlington Northern SD60M #9276 and a string of other power lead a Powder River Basin coal train through Palmer Lake, Colorado on October 3, 1992.
Rock & Rail, LLC: Rock & Rail operates between Pueblo and Parkdale connecting with UP and BNSF.  For contact information please visit their website.
San Luis Central Railroad: 2899 Sherman Ave P. O. Box 108, Monte Vista, Colorado 81144.
San Luis & Rio Grande Railroad: The SL&RG is an Iowa Pacific short line serving southern Colorado.  For contact information please visit their website. 
Towner Railway: Another of V&S Railway's small family of shortlines which serves the region east of Pueblo.