Colorado Railroads and Railfanning In "The Centennial State"

Colorado railroads are known mostly for three things; flat plains, the Rocky Mountains, and narrow-gauge railroading (even today!). It shouldn't be surprising then that mountainous operations also define the state's railroads. While the first line would not appear in Colorado until over 40 years after the Baltimore & Ohio was incorporated the state's rail network rapidly expanded after this time. During the state's heyday with trains it featured a rail network consisting of over 5,000 miles and a half-dozen classic "fallen flags". Today, Colorado is dominated by Class I systems Union Pacific and BNSF Railway. Along with the Class I railroads the state is also renowned for its bucolic and breathtaking narrow-gauge railways. The information included on this page gives a brief background and overview of Colorado from its earliest history with trains to present-day operations. Additionally, when possible links are provided to other pages here at the site covering various railroad subjects related to Colorado (i.e., museums, excursion trains, interurbans, etc.).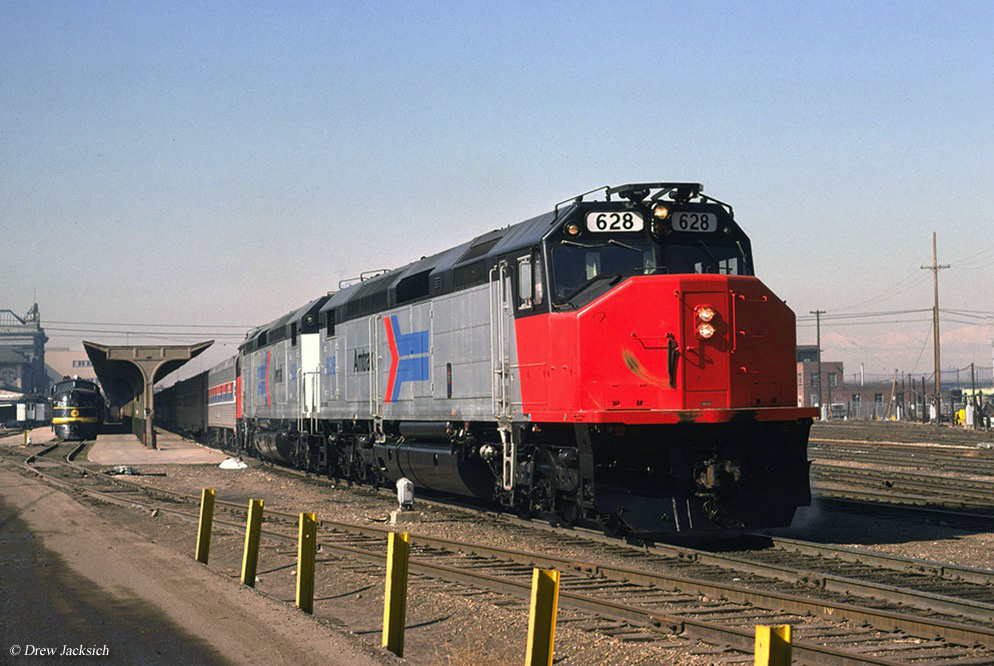 Rock Island GP7 #1271 leads two U-boats as their train hits the diamond at busy Joliet, Illinois September 1, 1969.
Colorado railroads arrive rather late to the game in comparison to other states, as the state's first railroad did not appear until 1867. That year the Denver Pacific Railway & Telegraph Company was chartered to complete a main line between Denver and Cheyenne, Wyoming where it would establish a connection with the growing Union Pacific system. After three years of construction the new 100-mile route was opened in 1870. Just ten years later the DPR&TC became another division of the UP system. After this line was opened the state's rail network quickly exploded to over 1,500 miles by 1880. At its peak Colorado was once home to several classic railroads including:
Colorado & Southern (a CB&Q subsidiary)
Chicago, Rock Island & Pacific
Of the classic fallen flag systems that made up most of Colorado's railroads, the Rio Grande is by far the state's most celebrated and recognized, mostly due to its fabled and sprawling narrow-gauge system, which lasted until the late 1960s. It's narrow-gauge operations, or what remained of them anyway (over the years the once almost exclusive narrow-gauge system had been converted to standard gauge), was centered primarily in the southern part of Colorado and northern New Mexico. It was originally built to serve coal, timber, silver, and gold although most of this (particularly the latter) had dried up by the 20th century and in its final days the narrow-gauge operations were mostly a tri-weekly service carrying mixed trains of people and freight.
One of the Rio Grande's narrow-gauge operations did survive, however. The Silverton Route survived abandonment and today continues on as the very popular Durango & Silverton Railroad. Along with the Silverton Route the Rio Grande's narrow-gauge line between Chama, New Mexico and Antonito, Colorado also survived. Today this line is home to the likewise well known Cumbres & Toltec Scenic Railroad.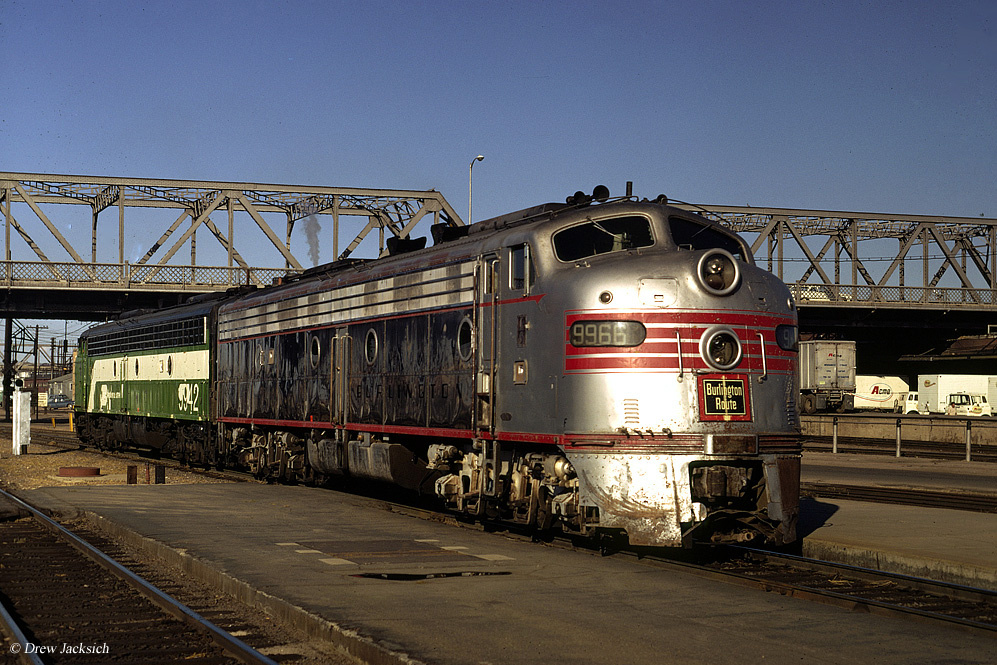 A pair of Burlington GP30s led by #942 hustles a short freight through Westmont, Illinois on July 30, 1965.
Besides the Rio Grande's famed narrow-gauge lines two other future ventures would earn the railroad legendary status. At the Continental Divide northwest of Denver, the Denver and Rio Grande Western completed the famous Moffat Tunnel in 1928, some 6.1-miles in length and bypassing the torturous Rollins Pass, over 11,000 feet in height! The new tunnel cut down transit times over that section of main line from several hours to mere minutes and further strengthened the line's demand as a high-speed connection over the Rockies.
Even more famous than the tunnel was the introduction of a joint passenger train by the Burlington, Rio Grande, and Western Pacific in 1949 known as the California Zephyr deliberately routed through the mountains so that passengers could witness the stunning beauty offered over the Rio Grande's main line through the Rockies. Not surprisingly the train was an instant hit with the public and did so well that the Rio Grande elected not to include it in Amtrak in 1971 and would rename the train the Rio Grande Zephyr. The train by then was so well known that Amtrak did not hesitate to keep it in service when the Rio Grande finally did elect to relinquish the train in the early 1980s and even honored it by renaming it back to the California Zephyr in 1983.
In a rather historic scene, Rio Grande narrow-gauge Class K-36 Mikado #483 readies the final eastbound freight to depart Chama, New Mexico on August 29, 1968 as the conductor works to set marker lamps on the caboose.
Today, the Rio Grande and other classic fallen flag systems have been merged away into the Union Pacific and BNSF Railway which carry on much of what their predecessors left behind as many lines remain important routes. For a more in-depth look at Colorado's rail mileage over the years please refer to the table below. As you can see, during the height of rail travel Colorado was home to just over 5,500 miles of trackage. Today, that number has fallen to around 2,500 or a loss of 54%. Considering that many states have lost about half of their rail infrastructure since the 1920s Colorado's decline is fairly typical.
Colorado also features a few smaller shortline systems including the Great Western Railway of Colorado, Colorado & Wyoming Railway, Kyle Railroad, Nebraska, Kansas & Colorado Railway, Cimarron Valley Railroad, Denver Rock Island Railroad, Rock & Rail, San Luis Central Railroad, San Luis & Rio Grande Railroad, and the Towner Railway. To learn more about these short lines please click here. This page provides employment information for those wanting to work for a Colorado railroad although it also includes the companies' contact information.
Along with the Durango & Silverton and C&T narrow-gauge operations the state boosts several other museums and tourist railroads. These include the Boulder County Railway Historical Society, Colorado Railroad Museum, Cripple Creek & Victor Narrow Gauge Railroad, Forney Museum of Transportation, Fort Collins Municipal Railway, Galloping Goose Historical Society, Georgetown Loop Historic Mining and Railroad Park, Leadville, Colorado & Southern Railroad, Mamtou & Pike's Peak Railway, Museum of Northwest Colorado, Platte Valley Trolley, Pueblo Railway Museum, Ridgway Railroad Museum, Royal Gorge Route Railroad, The Ski Train, and Windsor Museum.
Lastly, if you are planning a trip to Colorado to either railfan or enjoy the sites and sounds of the state's many museums and tourist railroads don't forget to stop by beautiful Denver Union Station in downtown Denver. It is well worth the drive to see! While it still serves Amtrak's California Zephyr and Southwest Chief, as well as the seasonal Ski Train, plans for the station's future include it becoming the city's hub of its ever-growing commuter rail system.
Surviving Colorado Railroad Stations
In any event, the state's beauty alone is well worth a visit to the Centennial State, whether your interested in Colorado railroads or not! All in all there is plenty to do and see all across the state so you are bound to have a wonderful visit whatever you decide to do.
Colorado Logging Railroads

As might be expected given the state's location there were a number of Colorado logging railroads. However, all were located only in the state's western regions along the Rocky Mountains since, of course, this is where the vast majority of the timber was located. Information about some of these operations is a bit tough to track down although as much as can be located will be presented here. It should be noted that both the Union Pacific and then Denver & Rio Grande had subsidiary operations in the state which moved quite a bit of timber and logs. In any event, the logging industry in southern Colorado began in the 1870s and 1880s, initially interested in harvesting local pine to serve the railroad industry for ties and other purposes as lines were just beginning to be heavily developed at that time.
The information below includes as much history concerning the state's logging lines as could be obtained, although please be aware that it is certainly not a complete list. Aside from the operations of the UP and Rio Grande there were three major lumber companies in Colorado that controlled or operated many miles of railroad in the state including the Hallack & Howard Lumber Company, Pagosa Lumber Company, and New Mexico Lumber Company. A lot of their tracts of timber were located in the same region as Colorado's narrow-gauge railroads built for the silver industry, in the southwest. However, companies like the H&HL also owned logging operations in other states.

Middle Park Lumber Company
This lumber company was served by the Colorado Utah & Southwestern Railway, which had a connection with the Denver & Rio Grande at Fraser and operated about a five mile branch to reach nearby timber reserves. It began operations in 1906 using a single Climax locomotive to haul loads and was a very shortlived logging line, as it was abandoned in 1919.
Hallack & Howard Lumber Company
This operation had numerous tracts in the west from which it harvested and included the states of Colorado, New Mexico, and Idaho. It was headquartered in Denver and was originally founded in 1867. While Hallack & Howard owned their own fleet of rolling stock and locomotives (all of which were ex-D&RGW or Colorado & Southern), in Colorado and New Mexico the company regularly worked with the Denver & Rio Grande, later the Denver & Rio Grande Western, to either move its finished lumber to market or serve its mills directly. The H&HL's history and general operations are tough to find information on although it remained in operation until its sale in 1960 when most of the rail lines were likewise sold off or abandoned.

A Northern Pacific Class W-3 2-8-2 Mikado leads a short freight of logs through Pablo, Montana on April 8, 1955.
McPhee & McGinnity Lumber Company
This lumber company was one of the oldest located in the west, dating as far back as 1869. At its peak the company owned about 60 miles of narrow-gauge railroad and vast tracks of timber in Colorado, which was primarily centered around its mill at McPhee. It began operations in 1891 as the Denver and Rio Grande Southern Railroad and slowly expanded over the years to grow to its peak mileage. Much of the company's locomotives were second-hand purchases from the Denver & Rio Grande and Rio Grande & Southwestern Railroad. Logging operations by rail mostly ended in 1932 although a short five-mile segment remained in use until 1948.

Rio Grande, Pagosa & Northern Railroad
This railroad was owned by the Pagosa Lumber Company, a company that was founded by Alexander T. Sullenberger, one of the most successful timber businessmen in southwest Colorado and northwest New Mexico. It was a narrow-gauge line serving Dyke and South Pagosa Springs with the company's sawmill located in Azotea, New Mexico. The RGP&N had connections with the D&RGW's nearby narrow-gauge operations (which were at Chama, about eight miles away), which moved the finished timber to market.
Some of the other Colorado logging railroads or companies that operated in the state include the Fisher Lumber Company Railroad, Rocky Mountain Railway, Rust Logging Road, Trinchera Estates Lumber Company Railroad, Montezuma Lumber Company Railroad, Rio Grand Southern, and Sayra Newton Lumber Company.
---
Rio Grande GP40 #3082 leads a pair of SD40T-2s as all three power westbound coal drag T#783 through beautiful Cedar, Utah on September 28, 1985.
For more reading about Colorado and the state's rail history there are a few books you might want to consider, Railroads of Colorado: Your Guide To Colorado's Historic Trains and Railway Sites by author Claude Wiatrowsik and Colorado Traveler: Railroads of Colorado by author Bob Griswold. The latter is actually a guidebook but both publications give an excellent narrative on the state's rail heritage, and you shouldn't be disappointed in either if you are interested in learning more about Colorado's railroad history. In any event, if you're interested in perhaps purchasing either (or both) of these books please visit the links below which will take you to ordering information through Amazon.com, the trusted online shopping network.