Central New England Railroad:  This small short line has been in service since 1995 operating over 8.5 miles of the old Central New England Railway between Hartford and Bloomfield (acquired in 1999) as well as utilizing ex-New Haven trackage from East Windsor Hill to State Line (13.5 miles).  The road interchanges with the Connecticut Southern.  The company does not have a website but its address is:  1681 Day Hill Road, Windsor, Connecticut 06095.
Connecticut Southern Railroad:  This short line traces its history back to 1996 when it acquired former New Haven trackage from Conrail that year.  In 2000 it was purchased by RailAmerica whose assets were taken over by the G&W in 2012.  Today, the road operates about 42 miles of track.
Housatonic Railroad:  The historic Housatonic Railroad has been around since its chartering in 1840.  It eventually grew into a rather substantial system serving western Connecticut, and southwestern Massachusetts.  Today, the short line operates much of the original route between New Haven and Pittsfield with a western extension to Newburgh, New York.  It remains independently owned moving a wide variety of freight.  The company does have a website and asks to visit its career page regarding employment opportunities.
New England Central Railroad: The New England Central has been in service since 1995 when it acquired the assets of the historic Central Vermont Railway, sold by Canadian National that year to RailTex Corporation which subsequently renamed the property.  This company was acquired by RailAmerica in 2000 which was purchased by G&W in 2012.  Today, the Class II, regional operates 394 miles and handles nearly 40,000 carloads annually. Its freight is highly diversified.
Pan Am Railways:  The Pan Am is the renamed Guilford Transportation system.  These large regional has served much of New England since 1981 when it began acquiring such classic system as Maine Central, Boston & Maine, Portland Terminal, and Springfield Terminal.  In 2006 it changed its name to Pan Am Railways.  Today, it operates roughly 1,700 miles and its traffic is widely diversified.  This privately-owned system hosts its own website and features a career page regarding jobs and employment opportunities.
Please Click Here To Return To The Main Jobs Page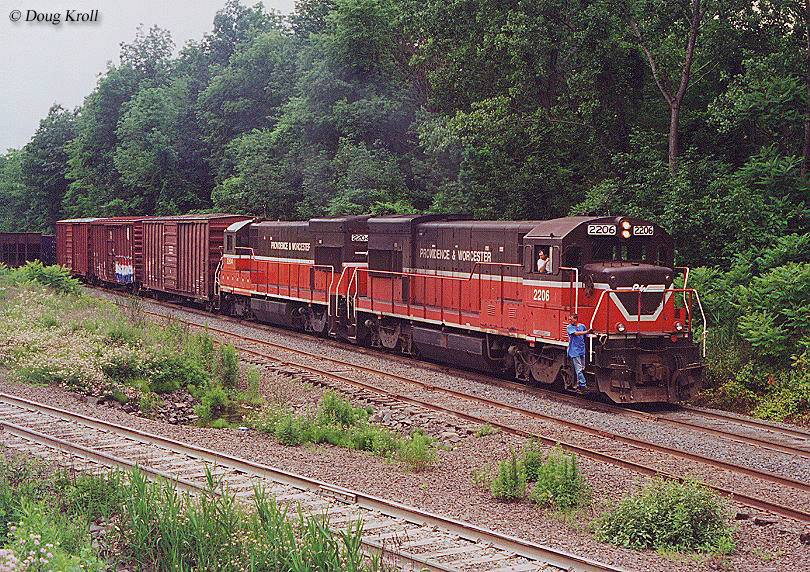 A pair of Providence & Worcester U23Bs led by #2206 eases through East Wallingford, Connecticut as it readies to switch the nearby Tilcon Quarry on June 29, 2000.
Providence & Worcester Railroad:  The P&W is another historic system spun-off following the Penn Central collapse.  It began in 1847, opening its original line between Worcester and Millville, Massachusetts in September that year; a month later it was completed to Providence on October 20th. After a long stint as a subsidiary of other carriers it became independent in 1973.  Today, it serves more than 140 customers and moves thousands of carloads annually.  The company operates its own website and features a career page regarding any job openings.
Related Reading You May Enjoy