CSX Transportation Careers

CSX Transportation, or CSXT, is the railroading division of CSX Corporation. It has been in operation since 1987 and is one of the seven major Class I railroads operating in North America. Being the third-largest such railroad in North America CSX Transportation careers range from the more traditional fields (such as conductors and engineers) to office jobs like dispatching and general management. In 1987 all of the lines under CSX's banner, other holding companies and all, were merged directly into it. While the southern railroads, including the Seaboard Coast Line (itself formed the merger of the Atlantic Coast Line and Seaboard Air Line), Louisville & Nashville, Clinchfield, and West Point Route were merged into their holding company in 1982 (to form the Seaboard System) the Chessie System roads survived all the way until the end, albeit as a paper companies only. Then in 1999 the railroad added part of the Conrail system.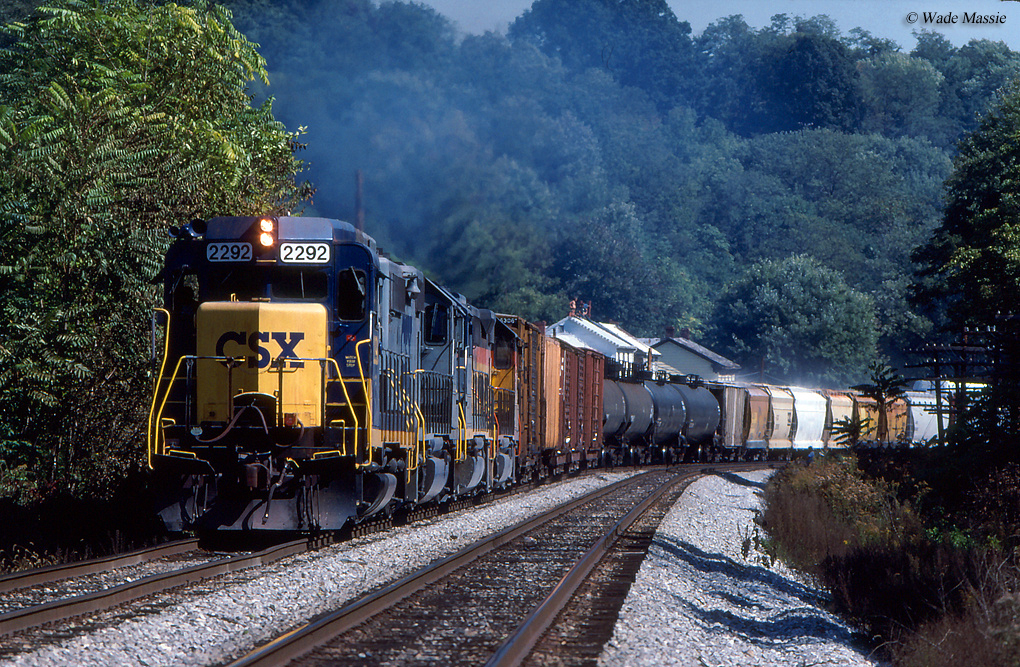 CSX Slug #2292 and a trio of other units has freight R347 along the Cumberland Subdivision near Sandy Hook, Maryland on the afternoon of October 3, 1992.
Perhaps more than any other Class I railroad today CSX Transportation has one of the most interesting histories and backgrounds being that the railroad is made up of so many historic companies (heck, the "X" in its name symbolizes this). It's history is far too complex to cover here (for more information about CSX please click here) but the railroads which created it formed the largest railroad in the east which now stretches from Massachusetts to Florida and as far west as Illinois and New Orleans. Basically, the railroad serves every state east of the Mississippi River.
As mentioned before, because of this CSX Transportation careers are quite diverse depending on your field of interest. However, please understand that if your interest is in the more traditional fields of transportation or maintenance and you are hired on by the railroad your base of operations will be wherever CSX needs you meaning that you could find yourself in sunny Florida or the colder areas of the Northeast.
To give you an idea of what the term "Class I" entails, it is basically a categorical description given by the Association of American Railroads (AAR) for the largest railroads in North America by revenue. In CSX's case they rank fourth in this category although they are third in total mileage behind only Union Pacific and BNSF Railway. The other Class Is not mentioned include Northern Southern, Canadian National, Canadian Pacific, and Kansas City Southern. For more information about Class I railroads please click here.
CSX GP38 #2172 and a mate near White Sulphur Springs, West Virginia with an eastbound coal drag on May 17, 1992.
The CSX corporate culture has historically been known to as laid back to some extent, in comparison to how Norfolk Southern has been perceived. However, the railroad has changed in one significant area recently, management. Since Michael J. Ward became CEO the railroad has turned around dramatically and today boasts a historically low company operating ratio and record profits. Its perception continues to improve so while I cannot attest to what it is like to work for the company itself, it does sound like that now is a good time to apply for a position with the company.
Some final thoughts regarding working within the railroad industry, especially if you are interested in the transportation or maintenance fields. A career in the railroad industry can be quite tough, especially if you ever have or plan to have a family as you will spend many hours away from home. While the physical challenges of the job still hold true to some extent perhaps the toughest part of it all is fatigue and simply being away from home so much. Of course, there are also plenty of positives by working in the industry including great pay, excellent benefits, and a very nice retirement.
---
CSX ES44AC #733 leads a westbound coal drag near Pittsburgh's Gateway View Plaza at the convergence of three mighty rivers (the Allegheny, Monongahela, and Ohio) on April 18, 2008. Across the way can be seen the Steel City's downtown region.
It will be up to you to decide whether the benefits of working for the railroad outweigh the negative aspects and if a career in the industry suits you.  In any event, CSX Transportation does offer an in-depth career page so by visiting the company's site you can learn much more about obtaining a position. If you are possibly interested in careers with the railroad please click here to visit their official page (they also offer a related Facebook page). Also, to search for CSX Transportation careers please feel free to use the search box below from Indeed.com, one of the leading online career resource guides.