The Dakota, Minnesota and Eastern

The Dakota, Minnesota and Eastern Railroad, commonly known as the DM&E, was a fairly young railroad operating for twenty-two years between 1986 and 2008, when it became part of the Canadian Pacific system (which first vied to purchased the railroad in September of 2007). The DM&E also owned and operated the Iowa, Chicago & Eastern Railroad, commonly known as the IC&E (or simply ICE), and together they were under the holding company of Cedar American Rail Holdings (although this was basically a "paper" company and in no way managed or operated the railroads).  During the company's height it stretched more than 1,000 miles in length across the upper Midwest and was attempting to build hundreds more miles of new railroad before its purchase by CP ended this goal.

The DM&E loved first and second-generation Electro-Motive products, which made up its entire roster. Seen here are two SD40-2s (the trailing unit is marked for sister road IC&E) powering a freight of covered hoppers through Belle Fourche, South Dakota on July 17, 2009.
The DM&E came into existence in 1986 when the Chicago & North Western Railway (the C&NW) decided to abandon a large chunk of its railroad in South Dakota in 1985, which at the time was quite unprofitable as nearly all of the granger railroads during that period were having a very tough time earning a profit on a region which was not only overpopulated with railroads but also losing traffic. What actually led to the DM&E's creation was in part due to US Senator Larry Pressler who fought against the C&NW's proposed abandonment of the South Dakota lines and won (which then led to DM&E being created to serve the routes).
When the DM&E came into existence in 1986 it was actually a quite large railroad gaining some 826 miles of railroad with another 139 miles of trackage rights, which also included other capital such as buildings, locomotives, vehicles, etc.; all from the C&NW. The rest of the DM&E's current system comes from its purchase of the Union Pacific Railroad's Colony Line.  At its peak, the Dakota, Minnesota and Eastern operated a railroad of some 1,103 miles of track, with nearly 195 miles of that trackage rights. Along with operating a 1,000+-mile rail system, the DM&E also owned some 200 locomotives and 8,000 rail cars. What's interesting about the DM&E is the fact that its Iowa, Chicago & Eastern subsidiary was actually larger, with some 1,400 miles of track. The IC&E operated east of its parent connecting cities such as Chicago, Minneapolis, and Kansas City.
Dakota, Minnesota & Eastern SD40-3 #6076 heads westbound with its freight through DeSmet, South Dakota on July 18, 2008.
Perhaps what the DM&E was most notable for was its recent attempt to access the lucrative Wyoming Power River Coal Basin. The process has taken a decade and construction has yet to begin. Worse for the railroad was the fact that a requested federal loan of some $2.3 billion to fund the project was denied by the FRA in 2007. Despite this, new owner Canadian Pacific still has plans to eventually build into the PRB. An irony of CP's purchase of the railroad was the battle that the town of Rochester (Minnesota) and the Mayo Clinic fought to keep the D&ME from building its PRB extension.
With the purchased, CP now has plans (regardless if it ever builds into the Basin) to reroute its Chicago to Huron, South Dakota trains from their current running (through Iowa and Illinois) to CP's ex-Milwaukee Road main line, which operates through Wisconsin to Chicago and connects to the former DM&E at Winona, Minnesota. This new routing, which plans to be upgraded and see many additional trains, will take them right through Rochester and next to the Mayo Clinic.  Here is a final diesel locomotive roster, which was made up entirely of EMDs, ranging from Geeps to six-axle SDs (if you are a photographer, now is the time to document these units before the disappear into CP's red livery!):
Dakota Minnesota and Eastern Railroad Roster
#1463-1484 - EMD GP9
#3800-3803 - EMD GP38
#3830-3835 - EMD GP38-3
#4000-4006 - EMD GP40
#6601-6621 - EMD SD9
#544-560 - EMD SD10
#6056-6067 - EMD SD40
#6200-6370 - EMD SD40-2
#6050-6055 and #6068-6097 - EMD SD40-3
#5000 - EMD SD50-3
---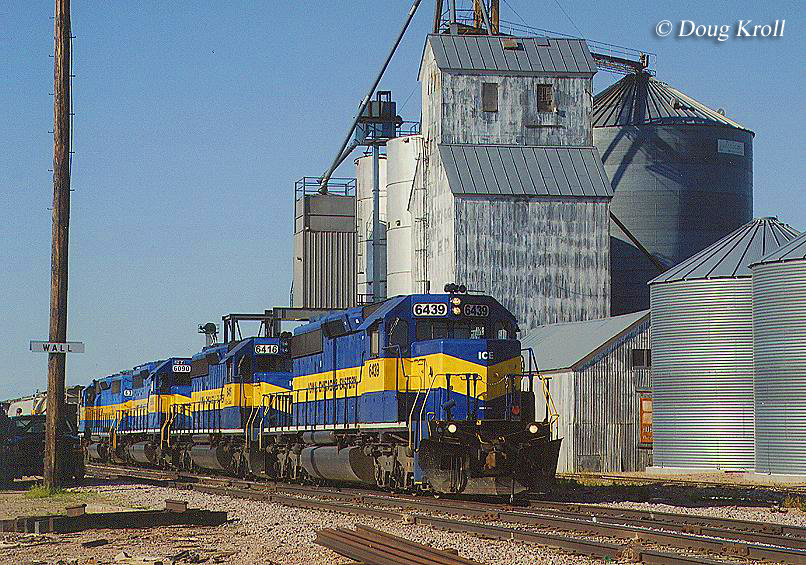 A quartet of six-axle General Motors products including three SD40-2s and an upgraded SD40-3 pass the grain elevator at Wall, South Dakota on July 16, 2009.
For more on the fallen flag railroads like the DM&E consider one (or all) of Mike Schafer's Classic American Railroads books (listed below is the first in the series). He has published three thus far covering virtually all of the most well known fallen flags. I have all three in my collection and highly recommend them, the photography is excellent along with learning a general history of each railroad. If you're interested in perhaps purchasing this book please visit the link below which will take you to ordering information through Amazon.com, the trusted online shopping network.