Mike does not stop there, however, and also includes a chapter featuring Canadian railroads both during early years of operations as well present day services (which offers images of all of the country's major companies such as CP Rail, Canadian National, and so forth). Obviously, part two of the Railroads Across America comprises the bulk of the book as it makes up nearly 160 of the total 220 pages. Once again, if you love photographs (and, really, who doesn't?) you will very much enjoy Mike's book. Essentially all of the most well known classic railroads are featured at least once with images depicting large steam locomotives, famous streamliners like the Super Chief, and even rare photos of the Milwaukee Road's electrified operations out west.
The book concludes with the final section, part 3, which is also the shortest. In a few short chapters, entitled "The Present & The Future" and "Today & Tomorrow", Mike Del Vecchio discusses the impact railroads have had on society, their current role, and what they will look like in the future. Interestingly, at the time of the book's writing Conrail was still a major Class I system that soon after disappeared into CSX Transportation and Norfolk Southern. In any event, perhaps the final chapter is the most interesting, at least if you are a railfan; entitled, "Railfans, Railroads & Preservation" this seven page section talks about the role of historians and those that enjoy railroads in keeping alive its long and storied history through the restoration of dated equipment and buildings.
Throughout this article I have spoken of the excellent photography featured in Railroads Across America. If you are not interested in a picture book then you may not want to buy Mr. Del Vecchio's publication. Most of the writing in the book occurs within the first few sections and the opening of each new chapter. Everything in between is almost entirely photographs, with accompanying captions describing location, railroad, and the year. It should be noted that the book is not only of Mike's photo collection but other well known historians in the field such as Jim Shaughnessy and the late Jim Boyd, as well as numerous historical society collections.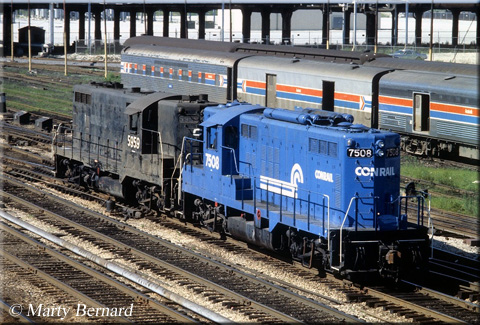 Conrail GP9 #7508 appears to have recently received a fresh coat of blue as it runs light through the yard in Chicago with GP7 #5959 on March 7, 1978.
For myself, Mr. Del Vecchio's book has not been a great usefulness to me in regards to writing the website, mostly because there simply is not a lot of detailed information included within it for research purposes. However, if you especially have small children or loved ones who have an interest in trains they are sure to get a thrill of looking at all of the large, colorful, and detailed photographs featured throughout the book (my own nieces and nephews have certainly enjoyed looking through its pages!). In any event, if you're interested in perhaps purchasing Railroads Across America please visit the links below which will take you to ordering information through Amazon.com, the trusted online shopping network.