Escanaba And Lake Superior Railroad

The Escanaba and Lake Superior Railroad is a historic, privately-owned Class III shortline carrier based in Wells, Michigan. The history of the E&LS dates back to the late 19th century serving the region's timber interests when it started out as just a very small logging line. Today, the railroad's freight traffic is still heavily involved with the timber industry as its traffic is made up of many wood-related products. What began as a 65-mile system serving the area's west of Escabana, today has grown to a 400+ mile system (including trackage rights) that reaches as far south as Green Bay and an additional, Great Lake, Superior. Much of its growth in recent years has been due to abandonments and spinoffs, notably in the early 1980s when a number of classic, fallen flag systems were either closing their doors or significantly cutting back their operations. Due to this growth and new markets served the E&LS looks to have a very sound future with its diversified traffic base.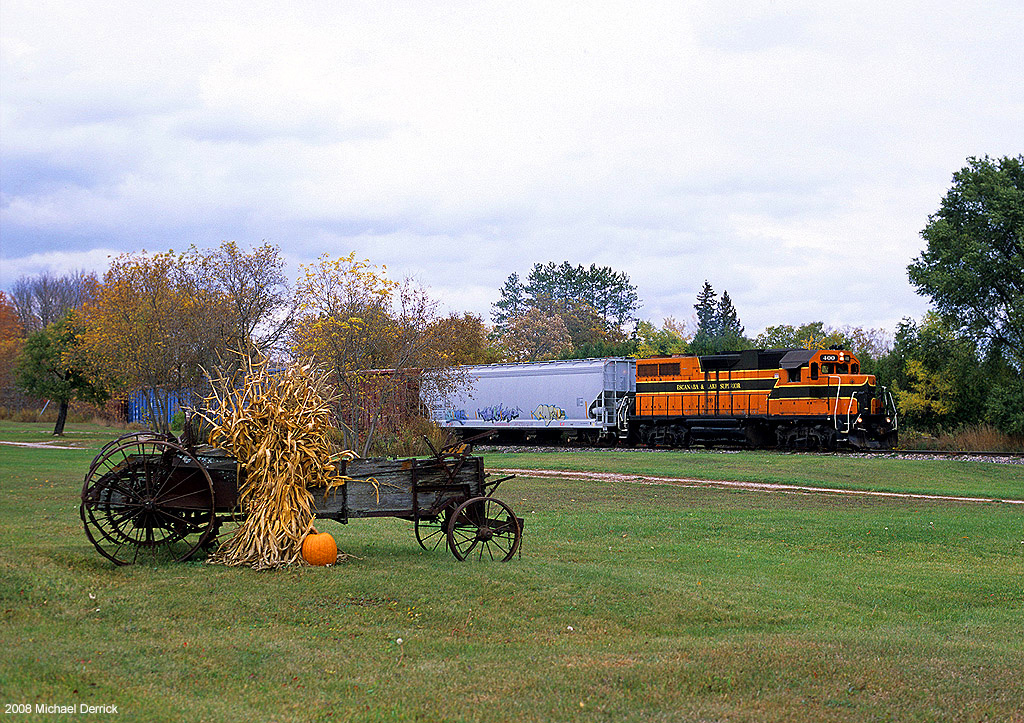 The livery on Escanaba & Lakee Superior GP38 #400 matches well with the surrounding fall colors as the train passes a residence ready for the season near Beaver, Wisconsin in 2008.
The Escanaba and Lake Superior Railroad dates back to the N. Ludington Company, a sawmill/lumber enterprise founded by Jefferson Sinclair, Daniel Wells, and the Ludington brothers (Harrison and Nelson) in the mid-19th century. This mill was located near Wells, Michigan on the banks of the Green Bay (part of Lake Michigan) and around 1850, Isaac Stephenson became part of owner of the business. By this point Stephenson was already a successful businessman in the lumber industry and by 1888 owned so much of the N. Ludington Company that it was renamed as the I. Stephenson Company. With this change, a subsidiary of his business known as the Escanaba River Company constructed a seven-mile railroad between Wells and 7 miles to the west to tap nearby hardwood timber plots.
On November 17, 1898 the railroad became the Escanaba and Lake Superior Railway when it extended the line 19 miles to the town of Watson. Now a fully functional common-carrier railroad the E&LS continued to extend westward to reach more timber tracts, building spurs and branches along the way. By the early 20th century the railroad had reached Channing, where it interchanged with Chicago, Milwaukee & St. Paul (a railroad that would later be known as the Milwaukee Road), and operated more than 100 miles of track (including branches). Around this time, on February 12, 1900 the company was renamed as the Escanaba & Lake Superior Railroad.
Now that the E&LS had connections to both Class Is Chicago & North Western and the Milwaukee Road it was able to diversify its traffic base a bit. For instance, by 1900 the E&LS was hauling Milwaukee Road ore trains to the docks at Escanaba (although this ended in 1936 when the railroad elected to use the C&NW's nearby facilities to eliminate the need of maintaining the Escanaba docks). In any event, the E&LS also operated a fairly successful passenger/mixed-train business at least until around 1950, as it acted as a bridge line between two major Class I systems.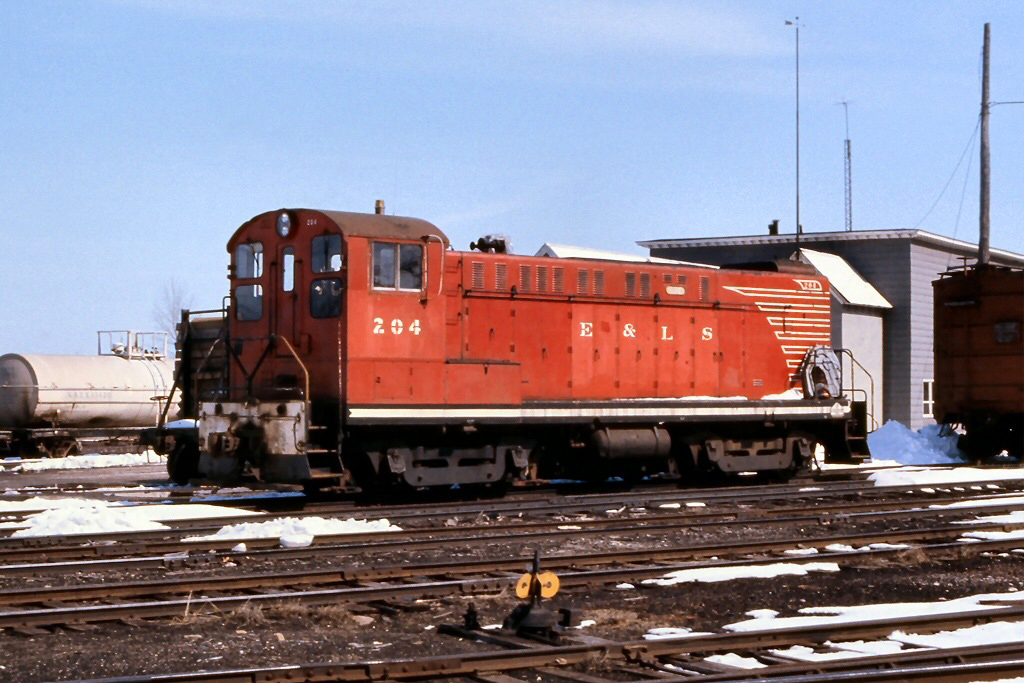 E&LS SW8 #1201 works the M&M Branch near Crivitz, Wisconsin with a short local during October of 2008. The shortline has long been unknown for taking quite long to repaint its units making for a colorful fleet of predecessor paint. This particular switcher began its career privately owned by Reserve Mining. The author notes that this branch was embargoed shortly after this photo was taken.
With the loss of its ore business in 1937 and decline in passenger traffic the E&LS began to rely heavily on interchange traffic with the Milwaukee Road (logging on the railroad had ended in 1943 with the closing of the mill in Wells). In 1946 to better streamline operations the railroad switched from steam to diesel purchasing a Baldwin DS4-4-1000 switcher (#100) in June and a year later acquiring a DS4-4-660 model (#101). Operations on the railroad changed little over the next 30+ years, until the bankruptcy of the Milwaukee Road in the late 1970s. With the Milwaukee's financial troubles it sold the E&LS most of its trackage in northern Wisconsin and the Upper Peninsula of Michigan, totaling more than 250 miles. Additionally, the railroad gained a 23-mile branch between Sidnaw and Nestoria, Michigan that was former Soo Line trackage (originally Duluth, South Shore & Atlantic).
In total, this gave the Escanaba and Lake Superior Railroad a system spanning 347 miles in length reaching such towns as Green Bay, Republic, and Marinette (the company abandoned its link to Lake Superior at Ontonagon in the spring of 2012). In recent years the railroad also gained trackage rights on Soo-successor Canadian National between Pembine and Escanaba, as well as between Nestoria and Baraga (currently the CN is the E&LS's only Class I interchange). Due to this grow the railroad has expanded its traffic base to include such things as paper, lumber, other timber products, aggregates, agricultural products, steel, livestock feed, and other freight. The railroad has come quite a ways over the last 100+ years!
Escanaba and Lake Superior Railroad Locomotive Roster
| Builder | Model Type | Road Number | Notes | Quantity |
| --- | --- | --- | --- | --- |
| Baldwin | DS-4-4-660 | 101 | Purchased New, 1947 | 1 |
| Baldwin | DS-4-4-1000 | 201, 202 | Ex-Calumet & Hecla | 2 |
| Baldwin | RS-12 | 300 | Ex-SAL | 1 |
| EMD | GP38 | 400-402 | Ex-PC | 3 |
| EMD | SD40-2 | 500-501 | Ex-MILW | 2 |
| EMD | FP7 | 600 | Unknown | 1 |
| EMD | SW8 | 1200-1202 | Ex-Reserve Mining | 3 |
| Baldwin | RF16 | 1205, 1216 | Ex-NYC, In Storage | 2 |
| EMD | SD9 | 1220-1224 | Ex-Reserve Mining | 5 |
---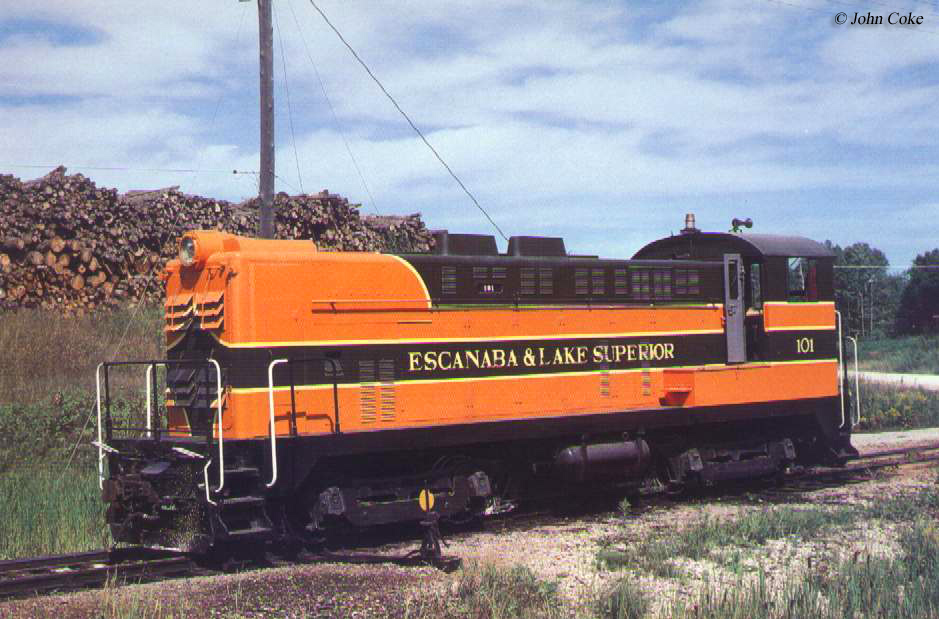 E&LS GP38 #400 meets a northbound train led by GP38 #402 at Crivitz to interchange cars during October of 2008. Both Geeps began life on the Penn Central before moving on to Conrail.
To the railfan community and those who study classic diesel locomotives this little shortline is most famous for its ownership of two venerable models, which have remained in storage for at least the last 20 years and are now locked away from the public eye after the builder plates were stolen from them a few years ago; Baldwin Locomotive Works' famous RF-16 "Sharknose". The locomotives were purchased second-hand by the Delaware & Hudson Railway, originally New York Central Railroad units, and numbered 1205 and 1216. For a complete system map of the Escanaba and Lake Superior Railroad please click here. Their website also provides additional information about the railroad.
Related Reading