Florida Midland Railroad

The Florida Midland Railroad (FMID), based in Plymouth, Florida, is a division of the Pinsly Railroad Company and has been in operation since 1987 when it took over ex-CSX trackage in the Sunshine State. The railroad currently operates about 28 miles of track on two unconnected lines serving over 25 customers along with providing transload services via its sister company, the Railroad Distribution Services of Florida. The railroad is Pinsly's smallest in the state as it also operates two other lines, the Florida Central and Florida Northern. Both of these shortlines also use trackage once owned by CSX and are located north of the Midland.  In total, Pinsly's lines in Florida includes more than 100 miles of railroad, most of which is operated by its northern most subsidiary, the Florida Northern (interestingly, the last railroad it acquired in the state).
Florida Midland CF7 #63 pulls a local consist of just two cars through Wildwood along the road's Leesburg Branch, which is no longer in service.
The Pinsly company itself is headquartered in Massachusetts and has a history which dates back to before World War II. Its business model has always remained the same, purchase defunct or wanted rail lines that have potential and return them to profitability. The company has its beginnings in 1983 when it was founded by Samuel M. Pinsly to purchase the Hoosac Tunnel & Wilmington Railroad located in Vermont and Massachusetts (the railroad was also known as the "Hoot, Toot, & Whistle."  The railroad dated back to the Deerfield Valley Railroad of 1884 and at its peak operated about 25 miles of track between Hoosac Tunnel, Massachusetts and Wilmington, Vermont. It went through a few owners in the 1920s before Pinsly acquired it in 1937, at which point he created is new business, the Pinsly Railroad Company a year later.
Before the Staggers Act and deregulation in 1980 the company looked to purchase or overhaul lines until to increase efficiency and turn a profit. After the act became law they simply began to start their own shortlines as Class Is could now more easily shed unwanted to track (and there was a lot of this in 1980).   Its first company was the Pioneer Valley Railroad of 1982, which operated two branches north of Westfield (a town which Pinsly would also call home in 1986). Soon afterward they added one line after another before, aside from the Florida properties, operating shortlines in Arkansas including the Arkansas Midland, Prescott & Northwestern and Warren & Saline River. Pinsly also operates a successful transloading business mentioned before, the Railroad Distribution Service with locations in Massachusetts and Florida. 
Florida Midland Railroad Diesel Locomotive Roster
| Builder | Model Type | Road Number | Notes | Quantity |
| --- | --- | --- | --- | --- |
| EMD | CF7 | 47-50, 53, 56, 63-65 | Ex-AT&SF | 9 |
| EMD | GP7u | 55, 57 | Ex-AT&SF GP7 | 2 |
| EMD | GP9 | 60 | Ex-AT&SF | 1 |
---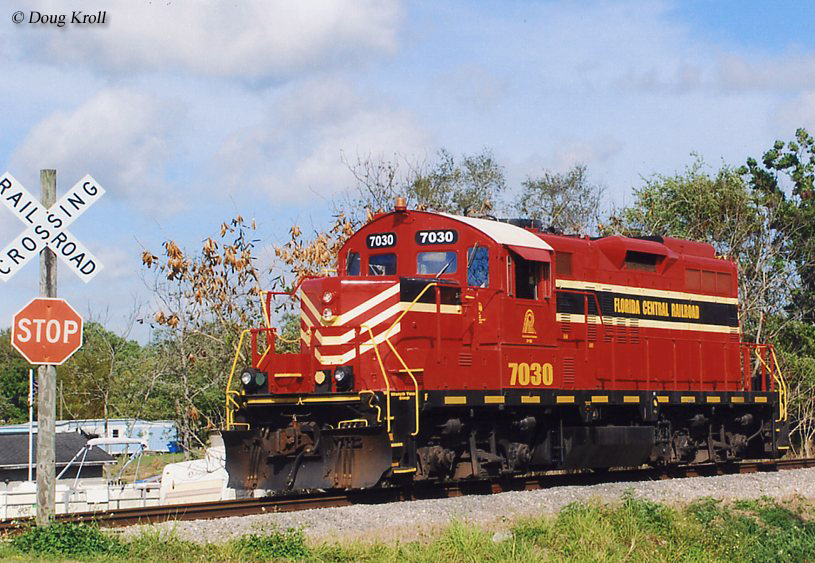 Florida Midland CF7 #47 switches local industries in Plymouth. Date unknown. This locomotive, and all of Pinsly's CF7s operating in Florida date back as Santa Fe units, which began their careers as F7s.
As for the Florida Midland Railroad, Pinsly acquired its track from CSX Transportation a year after it had started the Florida Central in 1986. When the shortline first began operations it had three branches; between Leesburg and Wildwood, between Frostproof and Lake Whales, and finally between Gordonville and Winter Haven.   In 2000, however, citing lack of customers Pinsly successfully petitioned the Surface Transportation Board to abandon the Leesburg branch.  Currently the Florida Midland Railroad has a locomotive fleet consisting entirely of EMDs (of note, the locomotives operate among all three sister lines and are lettered for their respective railroad).
Related Reading