The GE Dash 9 Series

The GE Dash 9 series followed General Electric's successful Dash 7 and 8 series, both of which had sprung the company fully into the diesel locomotive market with today perhaps every other locomotive you see pulling a train is now of GE lineage. The builder has become a world leader in diesel-electric locomotive manufacturing and for years now has been the industry leader over second place EMD. In recent years it also has expanded its status by becoming a leader in cleaner burning diesel-electrics with its Evolution Series™ of locomotives. However, this was not always the case. In terms of diesel locomotive history GE is actually a relative newcomer and has only produced road-switchers (meaning those locomotives used in main line service to haul heavy freight trains) for the last forty years or so.
A pair of ubiquitous Norfolk Southern C40-9Ws including #9135 and #9268 lead a string of coal hoppers through West Brownsville, Pennsylvania on August 25, 2008. Between 1996 and 2004, NS purchased an incredible 1,050+ examples of this model alone.
It's interesting, though, that despite its relative new status General Electric has in some shape or form been a part of the diesel locomotive market basically since its inception. GE actually has the distinction of having developed the first commercial diesel-electric and helped supply the prime movers to the early box-cab designs in the 1920s in cooperation with Ingersoll-Rand and the American Locomotive Company (Alco).  GE and Alco would be partners for years through the early 1950s when Alco began to switch its production line entirely from steam locomotives to diesels with GE supplying prime movers. During this time GE also became marginally successful in the diesel switcher market by producing lightweight and maneuverable little switcher locomotives that could be used in industrial service and over branch lines (which contained sharp curves and light rail) the most successful of which was its 44-tonner model (this model also had the advantage of being operated by only a single crewman because of its light weight, a cost-saving advantage).

The success of these locomotives in terms of their construction is still evident today as some are still in operation on shortlines, tourist lines and industrial service.  The GE Dash 9 series, which followed the Dash 7s and 8s of the 1980s through today, outwardly and visually is quite similar to the former models. The most dramatic differences are, as with the Dash 8s, upgraded computer systems and technologies (the Dash 9s also include recorders), now so common on today's newest locomotives. These systems include such things as managing wheel slippage and other components (also found on the Dash 8s), which thus allowed GE to takeover first place in the market from EMD, a position it has held ever since.
Union Pacific C44-9W #9581 eases its way along the busy street trackage of Jack London Square in Oakland, California with an autorack train on July 31, 2007.
The GE Dash 9 series, also like the Dash 8s, were built almost exclusively with the new wide-nosed safety cab, which took the place of the traditional standard cab on locomotives and is now federally mandated on all new locomotives for added safety (the exception being with Norfolk Southern who held out on the C40-9 model and ordered it with the standard cab design). You may be wondering what the difference is between say the C40-8 and C40-9 (introduced in 1994); essentially nothing, at least from a visual standpoint except for, again, the upgraded computer and other systems included on the model.
The other GE Dash 9 series model most widely purchased was the C44-9W (the "W" denoting the wide-nosed cab). Like the C40-9 there is little difference between it and the Dash 8 models, except for again, the newer computer systems. The only significant difference is that the C44-9W has 400 extra horsepower bumping it up to 4,400 as opposed to the C40-9's 4,000 horsepower (once again Norfolk Southern held out with this model also asking for it in the standard cab design).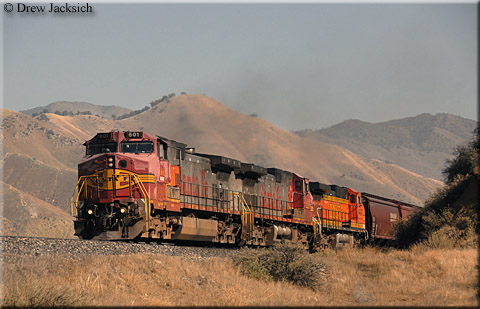 A pair of faded Santa Fe C44-9Ws led by #601 power a long train of empty grain hoppers through Caliente, California on November 14, 2008.
While the GE Dash 9 series is no longer in production both models, especially the C44-9W, have done quite well for GE as the manufacturer continues to push the envelope on new locomotive development. Today the company is heavily focused on reducing emissions and recently debuted its Evolution Series™ locomotive (which replaced its Dash 8 and 9 models), designed to capture exerted energy (the locomotive's exhaust) and reuse it in an attempt to burn less fuel. For more information about the GE Dash 9 series please click here.
Today, GE Dash 9 series units can routinely be seen roaming across the country in all types of freight service, much of this due to the unit having at least 4,000 horsepower allowing it to be used for everything from coal drags to expedited intermodal trains. While most units are of the wide-nosed cab variety, again, Norfolk Southern carries the largest fleet of standard cabs, which can be found on many more models than just its Dash 9s.
GE's Dash 9 Models
| Model Type | Units Built | Date Built | Horsepower |
| --- | --- | --- | --- |
| C40-9 | 125 (Built for NS) | 1995 | 4,000 |
| C40-9W (Built for NS) | 1,090 | 1996-2004 | 4,000 |
| C44-9W | 2,483 | 1994-2004 | 4,390 |
| C44-9WL | 27 | 1994-1995 | 4,400 |
| C44-9WM (Built for Brazilian Railroads) | 84 | 1997-2005 | 4,400 |
| BB40-9WM (Built for Brazilian Railroads) | 141 | 1997-2006 | 4,000 |
---
---
NS C40-9W #9786 and two mates have train #21M, an expedited intermodal run, at Wall, Pennsylvania on July 7, 2007.
For more information on the GE "Dash 9" series consider Modern Diesel Locomotives by author Hans Halberstadt. The book covers nearly 100 pages (with excellent photography and illustrations) of information on new locomotive types and designs built since the 1970s. Mr. Halberstadt's work has received excellent reviews by readers and makes for a nice resource guide if you are interested in modern diesels.  Another book that covers modern diesel locomotives is Locomotives: The Modern Diesel and Electric Reference by author Greg McDonnell. Mr. McDonnell's book is much larger in scope than Modern Diesel Locomotives, covering newer diesels and electrics on nearly 250 pages which are packed full with excellent photography, illustrations, and diagrams. The book has received superb reviews by readers and is perhaps the best current work out there covering the topic. If you're interested in perhaps purchasing either (or both) of these books please visit the links below which will take you to ordering information through Amazon.com, the trusted online shopping network.
---
---