If you have a particular interest in working within the railroad industry but are not very familiar with how it operates then you may want to take the time to first learn more. I must admit that even I am only providing second-hand information from what I have both read and heard here. That is because I thought I wanted to work in transportation until realizing how much time one spends away from home. While the pay is excellent on Class I railroads in the end I decided it just was not for me. If you are still deciding yourself be sure to learn as much as you can about a career in the industry before making a decision.  Also, if you are a college student or plan to attend college both CSX and Norfolk Southern offer either scholarships or summertime internships for eventual management careers with their companies. Please do not attempt to contact me regarding available positions. I do not mean to sound brash but there is simply not a lot which I can do to help. You will need to contact the individual railroad regarding possible employment opportunities.
Short Lines
Athens Line, LLC: This small shortline is privately owned operating near the city of Athens.

Chattahoochee Bay Railroad: The Chattahoochee Bay is a Genesee & Wyoming shortline which is almost entirely located in Alabama.

Chattahoochee Industrial Railroad: The Chattahoochee Industrial is another Genesee & Wyoming property which is partially situated in Alabama.

Chattanooga & Chickamauga Railway: The C&C operates a 68 mile system near Chattanooga, Tennessee and in northwestern Georgia. The railroad is owned by the state of Georgia which contracts out the line's operations.
First Coast Railroad: The First Coast is a Genesee & Wyoming property operating in extreme southeastern Georgia and northern Florida.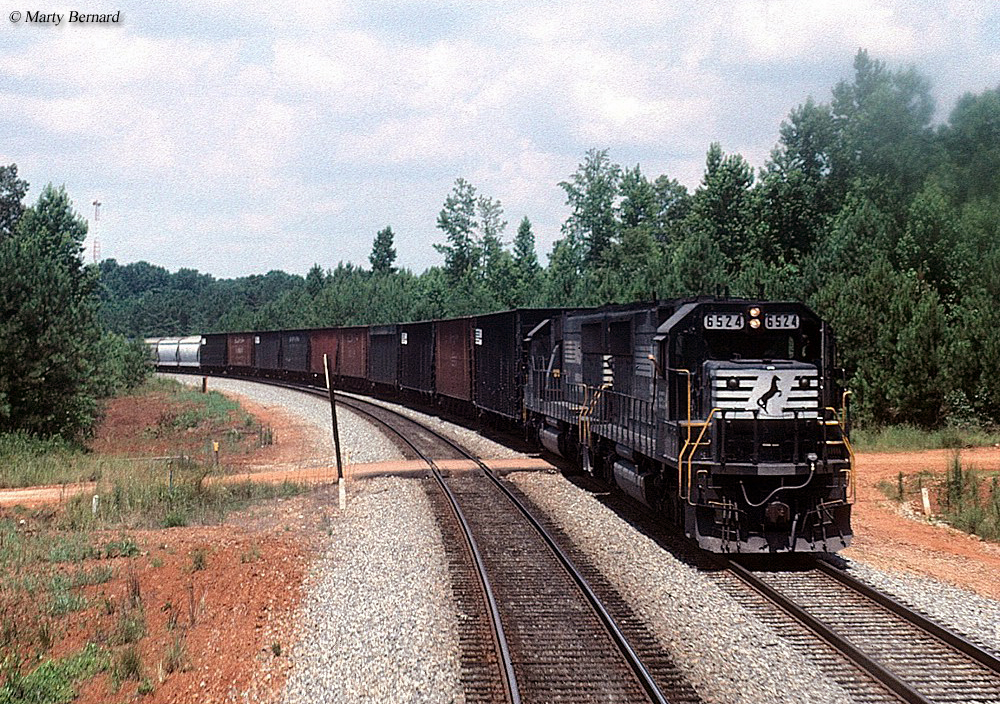 Norfolk Southern SD50s, led by #6524 crosses a rural grade crossing with a manifest freight near Winston, Georgia on June 15, 1993.
Fulton County Railway: The Fulton County Railway is an OmniTRAX property serving the Fulton County Industrial Park.

Georgia Central Railway: The Georgia Central Railway is another Genesee & Wyoming shortline operating a 171-mile system between Savannah and Macon.
Georgia & Florida Railway: The G&F is another OmniTRAX shortline which is quite large operating a 260+ mile system in its namesake states.

Georgia Southern Railway: The Georgia Midland operates several broken railroad lines in the state. The railroad is now owned by Georgia Southern Railway, a Pioneer Rail Corporation property.

Georgia Northeastern Railroad: The Georgia Northeastern is an independent shortline which operates trackage north of Marietta.

Georgia Southwestern Railroad: The Georgia Southwestern is another Genesee & Wyoming railroad operating over 200 miles of trackage in the southwest region of the state.

Georgia Woodlands Railroad: This railroad is a small 17-mile shortline owned by OmniTRAX.
Golden Isles Terminal Railroad: Yet another G&W property, the Golden Isles Terminal serves port operations Brunswick and Savannah. 
Great Walton Railroad: The Great Walton is a privately owned shortline based in Social Circle.

Hartwell Railroad: This privately owned shortline, which also owned by the same individual which operates the Great Walton, is based in Bowersville.
Heart of Georgia Railroad: This railroad is owned and operated by the Atlantic Western Transportation Company.

Riceboro Southern Railway: Another railroad owned by Genesee & Wyoming, the Riceboro Southern serves its namesake town along a 18-mile system.
St. Marys Railroad: The St. Marys Railroad is one of the state's oldest still-operating railroads.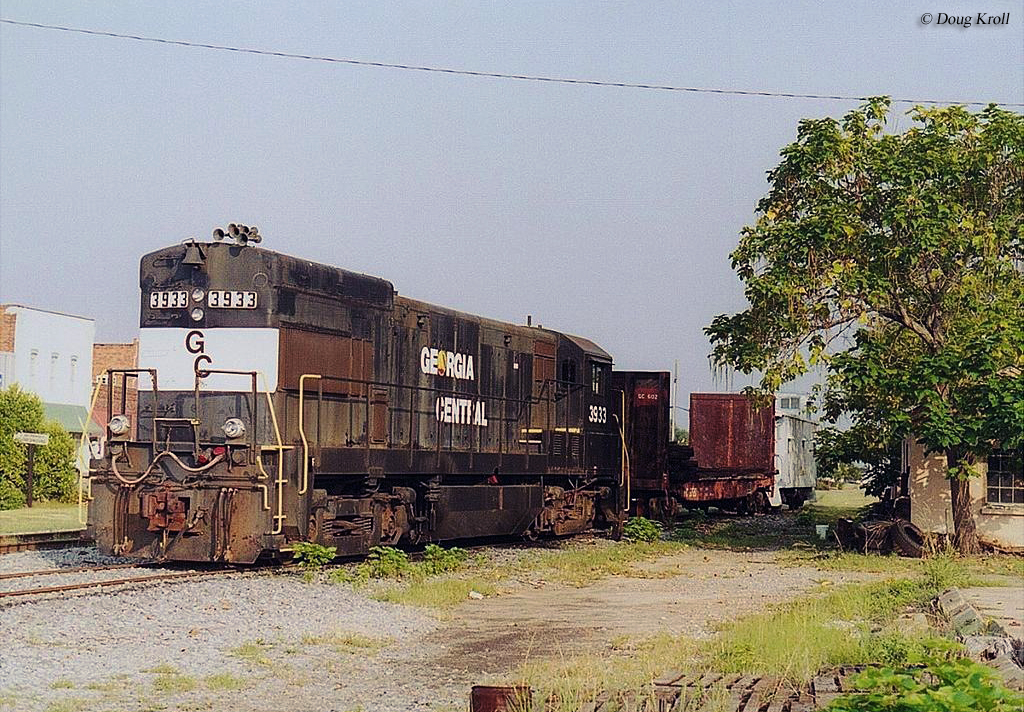 An elderly Georgia Central U23B, #3933, is tied down in Vidalia, Georgia with a few cars on July 24, 2004.
St. Marys Railway West: 4310b Albany Avenue, Waresboro, Georgia 31564.
Sandersville Railroad: In operation since the late 19th century the, Koalin Road as it is also known continues to operate its original nine-mile line.

Savannah Port Terminal Railroad: Another terminal railroad which is owned by Genesee & Wyoming, this line serves the Port of Savannah.
Valdosta Railway: The Valdosta Railway is another G&W shortline connecting its namesake city with Clyattville.
---
---
Various Job Types



Brakeman



Conductor



Engineer


Signal Maintainer


Roadmaster


Tie Gang Laborer



Dispatcher


Trainmaster



Yardmaster