This meant getting the okay from Archer Daniels Midland (ADM), not only Iowa Interstate's largest customer but also majority shareholder of Heartland Rail. Using their option to purchase the railroad themselves, they caught a break when ADM agreed to the deal and kept the agriculture giant as a shipper in the process. Now completely free to run the railroad as they pleased the team turned their attention to improving the company's property and infrastructure and as well growing its customer base. This happened actually rather quickly, as in 2002 the railroad not only broke 60,000 annual carloads but also turn a profit for the first time.
In 2004 they were able to secure a Federal Railroad Administration $32.7 million Railroad Rehabilitation & Improvement Financing Loan (RRIF), nearly all of which went towards improving the property, which significantly increased transit times and reduced wear on equipment. In 2006 they received an additional RRIF loan of $9 million used to purchase new locomotives. Now with an efficient management team, improved property, and sufficient power to move large freight trains the Iowa Interstate Railroad's traffic base exploded. With new business being attracted regularly, and new ethanol plants locating along its lines, in 2006 ADM expanded its large corn-processing plant in Cedar Rapids even more. Between 2008 and 2009 the railroad's annual carloads jumped from just under 80,000 carloads annually to well over 90,000. In 2010 loads jumped even further topping out at nearly 110,000.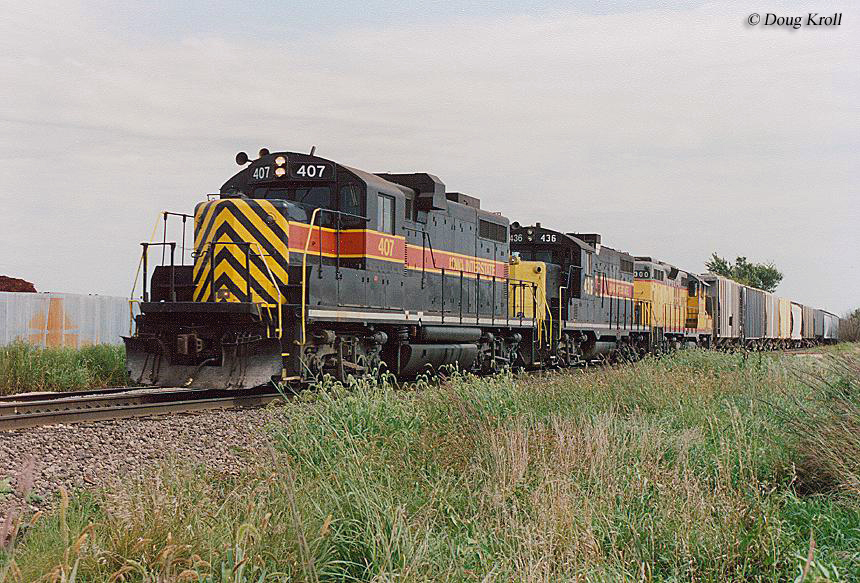 Naturally, being located in America's breadbasket the Iowa Interstate Railroad derives a large amount of its traffic on agricultural products. However, the railroad is diversified in other traffic as well such as grains, intermodal, oils/syrups, animal feeds, aggregates, forest products, merchandize, coal, metals, chemicals, fertilizers, and plastics. Today, it's single, largest commodity is, of course, ethanol. The Iowa Interstate's current system still stretches from Omaha, Nebraska to Blue Island Yard, which is its primary route. The railroad also operates three branches: from west to east the first stretches from Atlantic, north to Harlan, Iowa; the second from Des Moines, north to Grimes, Iowa; and the last from Bureau, south to Peoria, Illinois. Because the Iowa Interstate is unique in having connections with all seven of the current Class I systems, railfanning the railroad is quite interesting and exciting to say the least!
Iowa Interstate Locomotive Roster
| Builder | Model Type | Road Number | Notes/Disposition | Quantity |
| --- | --- | --- | --- | --- |
| EMD | SD38-2 | 150-153 | Ex-RSMX | 6 |
| EMD | SW1200 | 250 | Ex-MP | 1 |
| EMD | GP7M | 400 | Ex-Rock Island GP7 | 1 |
| EMD | GP11 | 485 | Ex-IC GP9 | 1 |
| GE | ES44AC | 500-516 | Built New, 2008-2009, 2014 | 17 |
| EMD | GP38 | 601 | Ex-MP | 1 |
| EMD | GP38AC | 628 | Ex-GM&O | 1 |
| EMD | GP38-2 | 700-721 | Ex-PC | 22 |
| Chinese Built | 2-10-2 | 6988, 7081 | Class QJ | 2 |
(A big thanks to the June, 2011 issue of Trains magazine and the article, "The Iowa Interstate Story" by Fred W. Frailey, for the help in writing this article.)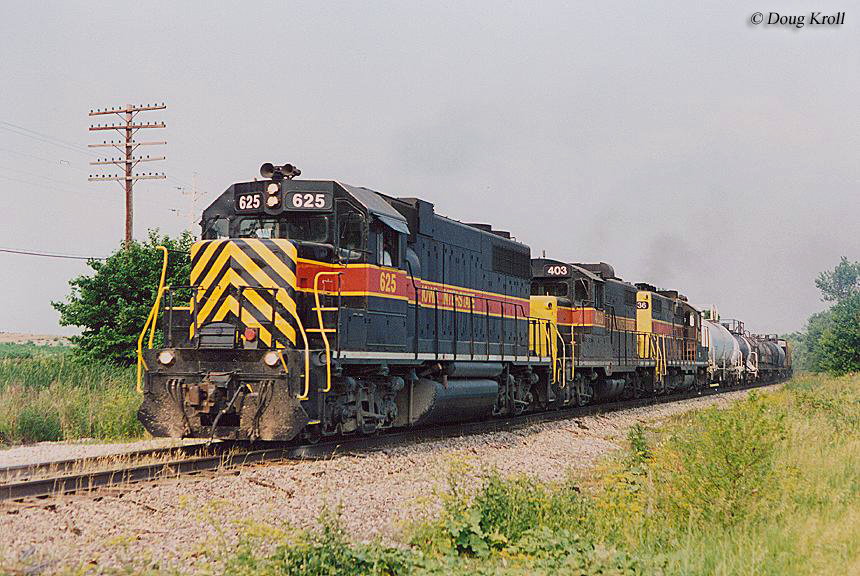 Today, the railroad has become quite popular by the general public as well. They operate an annual "Hawkeye Express" to Iowa University football games in Iowa City using a heritage Rock Island unit to power the train. Additionally, the railroad has another Rock Island heritage unit, a new GE ES44AC, used in freight service. Of note, they also own two former Chinese Class QJ 2-10-2s fully operational and occasionally used in excursion service.   Currently the Iowa Interstate's roster consists entirely of EMD Geeps save for a SW1200 switcher and a few SD38-2s. As mentioned above, the stars of the fleet today are its 14 new General Electric ES44ACs (one of which is painted in a heritage Rock Island livery).
Related Reading You May Enjoy


Home

›

Class II Railroads

› Iowa Interstate