Beginning in the 1920s the line upgraded its freight motive power by purchasing four steeple cab units second-hand, built by Baldwin-Westinghouse (a tandem which constructed many such units for interubans), which complemented their small fleet of steeples already in operation (also built by Baldwin-Westinghouse). In 1923, as passenger traffic was quickly eroding away the MC&CL began retiring its heavy interurban cars in place of lightweight, used equipment to reduce operating costs. Thirteen years later on August 30, 1936 it discontinued passenger service altogether in favor of buses, partly due to its chartering expiring and it had no interest in renewing. Interestingly, it continued operating its own bus service for many years until it finally began focusing exclusively on its freight business.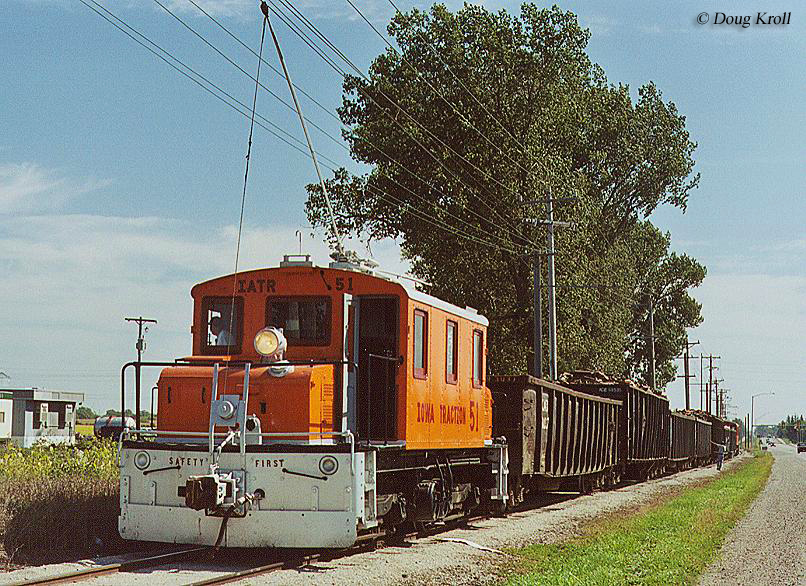 New ownership in 1950 saw its name change to the Mason City & Clear Lake Railroad. In 1961 the line completely changed its corporate name as the Iowa Terminal Railroad (ITR) when it again saw new ownership. On December 31, 1963 it picked up a nearby interurban neighbor to the east, the Charles City Western Railway. The CCW stretched from Marble Rock to Colwell via Charles City. It was just 21 miles in length although its connection to the Rock Island at Marble Rock allowed for interchange service and some local online freight customers, which sustained the line after passenger traffic dried up and it discontinued such in 1952. The then Iowa Terminal was not connected to its new subsidiary creating two separate divisions; the Charles City Division and its original main line the Mason City Division. In 1968 the CCW route lost its catenary to a tornado and it was replaced by diesels. Two years later the line had been cut back to Waller, south of Colwell, with operations only extending on 15.7 of the original 21 miles.
Iowa Traction Locomotive Roster
| Builder | Model Type | Road Number | Notes | Quantity |
| --- | --- | --- | --- | --- |
| Baldwin-Westinghouse | Steeple Cab | 50 | Built as Washington & Old Dominion #50 in October, 1920. Acquired by the Cedar Rapids & Iowa City (Crandic) in 1947 as #58 and sold again to the Kansas City Kaw Valley Railroad (KCKV) in 1955 as #507. Finally, it was purchased by the Iowa Terminal in 1962, and renumbered #50 a year later. | 1 |
| Baldwin-Westinghouse | Steeple Cab | 51 | Built as Northeastern Oklahoma Railway #2 in May, 1921. Sold to the Crandic in 1940 as #40, and again to the KCKV as #505 in 1954. In 1963 it was picked up by the ITR as #51. | 1 |
| Baldwin-Westinghouse | Steeple Cab | 54 | Built as Southern Iowa Railway #400 in May, 1923. It remained in use there until 1967 when it was sold to the ITR and first renumbered 52, and changed in 1969 as #54. | 1 |
| Baldwin-Westinghouse | Steeple Cab | 60 | Built as Youngstown & Ohio River Railroad #5 in May, 1917. It was sold to the Union Electric Railway in Kansas and 1932 and renumbered 80. In 1948 it was acquired by the MC&CL as #52, and then renumbered by the ITR as 60 in 1961. | 1 |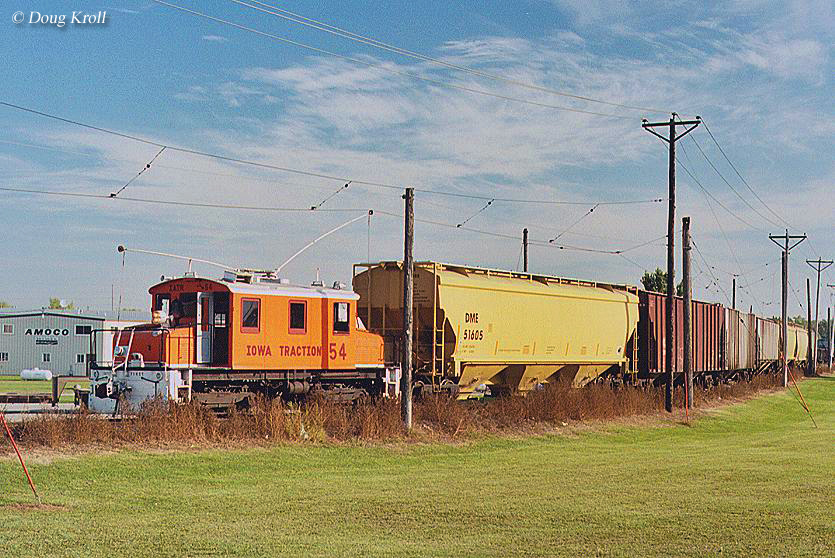 Freight continued to decline on the Charles City Division and by the mid-1970s it was abandoned altogether. On April 13, 1987 the ITR was acquired by David Johnson, its current owner, and renamed as the Iowa Traction Railroad. Then, in mid-September of 2012 it was announced that Progressive Rail would be acquiring the little shortline and just as during Mr. Johnson's ownership there are no plans to retire or sell off the venerable electric freight motors. Today, the IATR continues to operate its four remaining Baldwin-Westinghouse steeple cabs but only provides service between Mason City (and an interchange with the UP and CP/IC&E) and Emery, where its offices and shops are located, a distance of 5.5 miles according to the original timetable. The line to Clear Lake is still owned by the railroad but currently is not in use. 
Related Reading You May Enjoy


Home

›

Short Lines

› Iowa Traction