If you are seriously considering of have an interest in becoming a railroader please be aware that the work can be quite demanding. While railroading has always been a job that requires at least some physical ability, with so much mechanization now available the biggest issue affecting railroaders, especially train crews, is fatigue. This most often occurs on Class I railroads whose systems stretch half way across the country resulting in crewmen/women to spend 12 hour days in the cab of a locomotive for days, and days, at a time (not to mention the time spent in hotels away from home). Of course, the pay is excellent along with retirement and benefits. However, this drawback is something to really consider if time with your family is very important to you or you simply don't think such long hours are worth it.  Smaller railroads, like short lines and regionals, offer better and more normal working hours although the pay is not quite the same. Also, for college students interested in management positions many Class Is offer graduate or internship summer programs to get your foot in the door. 

Short Lines And Regionals
Iowa Interstate Railroad: The Iowa Interstate operates a mostly linear system stretching from Omaha, Nebraska to Chicago (via trackage rights).
Appanoose County Community Railroad: This railroad serves the Centerville area connecting with BNSF Railway. For contact information; P.O. Box 321, Centerville, Iowa 52544.
Chicago & North Western VO1000M #1043, SW1200 #1211, and other power mingle at the small maintenance shops in Clinton, Iowa on August 11, 1964.
Burlington Junction Railway: This railroad serves a small three-mile section of track near Burlington where is connects with BNSF Railway.

Cedar Rapids & Iowa City Railway: Also known as "The CRANDIC Route", this historic railroad has been in operation since 1903 and was once also an interurban. The railroad currently operates a system that serves the area south of Cedar Rapids.

D&I Railroad: This railroad is owned by L.G. Everist, Inc. and operates a system which stretches from Dell Rapids, South Dakota to Sioux City.

Iowa Northern Railway: The Iowa Northern Railway is a large short line which operates over 160 miles of track and connects to three of the Class I railroads in the state.

Iowa River Railroad: 33371 170 Street, Steamboat Rock, Iowa 50627.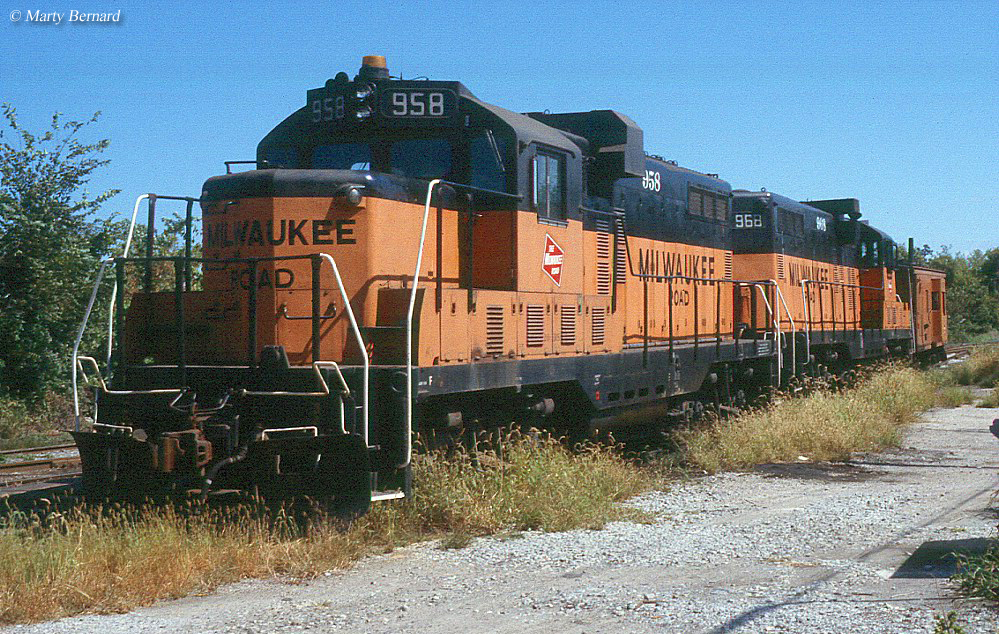 A pair of Milwaukee Road GP20m rebuilds, and a bay-window caboose, sit in the weeds at Iowa City on September 19, 1982. The two Geeps began their careers as GP9s on the Milwaukee in 1954.
Iowa Traction Railroad: The last interurban in the country which still serves freight customers, the Iowa Traction Railroad dates back to the late 19th century known originally as the Mason City & Clear Lake Railway. Today the railroad continues to operate the original route between Emery and Clear Lake Junction. It is now a Progressive Rail subsidiary. 

Keokuk Junction Railway: The Keokuk Junction Railway, owned by Pioneer Rail Corporation, operates a 114-mile system between Illinois and Iowa.
---
---
Various Job Types



Brakeman



Conductor



Engineer


Signal Maintainer


Roadmaster


Tie Gang Laborer



Dispatcher


Trainmaster



Yardmaster