A career as a railroader isn't exactly all that its hyped up to be, particularly by Hollywood. For instance, I long had an interest working in the railroad industry but decided against it after realizing just how long one must be out on the road. This is particularly true for Class I railroads which operate such large systems that it requires workers to be on the job for the maximum allowed workday of 12 hours. Couple this with the fact that you must spend many nights away from home at hotels and you can begin to see why they save railroading becomes a lifestyle. Of course, you don't have to take a job in the more traditional fields of transportation or maintenance. For instance, many Class Is today offer internships and scholarships for college students interested in various management positions.
Short Lines And Regionals

Kansas & Oklahoma Railroad: The Kansas & Oklahoma Railroad is a nearly 1,000 mile regional line serving much of Iowa. The company is currently owned by Watco.

Kyle Railroad: The Kyle Railroad is another of the state's large regionals operating more than 600 miles of track in the northern regions, stretching into northeastern Colorado. The railroad is currently owned by Genesee & Wyoming.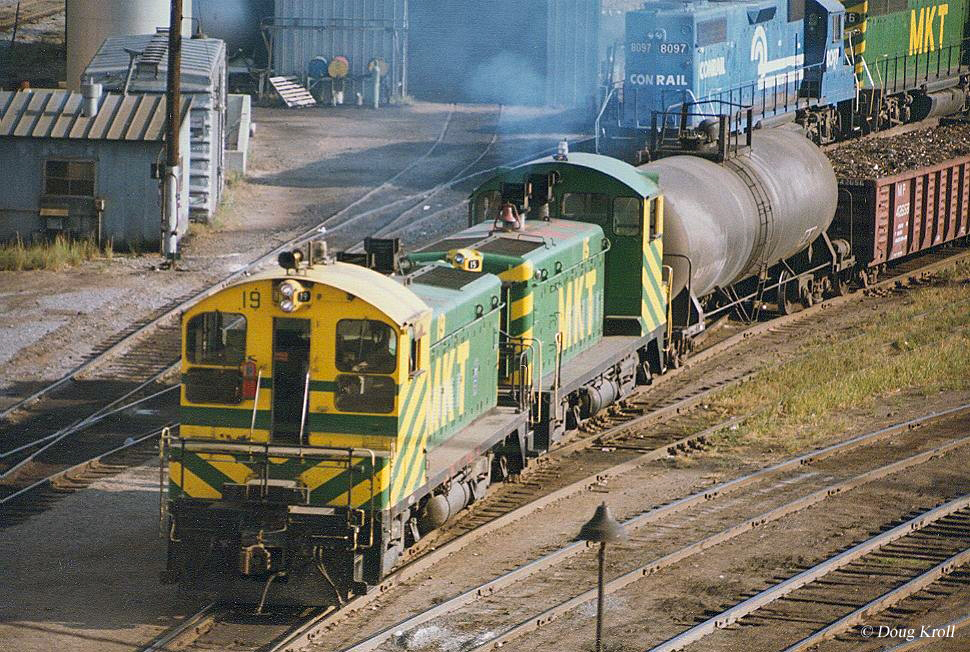 A pair of Katy SW9s, #19 and #15, move a cut of cars through Glenn Park Yard in Kansas City on September 17, 1983. In the background is Conrail GP38-2 #8097, which the author notes has been leased due to the MKT's power shortage.
Missouri & Northern Arkansas Railroad: The M&NA is another G&W regional railroad operating nearly 600 miles of trackage mostly in Missouri and Arkansas although it also stretches into extreme southeastern Kansas. 
Nebraska, Kansas & Colorado Railway: The NK&C is owned by OmniTRAX and operates a 550+ mile system through western Kansas and northeastern Colorado.

South Kansas & Oklahoma Railroad: The SK&O is another Watco regional railroad serving southeastern Kansas and northern Oklahoma, operating a 400+ mile system.

Blackwell Northern Gateway Railroad: This small shortline is owned by the Blackwell Industrial Authority and mostly operates in northern Oklahoma and extreme southern Kansas.
Cimarron Valley Railroad: This large shortline operates more than 250 miles of track in Oklahoma, Kansas and Colorado.

Garden City Western Railway: This railroad is owned by the Pioneer RailCorp and operates 40 miles of track in southwest Kansas.
A classic Santa Fe caboose, #999808, tags along on a short local freight through Newton, Kansas along the La Junta Subdivision on the evening of July 13, 2002.
Kansas City Terminal Railway: This terminal railroad, which has been in operation since 1906 serves the city of Kansas City providing switching service for the larger railroads which operate through the area. For contact information; 4501 Kansas Avenue, Kansas City, Kansas 66106-1124.
Kaw River Railroad:   Another Watco shortline, the Kaw River Railroad operates 28 miles of track near Kansas City.
V&S Railway: The V&S Railway operates its own line between Medicine Lodge and Attica and also owns a handful of other short lines.

Wichita Union Terminal Railway: For contact information; 1537 North Barwise Street, Wichita, Kansas 67214-1329.
---
---
Various Job Types



Brakeman



Conductor



Engineer


Signal Maintainer


Roadmaster


Tie Gang Laborer



Dispatcher


Trainmaster



Yardmaster