There were a dozen railroads involved in the project including the St. Louis-San Francisco Railway (Frisco); Atchison, Topeka & Santa Fe (Santa Fe); the Chicago, Burlington & Quincy (Burlington Route); Milwaukee Road; Chicago, Rock Island & Pacific (Rock Island); Union Pacific; Chicago Great Western; Alton Railroad (later owned by the Baltimore & Ohio and then sold to Gulf, Mobile & Ohio); Kansas City Southern; Missouri Pacific; Missouri-Kansas-Texas (Katy); and the Wabash.  The city sought a terminal that rivaled those in New York and hired architect Jarvis Hunt to design a magnificent facility.  Hunt was already known for his work having conceived recently-built 16th Street Station in Oakland and Joliet Union Station in Illinois.  All three were dressed in the Beaux-Arts style.  Kansas City Union Station employed wide open spaces and ornate decorations on the walls and ceilings including a magnificent clock in the Grand Hall and three huge chandeliers. It took several years but finally opened on October 30, 1914 after eight years of construction, then the second largest in the country.
The station was impressive to say the least with marble and terra cotta used throughout its construction, three different sub-levels, restaurants, barbershops, offices (for the owning railroads), a jail, and the building was even powered by its very own power plant! It was so large at the time, with its massive center concourse, that only the recently opened Pennsylvania Station in New York City was larger. For instance, the Grand Hall topped out at 95 feet and the overall building fielded floor space of some 850,000 square feet.  Naturally, some of the most well remembered passenger trains called there such as the Super Chief (Santa Fe), the Rocket (Rock Island), Southern Belle (KCS), Colorado Eagle (MoPac), City of St. Louis (Union Pacific), Southwest Limited (Milwaukee Road0, Oklahoman (Frisco), Night Hawk(GM&O), Mills Cities Limited (Chicago Great Western), City of Kansas City (Wabash), and the Kanas City Zephyr (Burlington) just to name a few (many of these railroads had several named trains that served the terminal).
---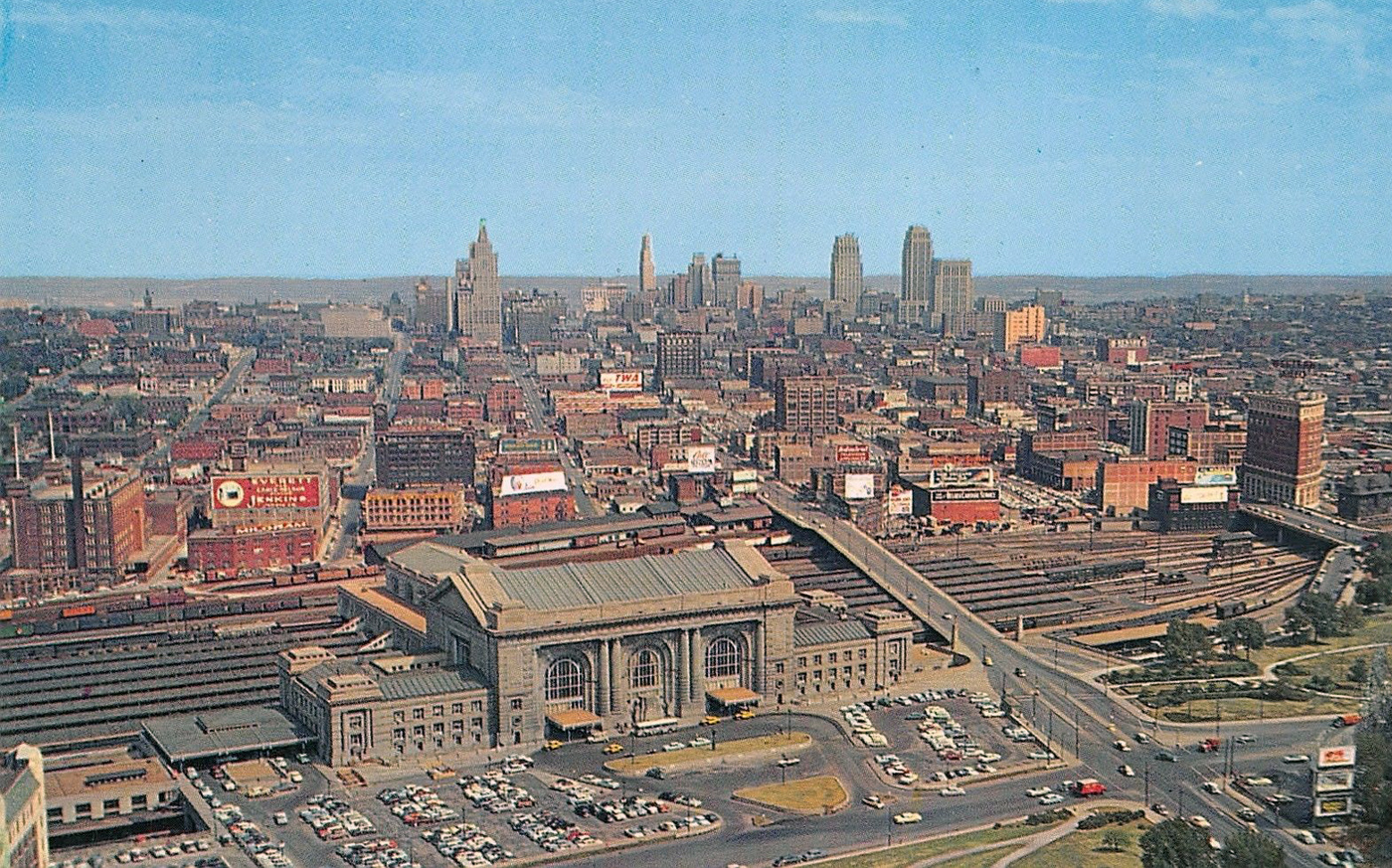 The facility was also designed to handle the city's streetcar and interurban traffic.  Despite being opened during the heyday of rail travel the terminal's peak passenger traffic did not occur until 1945 when it witnessed nearly 680,000 travelers pass through its doors! This, of course, can be explained by World War II when railroads were moving incredible numbers of people and freight tonnage. Outside of the war years the terminal still saw very high passenger numbers during the early 20th century, save for the downturn following the Great Depression. Kansas City Union Station's decline began after the war, following a trend across the country.  With the rise of the automobile, new Interstate highways, and improved air travel the public abandoned trains in increasingly larger numbers.  By the 1970s the building was beginning to show serious neglect even though it had been placed on the National Register of Historic Places in 1972.

Amtrak took over most intercity passenger rail travel in the spring of 1971 and by 1973 (due partially to declining service) barely 30,000 folks passed through the terminals doors. Things got so bad that by 1985 Amtrak decided to move into a smaller building nearby (due largely to the building's deteriorating condition).  While the terminal sat all but empty over the next decade it was saved by the people of Kansas City when they approved a 1/8-cent sales tax that helped partially fund the station's restoration.  This project began in 1997 and was completed in 1999. Today, Kansas City Union Station has been completely restored to its 1914 opening appearance, right down to the authentic light fixtures!  Even the old Union Station Powerhouse was restored, now used by the Kansas City Ballet and known as the Todd Bolender Center for Dance and Creativity.  Amtrak would eventually return to the terminal and today the regional Missouri River Runner (St. Louis - Washington - Jefferson City - Independence - Kansas City) and long-distance Southwest Chief (Chicago - Albuquerque - Los Angeles) stop there.

Home

›

Stations And Depots

› Kansas City Union Station