Louisiana Railroad Jobs

Thanks to the Louisiana's strategic positioning of being situated at the mouth of the Mississippi River and its busy port city of New Orleans, the state is home to six of the seven Class I railroads (CSX, Norfolk Southern, Canadian National, Union Pacific, BNSF Railway, and Kansas City Southern) along with a handful of shortlines. As such, if you are interested in Louisiana railroad jobs there are several companies to choose from.   If you are interested in working within the railroad industry landing a position within Louisiana certainly provides for much better year-round weather than what you would experience in more northerly states.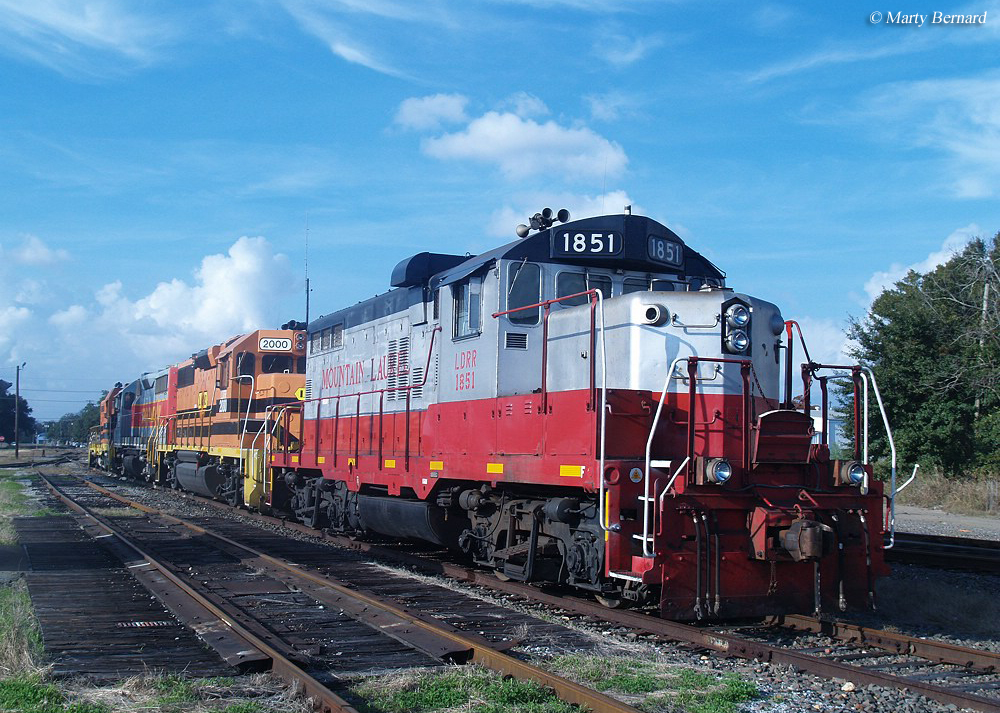 Louisiana & Delta Railroad GP10 #1851, GP38 #2000, GP38-2 #2009, and a CF7 are tied down for the weekend at New Iberia, Louisiana on December 9, 2007.
However, if you accept a position in transportation or maintenance where you will be working out along the main line expect to work very long hours and away from home on a regular basis. This is particularly true with Class I railroads who also do not guarantee that you will be based in any particular area. For instance, while you may prefer to be based in Louisiana a company such as Union Pacific may place you somewhere out in California or Oregon as the railroad operates all over the west.  Finally, if you are a college student or plan to attend with an interest in either management or business many Class I railroads today offer either scholarships or summertime internship/graduate programs for potential applicants.
In regard to the summer programs I am not sure how many students a particular company will hire, how many weeks the work lasts, or where you will be based. On a related note please do not contact me about potential jobs or what all is involved with the work. If you have visited the careers page listed above that is about all of the help I can provide on the subject, for more information you will need to begin inquiring to various railroads which can further answer any questions you may have.
(To search for Louisiana railroad jobs directly please use the below search box from Indeed.com.)
Class I Railroads
Amtrak
BNSF Railway
Canadian National Railway
CSX Transportation
Kansas City Southern Railway
Norfolk Southern Railway
Union Pacific
Shortline, Class III Railroads
Many of the short line railroads listed below are subsidiaries of one of the following companies.  To learn more about employment opportunities with them please visit their website:
Genesee & Wyoming
Watco Companies, LLC

Rio Grande Pacific Corporation
Patriot Rail Company, LLC
Acadiana Railway: This small, privately owned shortline operates about 57 miles of track near Opelousas. For contact information; 1224 Cortez P. O. Box 1729, Opelousas, Louisiana 70571-1729.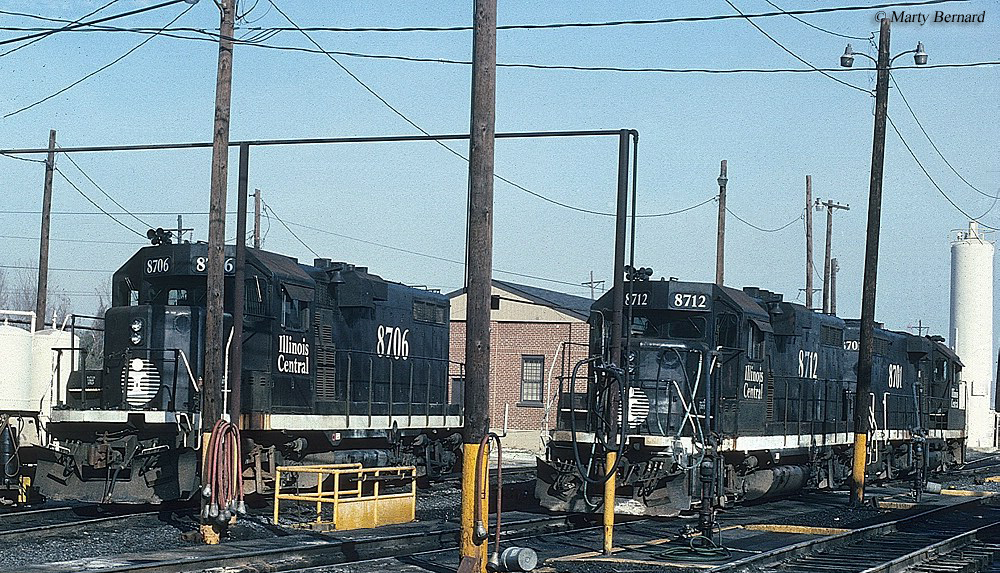 Illinois Central GP11 rebuilds rest on the service tracks in Baton Rouge on January 16, 1993.
Arkansas, Louisiana & Mississippi Railroad: The AL&M is a Genesee & Wyoming shortline operating 53 miles of track in northern Louisiana and southern Arkansas.

Baton Rouge Southern Railroad: The Baton Rouge Southern Railroad is a Watco Companies property operating a very small segment of track north of the city.
CG Railway: The CG Railway offers terminal/ferry service between New Orleans and central Mexico. I am not sure how they hire potential applicants. However, please visit their website for more information.
Delta Southern Railroad: The privately owned Delta Southern Railroad operates more than 100 miles of track in northern Louisiana and southern Arkansas on two unconnected rail lines. For contact information please click here.
Gloster Southern Railroad: This railroad is another V&S Railway property, operating 33 miles of track north of Baton Rouge.

Louisiana & Delta Railroad: The L&D is another Genesee & Wyoming shortline operating 72 miles of unconnected branch lines west of New Orleans with trackage rights reaching the port city.

Louisiana & North West Railroad: The L&NW is a Patriot Rail Corporation shortline, serving a 68-mile system near Homer, Louisiana.

Louisiana Southern Railroad: This railroad is another Watco Companies shortline operating a 150+ mile system in the northern regions of the state.
New Orleans & Gulf Coast Railway: The NO&GC is a Rio Grande Pacific Corporation railroad operating 32 miles just outside of New Orleans.

---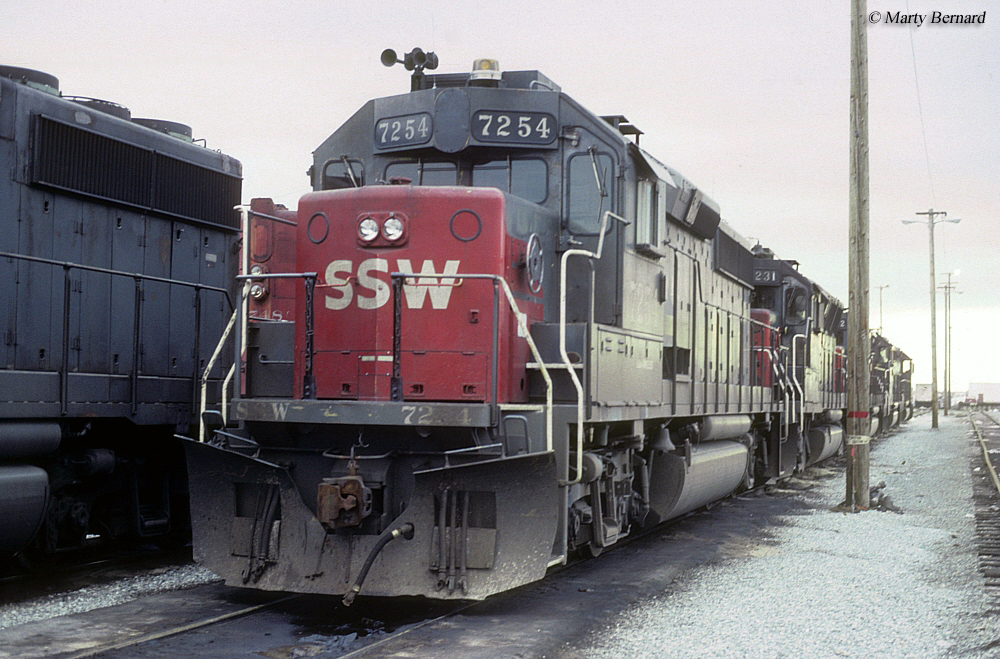 Cotton Belt/Southern Pacific GP40-2 #7254 and other power layover in New Orleans on January 15, 1993.
New Orleans Public Belt Railroad: This terminal railroad has been in operation since the late 19th century and still serves its home port today. For contact information please click here to visit their website regarding possible employment.
Ouachita Railroad: This small short line is mostly located in Arkansas but also operates into northern Louisiana. It is currently owned by Arkansas Short Line Railroads, Inc. For contact information; 730 South Washington, El Dorado, Arkansas 71730.
Timber Rock Railroad: The Timber Rock Railroad is another Watco property operating 160 miles of track mostly in east Texas but also reaches Deridder, Louisiana.