Maine Railroads and Railfanning In "The Pine Tree State"

Maine for the past 170+ years have been defined by two things, timber products and potatoes. Our most northern state is sometimes forgotten for its railroads. However, not only are the lines which operated in Maine "classic" fallen flags today but they also played a very important role throughout the years moving the state's biggest sources of traffic, agriculture and timber. Today, the Pine Tree State has no Class I railroads operating within its borders (Amtrak, however, does serve the state) although in years past it was home to two well-known railroads, one of which was named after the state itself. Additionally, a few larger Class II, regionals and a handful of shortlines also find a home in Maine and remain important transportation arteries for the state (so much so that Maine purchased a large section of former Bangor & Aroostook property in 2010 to save it from abandonment).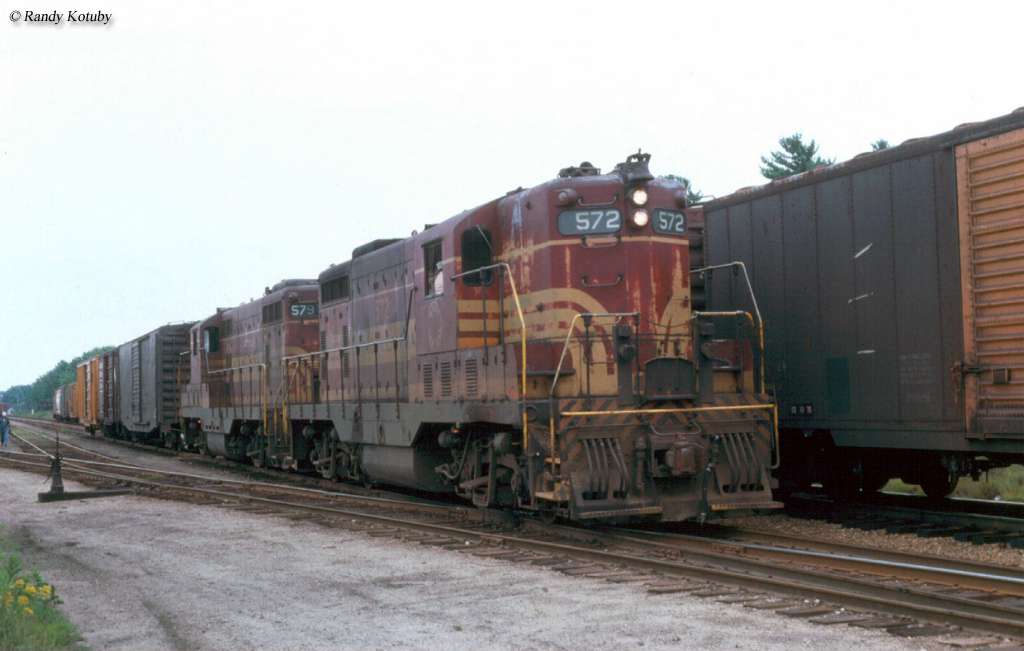 Maine Central GP7s #572 and #579 still wear their original gold and maroon liveries from the days of B&M control as the units put together a train in the Brunswick, Maine yard during early August of 1978.
Maine railroads date back to 1836 when the Bangor & Piscataquis Canal and Railroad opened between Bangor and Old Town, a distance of about 12 miles. The railroad was constructed primarily to haul timber products and would go on to be joined with the Bangor and Katahdin Railroad in 1891 to form one of Maine's most remembered railroads, the Bangor & Aroostook Railroad (also referred to by its initials, the BAR). The Bangor & Aroostook wasn't the only classic line to tap Maine's rich resources. Others included the Boston & Maine (which reached Portland) and Maine Central (a major competitor of the BAR, it served much of southern Maine and stretched as far west as St. Johnsbury, Vermont).
Aside from these lines Maine also boasted numerous narrow-gauge logging lines, particularly during the 19th and early 20th centuries. In any event, to learn more about Maine's three most notable railroads please visit the below links covering their history in more detail: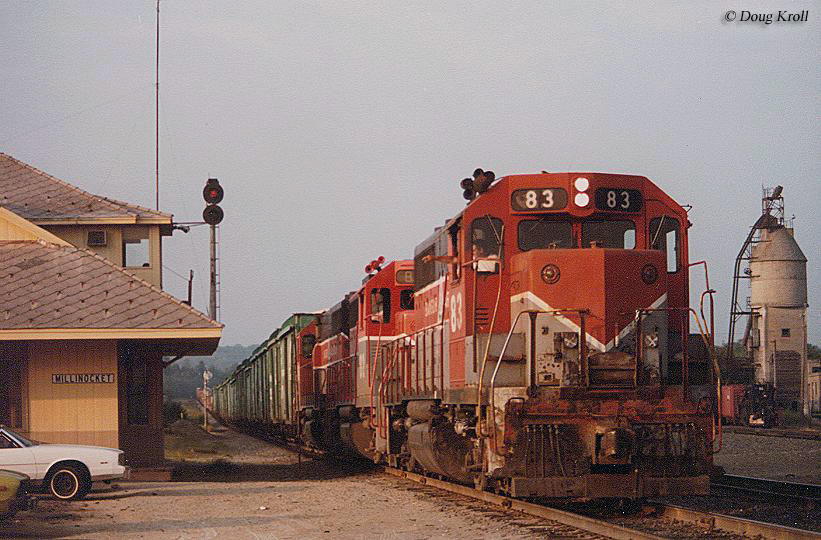 Boston & Maine NW2 #1210 lays over between assignments at the engine terminal in East Deerfield, Massachusetts on June 19, 1978.
Today, Maine is the the realm of regional and shortline railroads only. The most notable of these are Pan Am Railways, which took over the operations of Guilford (which owned the B&M and Maine Central Railroad); the St. Lawrence & Atlantic Railway, which operates the former Grand Trunk; and the Montreal, Maine & Atlantic Railway, which operates much of the original BAR system. The rest is operated by other shortlines including the Maine Eastern Railroad (operated by Morristown & Erie), Eastern Maine Railroad (yes, the two aforementioned lines are different owned, and operated, companies), New Hampshire Northcoast Corporation, and Turners Island, LLC (a small terminal railroad). To learn more about currently operating Maine railroads please click here. This page is meant for job seekers although it also provides a brief overview and contact information for these companies.
In all this totals over 1,000 miles of active railroad in Maine although at one time the state was home to over 2,000 miles of trackage. Overall, the state has lost about 50% of its total mileage since the peak of rail operations across the country in the 1920s. This decline is about average as many states have witnessed similar losses to their rail infrastructure. Today, passenger trains are operated by Amtrak and includes only the Downeaster although this train continues to gain support and ridership and is becoming increasingly popular. Currently the train serves three stops in Maine; Portland, Saco, and Wells. Historically, Maine was never known for famous trains passing through its countryside. However, the Maine Central did have the Flying Yankee and the Boston & Maine's State of Maine, which were more regional in nature.

Passenger and freight trains aside Maine also offers several railroad museums and excursion trains like the popular Maine Narrow Gauge Railroad Company, which currently operates one live steamer and plans to restore another to operation. Others include the Boothbay Railway Village, Cole Land Transportation Museum, Oakfield Railroad Museum, Sandy River and Rangeley Lakes Railroad, Seashore Trolley Museum, the Maine Eastern Railroad (which also offers excursion trains), and the Wiscasset, Waterville & Farmington Railway Museum (a relatively new narrow-gauge operation which has restored part of this logging/timber line).
Surviving Maine Train Stations
All in all, Maine railroads offer a unique experience with rugged, mountainous operations in interior northern areas of the state and coastal operations to the south. So, if you are planning a visit to the Pine Tree State to see its railroads you certainly shouldn't be disappointed!
Maine Logging Railroads

Maine logging railroads could be found throughout the state with a little more than two dozen operations once in service at one time or another. Interestingly, while the state's narrow-gauge lines (between two to three feet) have often received the most attention Maine was actually home to more standard-gauge logging railroads. Overall, most lines were quite small and less than 20 miles in length (some only operated a few miles of track). Rail operations within the logging industry began in the late 19th and early 20th centuries, and Maine was no exception (although its earliest line dated back to the 1840s!). Additionally, most were abandoned or out of service by the 1920s or 1930s. However, a few remained in service much longer; notably the Penobcot Chemical Fibre Company line that lasted until 1955 and the S.D.Warren Paper Company that survived until 1971 as a two-foot narrow-gauge operation.
Bald Mountain Railroad
The Bald Mountain Railroad was owned by the Jackman Lumber Company and first incorporated in 1915. It connected with the Maine Central about 11 miles north of Bingham and in total owned about 26 miles of trackage including both main line and logging spurs. The railroad, built to standard-gauge, remained in use for just over a decade when operations were suspended in 1926.
Blanchard & Twitchell Company
This was a shortlived logging operation that began in 1894 and was also known as the Success Pond Railroad. It connected with the Boston & Maine Railroad and operated between Berlin and Success. In 1904 it was renamed as the George W. Blanchard & Sons Company Railroad although this lasted for only a few more years when operations were entirely abandoned in 1907. The B&M took over a small section of track from its interchange for storage purposes.
Carry Pond & Carry Brook Railroad
The Carry Pond & Carry Brook began operations in 1914 and was owned by the Boyd & Harvey Company. The railroad's main line ran between Seboomook Lake to Northwest Cove near Moosehead Lake where an interchange was located with the Maine Central. The railroad as a rare, two-foot narrow-gauge line.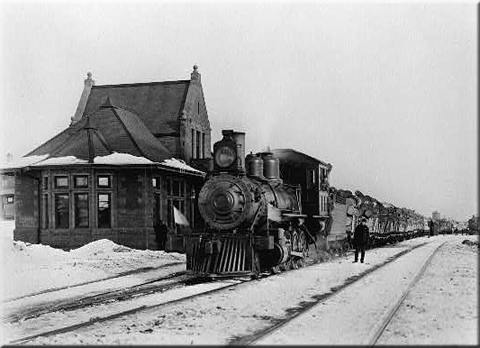 While the Duluth, Missabe & Iron Range became known as an ore-hauler it also moved timber early on. In this scene, predecessor Duluth & Iron Range moves a cut of logs past the Endion depot located within Duluth led by 2-8-0 #46 circa 1910.
Eagle Lake & West Branch Railroad
The Eagle Lake & West Branch Railroad was owned by the Great Northern Paper Company who wished to replaced their tramway operation with a more reliable means of transportation. The tramway operated between Eagle and Churchill Lakes and the Penobscot Bay. The EL&WB was constructed between 1926 and 1927, built to standard-gauge. Interestingly, despite the railroad's heavy construction that included a 1,500-foot wooden trestle it remained in operation only until 1930 when timber reserves were exhausted. The EL&WB has become famous in recent years due to two steam locomotives that remain on the property to this day.
Franklin & Megantic Railroad
The Franklin & Megantic Railroad was another of Maine's classic two-foot narrow-gauge lines. Its history began in 1884 under the ownership of the Berlin Mill Company and the original main line reached Strong to Soules Mill, appropriately named for the saw mill located there. The railroad reached Kingfield and after being taken over by the Sandy River Railroad reached Bigelow. At its peak the F&M (renamed the Franklin & Megantic Railway in 1897 after a reorganization) served several online mills along with the vast nearby spruce timber acreage. For a while the F&M also offered local passenger service on its 25+ mile main line. In 1908 the railroad was fully merged into the Sandy River & Rangeley Lakes Railroad, which became part of the Maine Central Railroad in 1911.

Whitneyville & Machiasport Railroad
Also known as just the Machiasport Railroad, the W&M (built to standard gauge) was the oldest railroad in Maine, constructed by the Boston & Eastern Mill & Land Company in 1841. At its peak the railroad operated a system that covered just 8 1/2 miles connecting its namesake towns. While the line primarily hauled logs and finished lumber it also moved other freight and passengers as well. The W&M remained in use until 1892 when its poor construction and declining timber reserves forced it into abandonment.
Sandy River & Rangeley Lakes Railroad
The Sandy River & Rangeley Lakes Railroad was the largest logging line in Maine. It was created in 1908 primarily from two predecessor lines, the Phillips & Rangeley Railroad and Sandy River Railroad. However, other smaller lines included the Franklin & Megantic Railway and Kingfield & Dead River Railroad. In total, the SR&RL operated from a connection with the Maine Central at Farmington northward to Strong, Philips, Madrid, Kingfield, Bigelow, Redington, and other small logging camps and communities that hosted saw mills. While the railroad was taken over by the MEC in 1911 it remained a two-foot narrow-gauge until being abandoned in 1935. Part of the route has been preserved as a tourist line.

---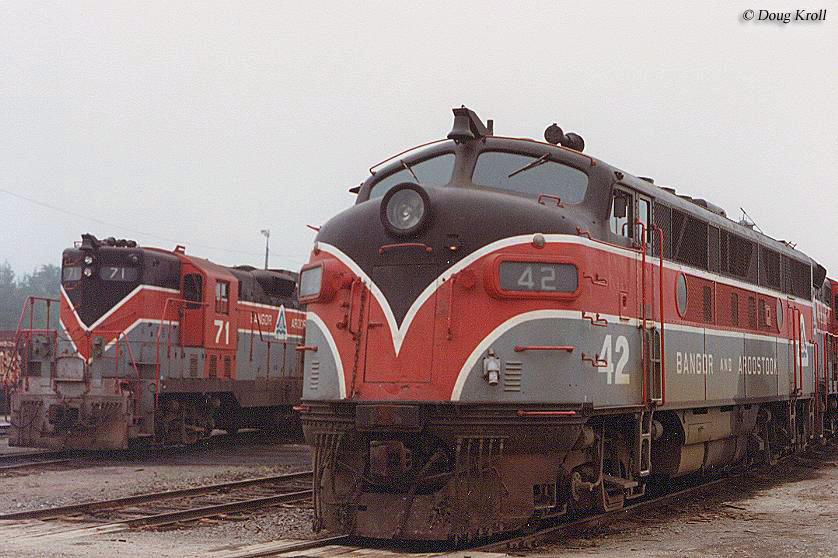 Bangor & Aroostook F3A #42 and GP7 #71 mingle with other power at the yard in Oakfield, Maine as they await assignments on August 5, 1981.
For more reading about Maine's railroad history you might want to consider the book Maine Narrow Gauge Railroads by author Kevin MacDonald and from Arcadia Publishing's "Images of Rail" series. As the title implies the book, mostly through historic photographs, document's the state's history of narrow-gauge railroads and how they helped shape Maine's future. Another book of interest is Walter Macdougall's The Old Somerset Railroad which explores the history of this little known railroad that served Maine for many years. If you're interested in perhaps purchasing either (or both) of these books please visit the links below which will take you to ordering information through Amazon.com, the trusted online shopping network.