MARC Train: Serving The Baltimore/Washington, D.C. Region

MARC Train, also known as the Maryland Rail Commuter Service, is a commuter railroad agency funded by the State of Maryland and operated by the Maryland Transit Association (which is part of the Maryland Department of Transportation). It has been in operation since 1984 and operates mostly over ex-Baltimore & Ohio Railroad trackage under contract with CSX Transportation (successor to the B&O). MARC has become an increasingly popular mode of transportation for those who live and work in and around Baltimore/Washington, D.C. (stretching as far west as Martinsburg, WV), opting to take commuter trains over the increasingly-busy Interstate and highways.
GP39H-2 #70 leads a westbound commuter train past the historic Point of Rocks depot in Maryland on August 21, 1992.
To give a brief history of the B&O it holds the distinction of being this country's very first common-carrier railroad (meaning a railroad chartered specifically for public use) being officially incorporated and organized on April 24th, 1827. – Just as a side-note the B&O was not the first railroad actually chartered in this country, that distinction goes to the Mohawk & Hudson Railroad which was created a year earlier in 1826. – By being this country's first common carrier the railroad was instrumental in helping to build and grow not only our economy but also the country itself when the "west" meant the Ohio River.
While never a wealthy railroad throughout its existence (when compared to the likes of its much larger and powerful northern competitors, the Pennsylvania [PRR] and New York Central [NYC] Railroads) its legacy will forever be remembered as a survivor and that it put customer service above all else. When the company's name and existence finally came to an end on April 30th, 1987 it had just celebrated its 160th birthday and witnessed the industry grow from nothing more than few scattered systems to a rail network consisting of tens of thousands of miles linking the country from coast to coast (it also outlived its wealthier northern competitors by over a decade).
Some of its earliest power, a pair of covered wagons led by E8A #60 head westbound through Forest Glen, Maryland towards Washington, D.C. on July 23, 1992. The author notes that only a few years later these historic locomotives were sold.
Today, the service has three main railroad lines, which include the Camden Line, Brunswick Line, and Penn Line. Also, the commuter railroad plays host to over 30,000 daily passengers and currently makes stops at 43 different railroad stations. Here is more information regarding all three lines:
Penn Line
MARC Train's Penn Line, the busiest of its three seeing around 20,000 commuters daily, is named after the station which it serves, sBaltimore's Penn Station. Along with serving this station the route also serves Union Station in Washington, D.C.; Baltimore-Washington International Thurgood Marshall Airport; Bowie State University; Odenton; Perryville; Aberdeen; Edgewood; and Martins Airport. The Penn Line is partially operated along Amtrak's Northeast Corridor and also is the only route that offers mid-day service between D.C. and Baltimore.
A pair of GP40WH-2s led by #52 lead their train towards Baltimore's Camden Station on February 28, 2006.
Brunswick Line
The Brunswick Line is MARC Train's second busiest seeing about 7,000 commuters daily. It serves such points as Brunswick; Washington Union Station; Frederick; Gaithersburg; Rockville; Silver Spring; and lastly, even Martinsburg, West Virginia. This route is not owned by MARC as it has been granted trackage rights over CSX Transportation along its Cumberland Subdivision, including the famed B&O's Old Main Line (its original line built in the early 19th century).
Camden Line
The Camden Line sees the fewest commuters of the three lines at around 4,500. This route also operates on ex-B&O trackage which dates also dates back to the early 19th century and is the oldest route in the United States still in existence serving passenger trains on a daily basis. Stops along the route include the famed Camden Yards (once a B&O yard now home to the Baltimore Orioles Major League Baseball organization), Washington Union Station; Dorsey; Laurel; and College Park (home of the University of Maryland).
---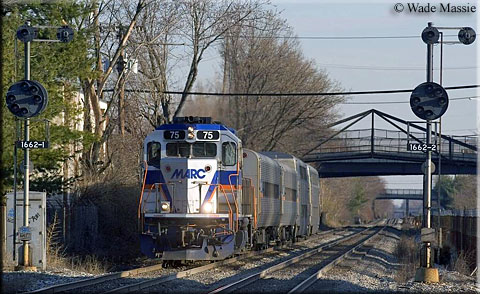 Two historic B&O CPLs still hold sentinel at Rockville, Maryland as a train rolls past led by GP39H-2 #75 on February 20, 2006.
When the service began in 1984 it took over many of the commuter operations once handled by the Baltimore and Ohio Railroad and later Chessie System in and around the Baltimore region. The ability of the transit service to revive the B&O's operations is a testament to the adage; particularly regarding passenger railroading that if the service is provided and reliable riders will come. In any event, if you are a local resident of the region MARC Train serves or would just like to learn more about the agency please click here to visit their website.