The Maryland and Pennsylvania Railroad, The Ma & Pa

The Maryland and Pennsylvania Railroad, affectionately remembered as the "Ma & Pa", was a shortline railroad system based in western Maryland and southern Pennsylvania where it connected Baltimore with the small town of York, Pennsylvania. Unfortunately for the Ma & Pa it's nearly 80-mile route was over 27% longer than the nearby Pennsylvania Railroad's 56-mile line connecting the two cities. Still, the railroad was dearly admired by railfans since it operated through the beautiful countryside and woodsy areas of Maryland and Pennsylvania a change of pace from the nearby big Class Is like the Baltimore & Ohio Railroad and PRR. Beginning in the 1950s the Ma & Pa was slowly abandoned with its final segment closed in the mid-1980s. Still, the railroad persevered after it had acquired a PRR branch line and today operates as part of the York Railway, a Genesee & Wyoming subsidiary.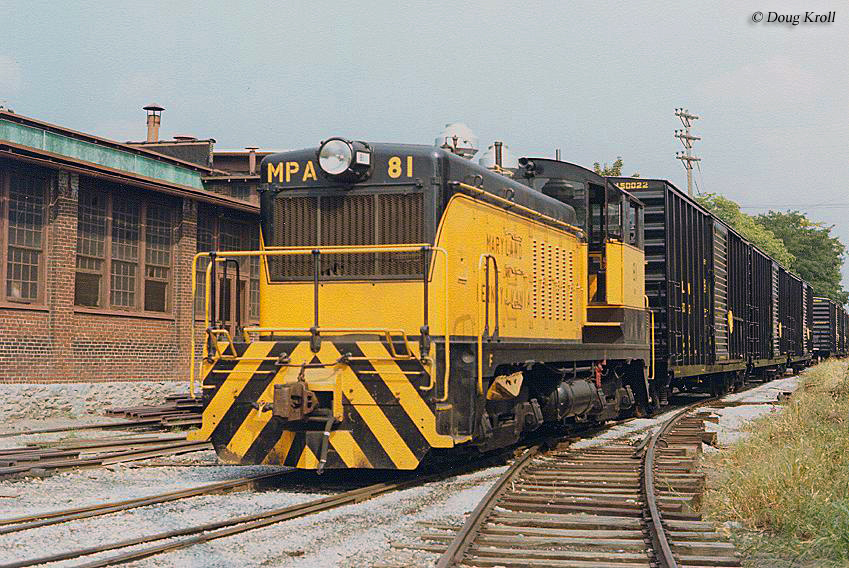 Ma & Pa NW2 #81 switches a cut of boxcars at the yard in York, Pennsylvania on September 22, 1980.
The Ma & Pa dates back to the Baltimore & Lehigh Railway of 1881 (which eventually connected Baltimore and Delta, Pennsylvania by 1884) and York Southern Railroad of 1871 (which eventually connected York and Delta, Pennsylvania by 1876). These railroads were originally narrow-gauge operations of differing gauges, which initially hampered the interchanging of freight traffic with one another. However, after both systems converted to standard gauge between 1898 and 1900 they merged in early 1901 to form a continuous railroad between Baltimore and York called the Maryland and Pennsylvania Railroad.  Throughout much of its history the Ma & Pa Railroad made its profits through the transport of local agricultural products as well as bulk materials such as timber, coal, slate, and marble.
While the railroad remained profitable through the early 1930s its financial situation ebbed and flowed after that point. By 1954 the railroad ceased all passenger train operations once its lucrative US Postal Service mail contracts were terminated and in June of 1958 the Ma & Pa cut down 44 miles of its system (over half of its mileage) when it abandoned its main line between Baltimore and Whiteford.  According to the 1969 Official Guide the railroad was listed with only 34.8 miles operating from York to Whiteford, Maryland with four connections available to the Penn Central at York, Dallastown Junction, Dallastown, and Whiteford.  In the early 1970s the Ma & Pa was acquired by Emons Industries and the railroad continued to haul slate and furniture near Delta and Red Lion, Pennsylvania.
However, with that traffic virtually the only remaining freight on the Maryland & Pennsylvania system the railroad was reduced to just a 9-mile segment between York and Red Lion, the former where it connected with then PRR successor Conrail. Then, by the mid-1980s all remaining customers had closed up shop or moved elsewhere leaving the Ma & Pa with nothing to transport.  It was then that the railroad purchased a former Pennsylvania Railroad branchline between York and Hanover, Pennsylvania, a distance of about 40 miles. With several online customers the Ma & Pa has since become a healthy railroad although it was merged with another Emons' owned shortline in the 1980s to form the York Railway that has since become part of the Genesee & Wyoming family of shortlines. Today, while the original Ma & Pa has long since been abandoned it lives on in many ways as part of the York Railway.  For more information on the Ma & Pa please click here.
Maryland & Pennsylvania NW2 #81 lays over at York, Pennsylvania during the fall of 1978.
Diesel Locomotive Roster
Electro-Motive Division
| Model Type | Road Number | Date Built | Quantity |
| --- | --- | --- | --- |
| SW1 | 70 | 1946 | 1 |
| NW2 | 80-81, 85 (Ex-Reading) | 1941, 1946 | 3 |
| SW9 | 82, 84 (Ex-P&LE) | 1951-1952 | 2 |
| SW900 | 83 (Ex-PB&NE) | 1957 | 1 |
| GP7 | 86 (Ex-Reading), 1506 | 1953 | 2 |
| CF7 | 1500, 1502, 1504 (Ex-AT&SF) | 1950-1953 | 3 |
Steam Locomotive Roster
| Road Number | Type | Wheel Arrangement |
| --- | --- | --- |
| 1, 3-6 | >American | 4-4-0 |
| 2 | Mogul | 2-6-0 |
| 21-22 (Ex-PRR), 27-28 | Ten-Wheeler | 4-6-0 |
| 23-26, 41-43 | Consolidation | 2-8-0 |
| 29-30 | Switcher | 0-6-0 |
---
Ma & Pa NW2 #85 performs switching duties in York on September 22, 1980.
For a great comprehensive, historical look at the railroad you might want to consider the book The Ma & Pa: A History of the Maryland & Pennsylvania Railroad by author George Hilton. The book covers in great detail (over 240 pages) this unique and popular short line from its earliest beginnings to final days before becoming part of the York Railway in the 1980s. If you have any interest in the Ma & Pa or would like to learn more about its fascinating history I would strongly recommend Mr. Hilton's book, the railroad is certainly one of the most interesting to ever operate. If you're interested in perhaps purchasing this book please visit the link below which will take you to ordering information through Amazon.com, the trusted online shopping network.