Maryland Railroads and Railfanning In "The Old Line State"

Maryland is literally where it all began, at least in regards to common-carrier systems. The esteemed Baltimore & Ohio Railroad is an institution in the state and well remembered, particularly by the City of Baltimore, where it all started. However, the B&O was not the only classic line to serve Maryland as a few others, notably the Pennsylvania Railroad, also reached the state. In any event, today, Maryland's railroad network is operated mostly by successors CSX Transportation and Norfolk Southern Railway and a handful of smaller systems. Additionally, the state is also home to Amtrak's high-speed and very busy, Northeast Corridor (NEC) (originally the Pennsylvania Railroad's main line up and down the Northeast), as well as commuter agencies MARC, Virginia Railway Express, and the Washington Metro (Washington, D.C.).
It's the early Conrail era and a pair of former Penn Central GP40s leads a manifest freight along the Erie Railroad's former Southern Tier along the Pennsylvania/New York border during June of 1978.
Maryland railroads date back to April 24th, 1827 upon which day the Baltimore & Ohio Railroad was officially chartered by Baltimore businessmen out of a great need to compete with the creation of the Erie Canal which connected New York City with the Port of Albany at Buffalo and Philadelphia's plan to build a similar transportation system to the City of Pittsburgh on the western side of Pennsylvania. The creation of the B&O dated as far back as 1826 when Philip Thomas and George Brown traveled to England to gain ideas of how to effectively construct and operate railroads practically and profitably.
By February 1827 the Maryland state legislature began mulling the idea of creating a railroad, unofficially creating the B&O that month to establish a rail route reaching the Ohio River. The railroad's official groundbreaking occurred on the Fourth of July, 1828 a year later and the initial line between Baltimore and nearby Ellicott's Mills (now Ellicott City) began operations on May 24th, 1830. By 1852 the B&O had achieved its goal of reaching then Wheeling, Virginia along the banks of the Ohio River. Throughout the rest of the 19th century and into the 20th the railroad continued to grow and expand through purchase and takeover of smaller lines as well as new construction. At its peak the B&O reached such cities as St. Louis, Chicago, Buffalo, Philadelphia, and New York. To learn more about all of the railroads (including the B&O) that operated in Maryland please check out the links/pages below:
Maryland & Pennsylvania (Ma & Pa)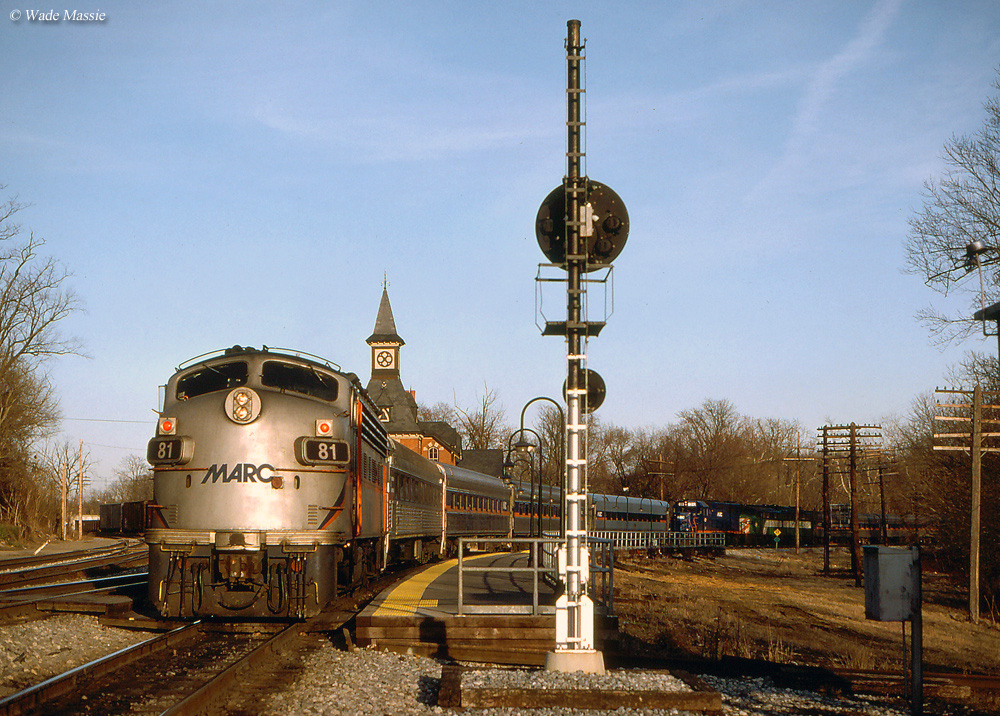 Nearly new B&O GP40-2 #3767 leads two C&O Geeps through Handley Yard in West Virginia during August of 1982.
Today, much of the B&O's trackage, such as its original main line to Ellicott City, remains in place and in use by CSX. Along with CSX, Norfolk Southern also has a key route that connects to Hagerstown and funnels traffic north and south. The rest is operated by regional Wheeling & Lake Erie Railway and shortlines Maryland Midland Railroad (owned by Genesee & Wyoming), Bay Coast Railroad, Canton Railroad, Maryland & Delaware Railroad, Georges Creek Railway, Winchester & Western Railroad, and the Patapsco & Back Rivers Railroad. Please click here to learn a bit more about these companies. While the page is designed to help those looking for a career in the railroad industry it also lists all currently-operating Maryland railroads.
Interestingly, with all of the rich history associated with Maryland the state has never had a significant amount of rail mileage. Today it is home to just under 800 miles and at its peak featured less than 1,500 miles. Since the 1920s the state has lost about 46% of its rail infrastructure, which falls in about the middle of the pack as other states have seen similar declines since that time. For a more detailed look at the state's railroad mileage over the years please have a look at the chart below.
Maryland may no longer be home to the B&O's flagship, the Capitol Limited but Amtrak still operates the train to Chicago. The carrier also operates its high-speed Acela trainsets as far south as Baltimore, and its Regional and Silver Service, New York to Florida trains also serve the city. Along with Amtrak the MARC commuter operation serves much of eastern Maryland and Washington D.C. with extensions as far west as the towns of Martinsburg and historic Harpers Ferry, West Virginia. To learn more about the state's current passenger and commuter rail services please visit the links listed below:
Aside from passenger and freight train operations Maryland also includes the world-renowned Baltimore & Ohio Railroad Museum, which, despite a catastrophic roof collapse to its historic roundhouse in downtown Baltimore, still sees hundreds of thousands of visitors annually and is a major tourist attraction to both the city and state. Maryland is also home to the very popular Western Maryland Scenic Railroad based in Cumberland that operates ex-Western Maryland Railway trackage to Frostburg.
Other Maryland railroad museums and excursion trains include the Baltimore Streetcar Museum, Bowie Railroad Station and Huntington Museum, Brunswick Museum, Chesapeake Beach Railway Museum, Ellicott City B&O Railroad Station Museum, Gaithersburg Community Museum, Hagerstown Roundhouse Museum, National Capital Trolley Museum, Walkersville Southern Railroad, and the Western Maryland Railway Historical Society.
To learn more about Maryland's history with trains please check out the below links.
Surviving Maryland Train Stations
In all, Maryland railroads offer a unique blend of mountainous and coastal operations, local shortlines, and steam-powered excursion trains. A little mix of everything for the railfan, general lover of history, and/or vacationer looking for something a little different to see and experience.
Maryland Logging Railroads

Maryland logging railroads are not well known or remembered due to the fact that the state often is not thought of for its timber. However, its western regions in the mountains of the Alleghenies did hold large tracts of timber. Almost all of Maryland's logging lines were located in Garrett County although others could be found in Allegany, Carroll, and Wicomico counties. Additionally, most were built to three-foot narrow-gauge width although there was a handful of standard-gauge lines (as well as odd gauges such as 50 and 42-inch). Unlike nearby states like Pennsylvania and West Virginia, which had numerous logging railroads some of which remained in use until the mid-20th century, Maryland's systems were shortlived and mostly gone by the 1920s after just two decades or so of use. Interestingly, while the Class I Western Maryland Railway owned the classic Shay geared steam locomotive it did not use its fleet for hauling either logs or lumber. While operating in the state the Shays were employed in the coal service on the WM's steep branches in the western region.
A. Knabb & Company
This company did not originally begin manufacturing lumber although it required timber for its Warren, Pennsylvania-based business making oil barrel staves. In 1890 it constructed a three-foot narrow-gauge railroad in Garrett County, Maryland to tap local timber for its business. During peak operations the railroad owned 16 miles of track and three geared steam locomotives. It remained in use until only 1902.
Ballot & Billmeyer Lumber Company
The Ballot & Billmeyer Lumber Company was also based in Garrett County and had its start in 1900 serving the areas of Jennings and Little Orleans. The company and its railroad (that operated only one locomotive) remained in business until 1927 although it only owned just over three miles of track, taking finished lumber to Little Orleans where it was picked up by the Western Maryland Railway. For a bit more information about the operation please click here.
Meadow Mountain Lumber Company
The Meadow Mountain Lumber Company operated the Bear Creek Railroad, a three-foot narrow-gauge line that tapped timber reserves in Garrett County and served the mill at Friendsville. It operated 26 miles of track overall (including all spurs) and owned four locomotives, most of which were Climaxes. The Bear Creek was a shortlived logging line and remained in use only between 1899 and 1905.
During July of 1932 two Shays are in the shop for repairs at Portland, Oregon.
Green Ridge Railroad
The Green Ridge Railroad was owned by Mertens's family and operated in Alleghany County near the communities of Okonoko, Town Hill, and Fifteen Mile Creek. It was a three-foot narrow-gauge line that served the company mill at Oldtown and used very small switcher locomotives. Overall it operated 20 miles of track although operations lasted only between 1882 and 1897.
Preston Lumber & Coal Company
The Preston Lumber & Coal Company operated the Preston Railroad in Garrett County. It was a standard-gauge line that began operations in 1891 and served the company mill at Crellin, where an interchange was also located with the Baltimore & Ohio Railroad. In 1906 it became part of the Kendall Lumber Company, which continued to operate it as the Preston Railroad. At its peak the Preston operated into West Virginia and operated locomotives as large as 4-6-0s, 2-6-0s, and 2-8-0s. Today, 2-8-0s #18 and #19 are preserved at the West Virginia Railroad Museum. The railroad itself was finally abandoned in 1960.
Jennings Brothers Railroad
Owned by the Jennings Brothers Lumber Company this logging railroad operated in Garrett County and began operations in 1899. During the height of operations the standard-gauge railroad operated 30 miles of track and owned four locomotives; a Class B Climax, three-truck Shay, and two 4-6-0s. Operations lasted until 1918.
Savage River Railroad
This logging line was owned by the Dubois & Bond Brothers. It began operations in 1900 as a standard-gauged railroad and eventually owned around 15 miles of track serving the company mill at Bond, Maryland. It interchanged with the B&O at Crabtree and its entire motive power fleet was geared steam locomotives; a two-truck Heisler and three-truck Shay. It remained in operation until only 1910.  Finally, for even more information about Maryland logging railroads please click here. This web page offers more detailed information about operations in the Garrett County area, the companies that operated them, and the major railroads with which they connected (the B&O, WM, and West Virginia Central & Pittsburg Railroad/WM).  For more information about Maryland logging railroads please click here.
---
Western Maryland GP40 #3798 and B&O GP40 #3772 have the CN Turn southbound at Seneca Street in Buffalo as the train returns to the yard on November 17, 1984.
For more reading about the history of Maryland you might want to consider a copy of Trackside Maryland: From Railyard to Main Line by authors Jacques Kelly and Jim Gallagher, which features over 200 pages of historic photographs and information covering the subject. A great read that has received excellent reviews! Also, for a great comprehensive, historical look at the Maryland and Pennsylvania Railroad you might want to consider the book The Ma & Pa: A History of the Maryland & Pennsylvania Railroad by author George Hilton.   If you're interested in perhaps purchasing either of these books please visit the links below which will take you to ordering information through Amazon.com.

Adam Burns, Site Author