Today, Maine is the the realm of regional and shortline railroads only. The most notable of these are Pan Am Railways, which took over the operations of Guilford (which owned the B&M and Maine Central Railroad); the St. Lawrence & Atlantic Railway, which operates the former Grand Trunk; and the Central Maine & Quebec Railway, which operates much of the original BAR system. The rest is operated by other short lines including the Maine Eastern Railroad (operated by Morristown & Erie), Eastern Maine Railroad (yes, the two aforementioned lines are different owned and operated companies), New Hampshire Northcoast Corporation, and Turners Island, LLC (a small terminal railroad).

Classic Lines That Served Maine
In all this totals over 1,000 miles of active railroad in Maine although at one time the state was home to over 2,000 miles of trackage. Overall, the state has lost about 50% of its total mileage since the peak of rail operations across the country in the 1920s. This decline is about average as many states have witnessed similar losses to their rail infrastructure.  Today, passenger trains are operated by Amtrak and includes only the Downeaster although this train continues to gain support and ridership and is becoming increasingly popular. Currently the train serves three stops in Maine; Portland, Saco, and Wells. Historically, Maine was never known for famous trains passing through its countryside. However, the Maine Central did have the Flying Yankee and the Boston & Maine's State of Maine, which were more regional in nature.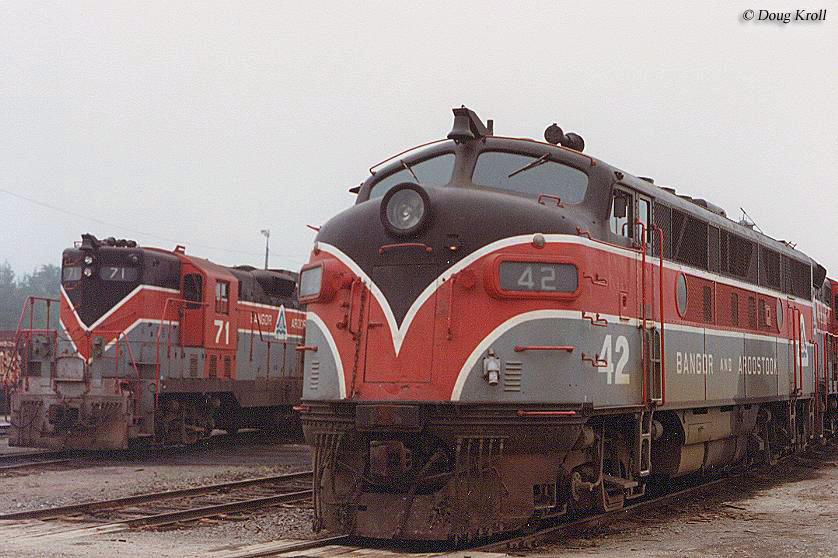 Passenger and freight trains aside Maine also offers several railroad museums and excursion trains like the popular Maine Narrow Gauge Railroad Company, which currently operates one live steamer and plans to restore another to operation. Others include the Boothbay Railway Village, Cole Land Transportation Museum, Oakfield Railroad Museum, Sandy River and Rangeley Lakes Railroad, Seashore Trolley Museum, the Maine Eastern Railroad (which also offers excursion trains), and the Wiscasset, Waterville & Farmington Railway Museum (a relatively new narrow-gauge operation which has restored part of this logging/timber line).  All in all, Maine railroads offer a unique experience with rugged, mountainous operations in interior northern areas of the state and coastal operations to the south. So, if you are planning a visit to the Pine Tree State to see its railroads you certainly shouldn't be disappointed!
Related Reading You May Enjoy


Home

›

The States

› Maine