The MTA's Metro-North Railroad
The Metro-North Railroad is the commuter railroad system operated and maintained by the Metropolitan Transportation Authority (MTA) of New York State (which also includes other transit services like subway and buses). Like New Jersey Transit which serves communities to the south of New York City, Metro-North serves communities to the north of the city using five different rail lines. For the past 25 years the Metro-North has been providing reliable and efficient commuter rail services to northern New Jersey, southern New York, and the southern coast of Connecticut and without it many commuters would have a difficult and time-consuming effort getting to work.
In this early scene of Metro North operations a trio of FL9s are at the engine facility in Brewster, New York on September 27, 1980.
Along with Amtrak, state passenger railroading operations are gaining support and receiving increased attention and funding, particularly as highways become increasingly congested. Perhaps the two most noted states that are giving passenger railroading serious attention include North Carolina and California. Both are doing a magnificent job developing passenger rail corridors in their respective states, particularly North Carolina. If you are interested in seeing how a passenger rail network should be properly implemented, planned, and carried out have a look at what the Tarheel State is doing.
The Metro-North Railroad began operations in 1983 to take over commuter services originally provided by the New York, New Haven & Hartford and New York Central Railroads. Following the collapse of the Penn Central Corporation in the early 1970s, which eventually led to the formation of Conrail in 1976, the Metropolitan Transportation Authority took over commuter operations north of the New York City region in 1972 to serve the suburbs and towns located there, which eventually led to the Metro-North's creation.  While the New York Central had extensive operations in the area, no railroad is better remembered, particularly in the New England region, for its commuter operations than the NYNH&H. The New Haven Railroad was a mid-sized Northeastern carrier that is best remembered for moving more people than freight (interestingly it derived a good portion of its revenues from commuter services).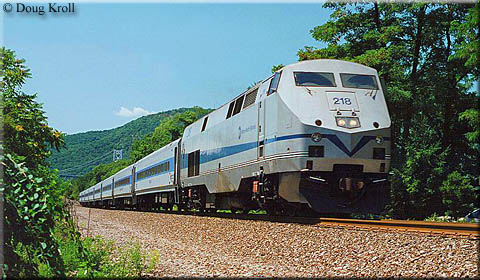 A nearly new, at the time, General Electric-built P32AC-DM hurries a commuter train through Manitou, New York on July 25, 1999.
At its peak the NYNH&H stretched across most of New England (even owning the Maine Central and Boston & Maine railroads) and served its largest cities from Boston and Providence to New York City. In the end, however, poor management would cost the railroad by the mid-20th century and forced it into bankruptcy by the 1960s. In an interesting twist as a condition of the merger the NYNH&H was forced into the ill-fated Penn Central Corporation and disappeared into Conrail in 1976 after PC and the entire Northeastern rail market collapsed.   The NYNH&H's strength was in its ability to haul thousands of passengers and commuters along its high speed main line between New York and Boston (which continues to this day), and points in between. While the railroad did have a strong presence hauling freight, especially during the early 20th century, it also had a very strong passenger/commuter market because of the fact that it offered the only direct Boston-New York rail connection (and it naturally marketed this quite heavily).
A pair of Metro North FL9s, led by #2017, load passengers at the station in Danbury, Connecticut on October 23, 1999.
Today the Metro-North serves five different lines, all of which eventually terminate at either Hoboken Terminal or Penn Station and Grand Central Terminal located in downtown Manhattan:
Port Jervis Line: In conjunction with NJ Transit connects Hoboken Terminal and Penn Station with Port Jervis, New York.
Pascack Valley Line: In conjunction with NJ Transit connects Hoboken Terminal and Penn Station with Spring Valley, New York.
Hudson Line: Connects Grand Central Terminal with Poughkeepsie, New York along the Hudson River.
Harlem Line: Connects Grand Central Terminal and Harlem with Wassaic, New York.
New Haven Line: Operating over the ex-New Haven main line connects, New Haven, Danbury, and Waterbury, Connecticut in conjunction with Shore Line East with Grand Central Terminal.
---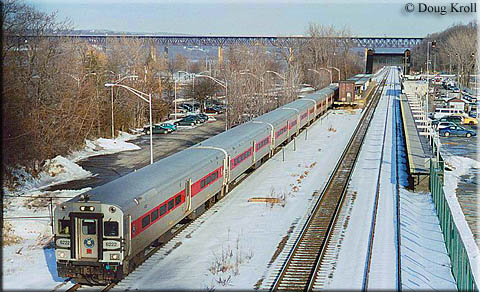 Operating in push service is P32AC-DM #216 as it powers a southbound commuter run away from the station in Beacon, New York on December 20, 2003.
Today the NYNH&H main line continues to be an important link to both freight and passengers between Boston and New York, especially Amtrak where the line is part of the carrier's Northeast Corridor (or NEC for short). All in all, if you live in any of these communities and work in New York City or somewhere along the Long Island Sound you may want to consider using the Metro-North Railroad, especially in this day of ever-rising gas prices. In any event, if you would like to learn more about the Metro-North or are perhaps considering using the system please click here to visit their website.