Working within the railroad industry really becomes a way of life, particularly if you hire on in with a Class I in either transportation or maintenance where one is constantly out on the road. Couple this with the harsh weather Minnesota has to offer and you really may want to think long and hard if a career in railroading is right for you. Typically, railroaders not only work long, 12-hour days but they also spend many nights away from home and in a hotel. While smaller railroads do offer a more predictable schedule they cannot match the excellent pay, benefits, and retirement of Class Is. In the end, you will have to weigh the pros and cons yourself in deciding if becoming a railroader is something you want to do.  For college students who may be researching a career in railroading, several Class Is offer internship and graduate programs in either management or business to get your foot in the door early. Finally, I get a lot of e-mails about employment, job openings, and what all is involved. I really cannot provide anymore information than what has already been presented here.

Short Lines And Regionals
Northern Plains Railroad: This regional railroad is mostly concentrated in North Dakota, leasing nearly 400 miles of track from carriers such as Canadian Pacific, Mohall Railroad, and the Mohall Central Railroad.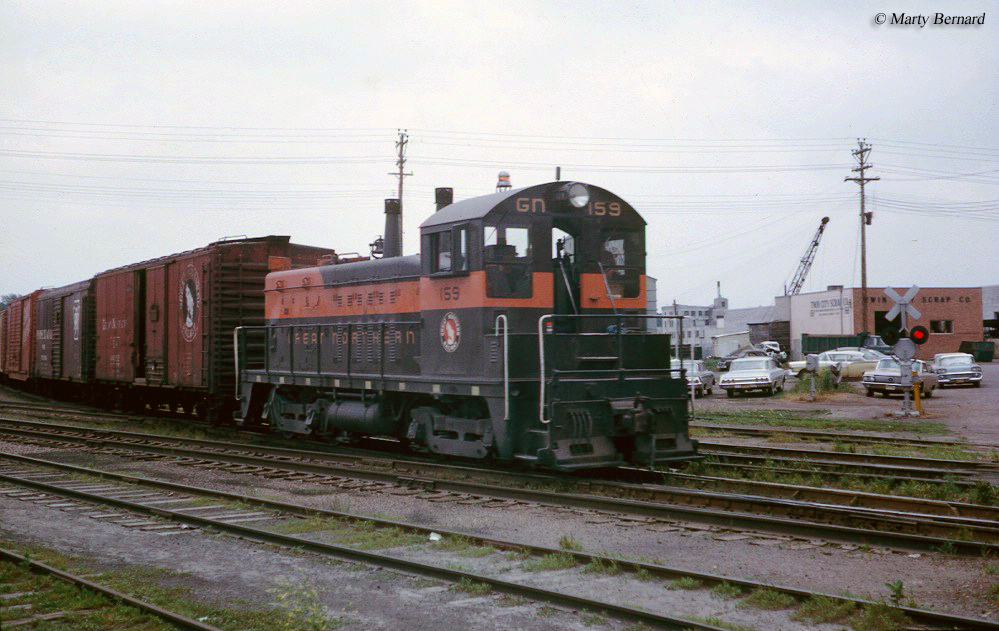 Great Northern NW2 #159 switches the yard in Minneapolis on June 8, 1964.
Red River Valley & Western Railroad: The RRV&W is a 500+ mile regional railroad that operates former Burlington Northern trackage mostly located in North Dakota northwest of Wahpeton (although its lines do stretch into extreme western Minnesota).

Cloquet Terminal Railroad: This terminal railroad operates just four miles of track near the town of Cloquet, connecting with the BNSF Railway and Canadian Pacific. For contact information; 315 Saint Louis Avenue, Cloquet, Minnesota 55720-1562.
Minnesota Commercial Railway: This medium-sized short line railroad operates about 150 miles of track right around the Twin Cities.

Minnesota, Dakota & Western Railway: The historic MD&W (created in 1910) is a small shortline railroad operating just 4 miles of trackage between International Falls and Ranier. For contact information; P.O. Box 19, International Falls, Minnesota 56649.

Minnesota Northern Railroad: This large short line operates more than 200 miles of track in the western areas of the state connecting with Class Is BNSF and CP. For contact information; P. O. Box 705, Crookston, Minnesota 56716.

Minnesota Prairie Line: The MPL is a subsidiary of the Twin Cities & Western operating nearly 100 miles of track between Granite Falls and Hamburg. For information about possible job openings please visit the TC&W's website listed below.
Minnesota Southern Railway: This shortline operates a stretch of trackage in southern Minnesota between Beaver Creek and Worthington. For contact information; P. O. Box 562, Luverne, Minnesota 56156. P
Northern Lines Railway: This rather small shortline is owned by Anacostia & Pacific operating about 25 miles of track between St. Clouid, St. Joseph, and Cold Spring.

Otter Tail Valley Railroad: This short line is part of G&W's large family of railroads operating just over 80 miles of track between Fargo and Fergus Falls.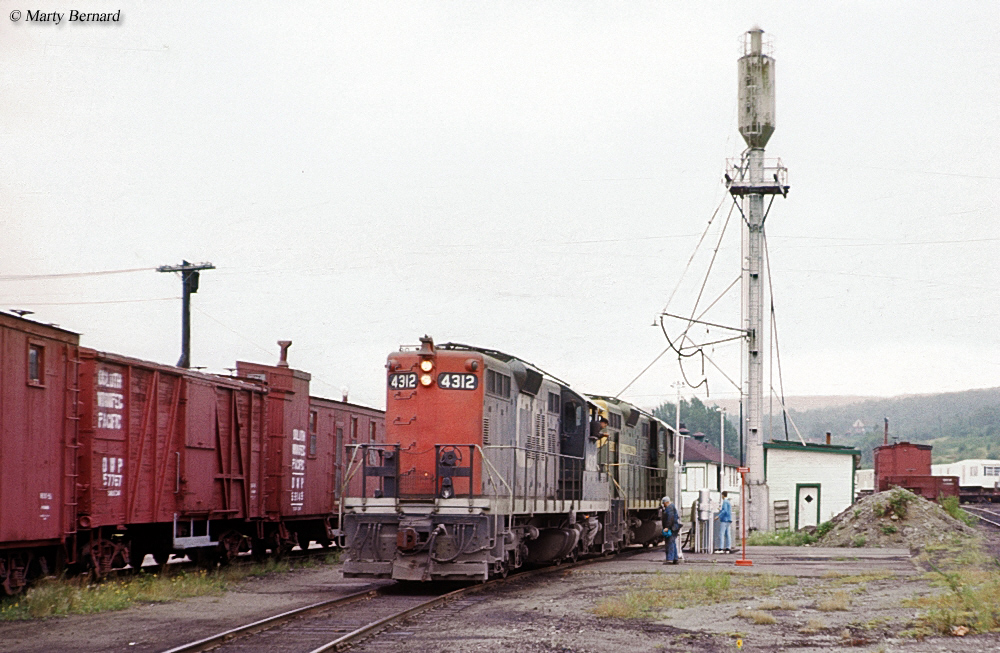 Canadian National GP9 #4312 and a mate appear to be taking on sand at the yard in Duluth on August 22, 1966.
Progressive Rail, Inc.: Progressive Rail operates trackage in three different states and takes its paint scheme from the historic Minneapolis, Northfield & Southern Railway (whose former trackage it also operates).

St. Croix Valley Railroad: This railroad operates about 36 miles of track between Hinkley and North Branch. The company is headquartered in Rush City. For contact information; 175 West 4th Street, Rush City, Minnesota 55069.

Twin Cities & Western Railroad: The Twin Cities & Western Railroad operates the former Milwaukee Road's Seattle-Chicago main line between the Twin Cities and Appleton operating more than 200 miles of track (including its MPL subsidiary).
---
---
Various Job Types



Brakeman



Conductor



Engineer


Signal Maintainer


Roadmaster


Tie Gang Laborer



Dispatcher


Trainmaster



Yardmaster