Montana Railroad Jobs

For the state's beauty and vastness, Montana railroad jobs are mostly relegated to only the two Class Is which operate there, BNSF Railway and Union Pacific (the BNSF itself makes up nearly 60% of the state's trackage). Additionally, Montana is home to a few Class II, regionals (Dakota, Missouri Valley, & Western and Montana Rail Link) along with just a small handful of Class III, shortlines. Of note, Amtrak's famous and historic Empire Builder also operates through Montana. Despite the state's lack of railroads (years ago it was home to many more, notably the Milwaukee Road) it does originate a lot of freight tonnage with coal making up 68% of the total. To learn more about Montana railroads and the freight they haul please click here.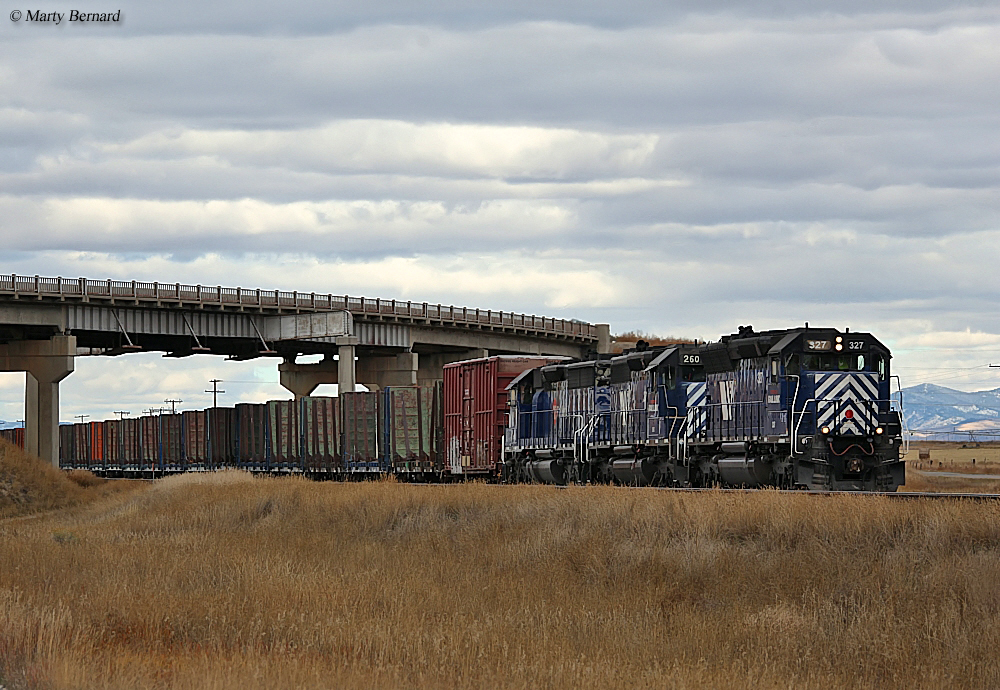 Montana Rail Link SD45 #327, SD40-2XR #260, and SD45-2 #311 have a mixed freight at rural Toston, Montana on October 27, 2010.
Being a railroader is a tough job all by itself but add to this Montana's brutal winter months and it makes the task that much more difficult. Because the state is mostly home to Class Is, or large Class IIs, if you hire on expect to work long hours and be away from home regularly. It's these issues, in particular, that either drive many away from railroading or not stick with the job. In truth, it's not for everyone which is why many railroaders say it's as much a lifestyle as it is a career. There are some very nice benefits to being a railroader, however, including outstanding pay and retirement. In the end, you will have to decide for yourself if you think a career in the industry is something you truly want to do.
Lastly, for more information regarding Montana railroad jobs, please visit the links below or the railroad's individual contact information concerning possible openings. On a related note, if you are either in college or plan to attend and are interested in the field of business (such as management) you may want to check into the summer internship and graduate programs many Class Is have to offer (some also offer scholarships). To learn more you will just need to contact them or visit their career pages listed below.
Lastly, to search for Montana railroad jobs directly please use the below search box from Indeed.com.
Class I Railroads
Regional, Class II Railroads
Dakota, Missouri Valley, & Western: The DMV&W, a privately owned company, operates more than 300 miles of former Soo Line trackage in North Dakota and Montana. To contact the railroad regarding possible employment opportunities please click here to visit their website.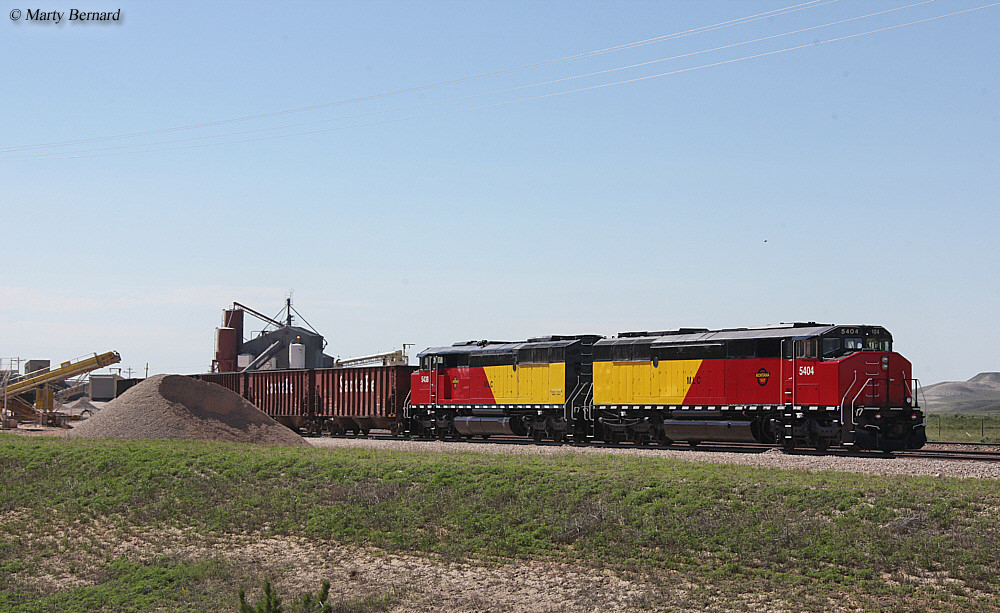 Montana Limestone Company SD50Fs #5404 and #5438 are at the loadout near Warren, Montana with a string of hoppers on June 6, 2011. The two units began their career on the Canadian National in 1986.
Montana Rail Link: MRL is one of the larger Class IIs in the country as it operates nearly 1,000 miles of trackage between Montana, Idaho, and Washington. The railroad has done so well in recent years that it has purchased brand new locomotives, an uncommon occurrence these days for non-Class I operations. To contact MRL about possible job openings please click here.
Shortline, Class III Railroads
Butte, Anaconda & Pacific Railway: The BA&P is a historic shortline based in Anaconda, Montana that dates back to the late 19th century. The railroad was once electrified and for years hauled mined ores. Today, the company is owned by the Patriot Rail Corporation. To contact the BA&P about possible openings please click here.
Central Montana Rail: This shortline operates more than 80 miles of track between Moccasin and Geraldine on former Milwaukee Road trackage once reaching to Great Falls, Winnett, Winifred, and Agawam. To contact the railroad; P. O. Box 868, Denton, Montana 59430. Phone 406-567-2223.
Mission Mountain Railroad: The Mission Mountain Railroad is a Watco Companies shortline operating about 40 miles of unconnected track in northwestern Montana. To contact the railroad please visit their web page.
Yellowstone Valley Railroad: Another Watco shortline, this railroad operates more than 170 miles of former Great Northern trackage in northeastern Montana. To contact the Yellowstone Valley Railroad please click here.
For more information about shortline railroads that serve Montana please click here to visit the American Short Line and Regional Railroad Association's website.
---
---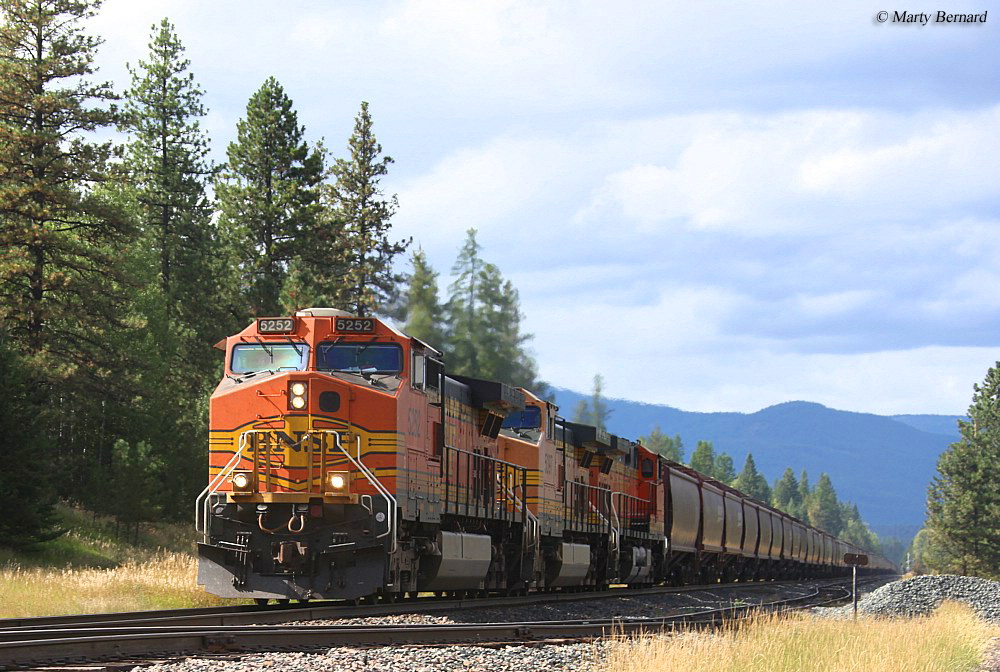 BNSF C44-9W #5252, with assistance from two mates has a long grain train near Trout Creek, Montana on September 6, 2009.
Finally, if a career in railroading is right for you but you would like to learn more about what it takes to work in the industry you might want to consider the book Working on the Railroad from noted author Brian Solomon. Solomon's book details the history of working in the railroad industry and the difficulties and hardship employees faced back then as well as today. After reading this book you should have no doubts about whether working in the industry is something you are truly interested in. In any event, if you're interested in perhaps purchasing this book please visit the link below which will take you to ordering information through Amazon.com, the trusted online shopping network.
---
---