More Classic American Railroads (Volume II)
, By Mike Schafer
Whether Mike Schafer had planned on turning his "Classic American Railroads" into a series or the success of the first volume prompted doing so about four years later he released More Classic American Railroads in 2000. This second book follows up the first, released in 1995, and is also published by MBI Publishing. Just as in Classic American Railroads, Mr. Schafer continues his look at several of the best known historical lines to once operate in this country. In some ways the second title surpasses the first. While both are roughly the same length in size the second title highlights more lines, sixteen altogether (the first covered about a dozen). Just as with the other two titles I use this book extensively for research and reference purposes and certainly recommend anyone with an interest in trains to pick up a copy.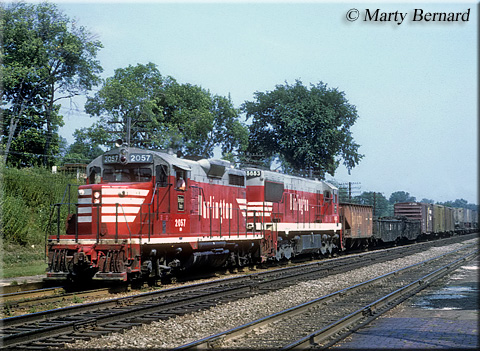 It is only a few months into the Burlington Northern era as former CB&Q GP20 #2057 and U28B #5653 lead a mixed freight past the station at Downers Grove, Illinois on August 29, 1970.
As in the Acknowledgements section of the first title, inMore Classic American Railroads Mr. Schafer discusses those whom helped the author put together book including well known historians/photographers like Ron Flanary, Jim Shaughnessy, Dave Ingles, and the late Jim Boyd. Some of these individuals also contributed photographs to this title as well as others. The foreword was written by Mr. Boyd himself, as he goes into the particulars of helping put the book together as well as discussing what it was like to live through the "classic" era of the 1950s and 1960s. Finally, in the introduction Mr. Schafer talks about what it was like to write the first book as well as what you can except to read about in More Classic American Railroads. Once again, he looks to give equal coverage to different areas of the country.
As I mentioned in the discussion of Mike's first book, the entire series is filled with not only wonderful color photographs of classic railroads but which are also quite large, sharp and vivid. In some cases pamphlets or advertisements are also presented although most of these are in the form of original timetable covers. The first railroad highlighted in the second book is the Bangor & Aroostook and this sort of carries a theme throughout the rest of the title, which carries on into a volume three, a look at some of the smaller classic systems. Other smaller lines featured in the More Classic American Railroads includes the the Wabash, Erie, Nickel Plate Road (the New York, Chicago & St. Louis), Chicago Great Western, Delaware & Hudson, and Lehigh Valley.
The early and colorful Conrail era. Seen here is Penn Central U25B #2618 (built as PRR #2518 in 1962), GP40 #3072 (built as NYC #3072 in 1967), former Reading GP35 #3638, and former Erie Lackawanna SDP45 #6680 at Blue Island Yard in Riverdale, Illinois on August 25, 1977.
Some of the larger and more prominent systems given mention include southern lines Chesapeake & Ohio, Seaboard Air Line, and Southern Railway. While all three of these railroads played an important role in the South, of especial note is the Southern. The highlight of the company in More Classic American Railroads is particularly interesting as especial interest in paid to the railroad's incredibly impeccable financial situation. During the darkest days of the industry between the late 1960s and early 1980s the Southern was actually a shining light earning monster profits and income during this period. Statistics are provided of just how much money the railroad made and it is quite startling. Perhaps even more interesting is that the management practices of both Southern and partner Norfolk & Western carried on today under Norfolk Southern.
Other large, notable lines covered in the book include the Missouri Pacific and Northern Pacific. In regards to the MoPac the book does a fine job of breaking down its complicated history as the railroad was not only comprised of numerous smaller companies (which is why it was often referred to as "Missouri Pacific Lines") but also dealt with a number of reorganizations over the years. The article discusses the role Jay Gould played in molding the MP as well as its final years until Union Pacific ownership. One particular point that is made vividly clear, although not perhaps intentionally, is the the overall size of the railroad. It was one of the largest in the west, making it somewhat ironic the company had such financial problems.
As with Mike Schafer's other books in the series More Classic American Railroads has an invaluable table within each article highlighting a number of important statistics about every railroad such as its route mileage, peak mileage, rolling stock/locomotive fleets, principle routes, and primary passenger trains. Additionally, every line includes an historic Rand McNally & Company period system map. Also, it is important to note, as Mr. Schafer points out himself in the book, that not every railroad's article was written by himself as he called upon help from others like Jim Boyd. And finally, every railroad throughout the three-book series is generally covered also discusses other aspects such as its passenger and motive power fleets. If you are interested in learning more about these specific areas please look into picking up a book on the subject or about the railroad itself.
A trio of Richmond, Fredericksburg & Potomac GP35s led by #132 run long-hood forward with a northbound freight through Center Street at Ashland, Virginia on June 25, 1972. The RF&P for years used even numbered locomotives on northbound runs and odd numbered units for southbound movements.
As I mentioned above all three of Mike Schafer's books covering fallen flags and other classic railroads remains an important resource tool within my collection. Whether you are interested in the history of the railroads themselves or just want a book of interesting photographs of the nostalgic days of the industry More Classic American Railroads is a great title. Also, if you have a young child, family member, or loved one with an interest in trains they are sure to enjoy either this particular title or the entire series. In any event, if you're interested in perhaps purchasing this book please visit the link below which will take you to ordering information through Amazon.com, the trusted online shopping network.
Related Reading You May Enjoy