The Mount Hood Railroad

The Mount Hood Railroad is a tourist railroad operating between Hood River, where it interchanges with the Union Pacific, and Parkdale, Oregon. Interestingly the Mount Hood has its roots dating back to 1906 and operated as an independent shortline until 1968 when it became part of Union Pacific. UP held on to the railroad until most of the freight traffic dried up in the region and was intending to scrap the line until a local group of railfans stepped in and saved it from being lost, taking over operations in 1987. Since then the railroad, while also serving a few shippers on the original route, has become a popular tourist destination with its stunning view of nearby Mount Hood.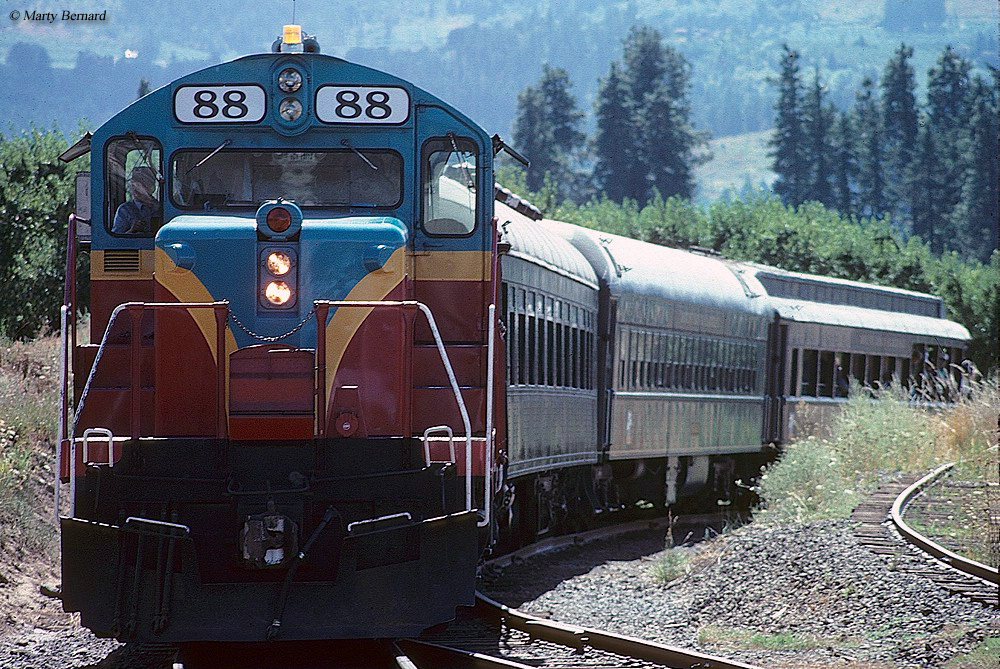 Mt. Hood Railroad GP9 #88 leads an excursion during September of 1991. The Geep began its career on the Southern Pacific in September of 1959 as #5889 (late renumbered 3885 as a GP9R).
While the Mount Hood Railroad is still very much a shortline freight railroad after it was saved from certain doom in 1987 it has become quite a popular tourist railroad offering two different excursions and several special trains throughout the year. From its earliest beginnings in 1906 (its current route between Parkdale and Hood River was opened in 1909) the Mount Hood served local farmers and timber interests throughout most of its life, interchanging this traffic with the Union Pacific at Hood River, a little town sitting along the banks of the beautiful Columbia River. The railroad remained an independent operation until UP took over its interest in 1968.
However, due to declining traffic on the route as shippers switched from rail to truck, or closed up shop altogether, the UP opted to abandon the route by the 1980s. Luckily, a group of local railfans stepped in and purchased the line before it could be scrapped. Today, the railroad has since been sold to Permian Basin Railways, which operates other shortlines aside from Mount Hood (such as the Arizona Eastern, San Luis & Rio Grande, Chicago Terminal Railroad, West Texas & Lubbock, and Texas-New Mexico Railroad) along with rail car repair services. Hopefully, under Permian Basin's ownership the railroad will remain a strong tourist line and continue to grow its freight services.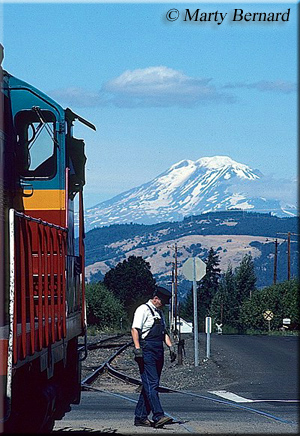 With majestic Mt. Adams looming in the background across the Columbia River in Washington State GP9 #88 is seen here at a grade crossing in Mt. Hood, Oregon during September of 1991.
The railroad currently operates two excursion trains, one to Odell (a 2 ½ hour ride) and one to Parkdale covering the entire 22-mile line, which takes about 4 hours. The railroad also operates several specials including fun train robberies, dinner trains, the Fruit Blossom Special, A Day Out With Thomas The Tank Engine, and Pumpkin Patch Express. They have also hosted the official Polar Express in years past but have not done so in recent years (while a very popular event it can be a bit pricey to host due to the franchising costs involved). Additionally, Mount Hood offers Murder Mystery Dinner Trains, western train robberies, fall foliage specials, and brunch trains during Mothers and Fathers Day. For equipment Mount Hood has two enclosed Pullman coaches, an open-air car, concession car, and a caboose. For power the railroad usually employs one of its three EMD four-axle diesel locomotives although it also has rare Lima diesels:
· #2 – EMD GP38-2
· #18 – Lima SC-3
· #20 – Lima SC-3
· #88 – EMD GP9
· #89 – EMD GP9
So if you are ever in Portland or visiting northwestern Oregon you should definitely considering stopping to visit by and ride aboard the Mount Hood Railroad, which will take you through some of the best scenery Oregon has to offer. Lastly, if you have the time please consider volunteering to help them with not only restoration work but also maintaining their railroad. I am sure they would very much appreciate the help!  For more information about the Mount Hood Railroad please click here to visit their website. It provides details about everything that they currently offer from available excursions to special events. Their site also provides information on how to reach the railroad, tours located nearby, and how to reserve trips in advance. Finally, if you have a Facebook account they operate a fan page so that you may keep up with the latest happenings on the railroad.
---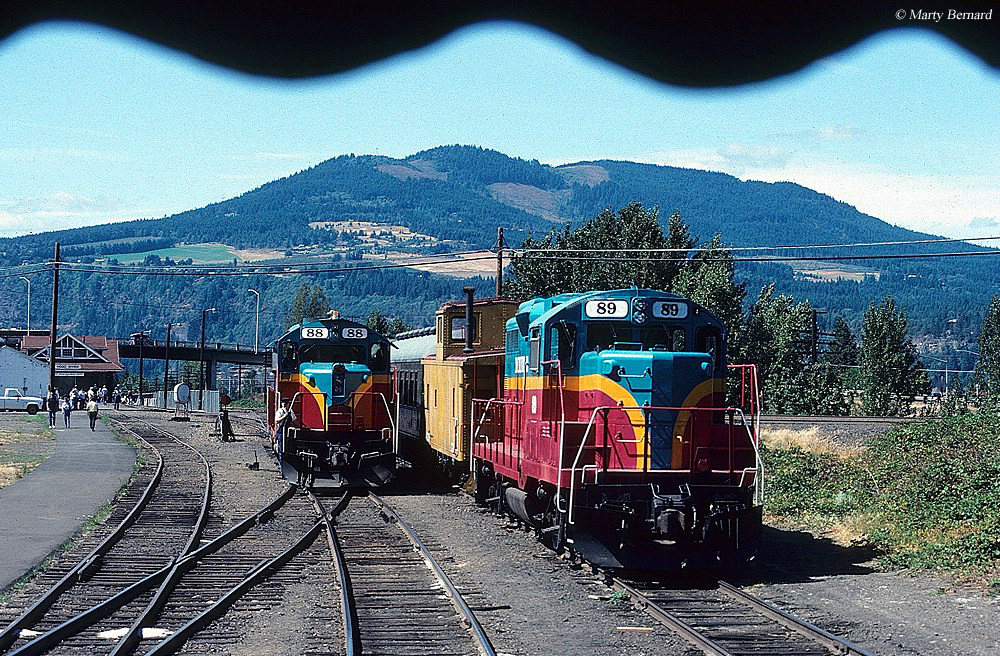 Mt. Hood GP9s #88 and #89 sit in the yard during September of 1991 (note the restored depot in the background); #89 started out on the Milwaukee Road as #306 in May of 1959.
For more information about excursion trains like the Mount Hood Railroad you might want to consider the book Tourist Trains Guidebook, which is put together by the editors of Kalmbach Publishing's Trains magazine. The guide below is the latest, released in just April, 2011 that now includes more than 470 museums and tourist trains giving brief descriptions and overviews of each organization. In any event, if you're interested in perhaps purchasing this book please visit the link below which will take you to ordering information through Amazon.com, the trusted online shopping network.