The Mount Rainier Scenic Railroad

The Mount Rainier Scenic Railroad is tourist railroad based out of Elbe, Washington operating over former Chicago, Milwaukee, St. Paul & Pacific (the Milwaukee Road) rails. For a small operation the railroad owns quite a large collection of operating steam locomotives although they are only operated when there are enough volunteers available to man them (the rest of the time diesel locomotives do the job). Regardless, the Mount Rainier Scenic operates in the spectacular Washington backcountry where logging was once king and today takes you on either an 18 or 30-mile round trip from the restored depot in Mineral. For those who live in the Puget Sound area considering stopping by to see this little for a quick day trip as it is located less than two hours away.
Pickering Lumber Heisler #10 leads an excursion during August of 1972 in rural Tuolumne County, California. Today, the geared locomotive, built in 1912, sits on display at the Mt. Rainier Scenic Railroad.
The Mount Rainier Scenic Railroad dates back to 1981 when it began operating former Milwaukee Road trackage that had been abandoned by that railroad upon it pulling out of the Pacific Northwest in 1980. The line was not part of the Milwaukee's primary route to Seattle and was a secondary branch that reached Morton. Its history dated back to 1887, originally built as a three-foot narrow-gauge, to serve coal mines and timber interests in the region. It was soon converted to standard gauge and renamed as the Tacoma Eastern Railroad. The Milwaukee gained control of the company by as early as 1901 and it proved to be a very profitable branch for the Class I (notably in regards to logging) all of the way through its bankruptcy in the late 1970s.
Since the Mount Rainier Scenic began it has steadily grown and today offers a number of different excursion trains pulled by an eclectic collection of steam locomotives, including all three types of geared steamers. The railroad's different excursion trains include a trip between Mineral and just past Divide, Washington, it's most popular and most often run excursion. This ride features an 18-mile round trip over several trestles. Another trip the Mount Rainier Scenic Railroad offers includes its run between Mineral and Morton, a long 30-mile round trip that is only run on special occasions. This latter trip was just recently added in 2007.
Aside from these two excursion trains the railroad operates several special trains including the Father's Day Express, BBQ Trains, Pumpkin Express, and much more. Lastly, you might also want to consider some of the other features the railroad offers including caboose rentals, lounge car rentals, cab rides in the locomotives, and tours of the facilities. All of their trains depart from the rebuilt Elbe depot. The railroad's usual operating schedule runs between late May and late September, although their special trains/events run all of the way through Christmas. The Mount Rainier Scenic Railroad's roster currently includes no less than nine steam locomotives, four of which are operational, with the rest awaiting restoration to some degree. Aside from the railroad's steam fleet they also own a number of diesels. A complete roster of the railroad is below:
Diesels
· MRSR #41 – American Locomotive Company RSD-1, Originally Rock Island #747. Stored Serviceable.
· MRSR #42 – Also S-1. Original owner unknown. Operational.
· MRSR #481 – EMD NW2. Original owner unknown. Operational.
· Great Northern #136 – EMD NW2, Originally Great Northern #5336. Operational.
Steam Locomotives
· Hammond Lumber Company #17 – American Locomotive Company (Alco) 2-8-2T.
· Pickering Lumber #11 – Three-truck Shay Geared Locomotive.
· Hillcrest Lumber Co #10 – Three-truck Climax Geared Locomotive
· MRSR #91 - Three-truck Heisler Geared Locomotive
Non-Operating Steam Locomotives
· #45 – Baldwin Locomotive Works 2-6-2
· Rayonier #70 – Baldwin Locomotive Works 2-8-2 Mikado. Under restoration.
· MRSR #5 - Porter 2-8-2
· Rayonier #2 – Three-truck Shay. Under restoration.
· #10 – Three-truck Hiesler Geared Locomotive
So, if you're ever in the Seattle/Puget Sound region consider taking the short drive south to Elbe, Washington to see the Mount Rainier Scenic Railroad and ride one of its excursion trains, which will take you through some of the best scenery one can see in the State of Washington. Lastly, if you have the time please consider volunteering to help them with not only restoration work but also maintaining their railroad. I am sure they would very much appreciate the help! To learn more about the Mount Rainier Scenic Railroad and planning a visit please click here to visit their website. It provides information concerning when they operate throughout the year, all of their special trains and events, pricing options, charter/group information, how to reach the railroad, and much more.
---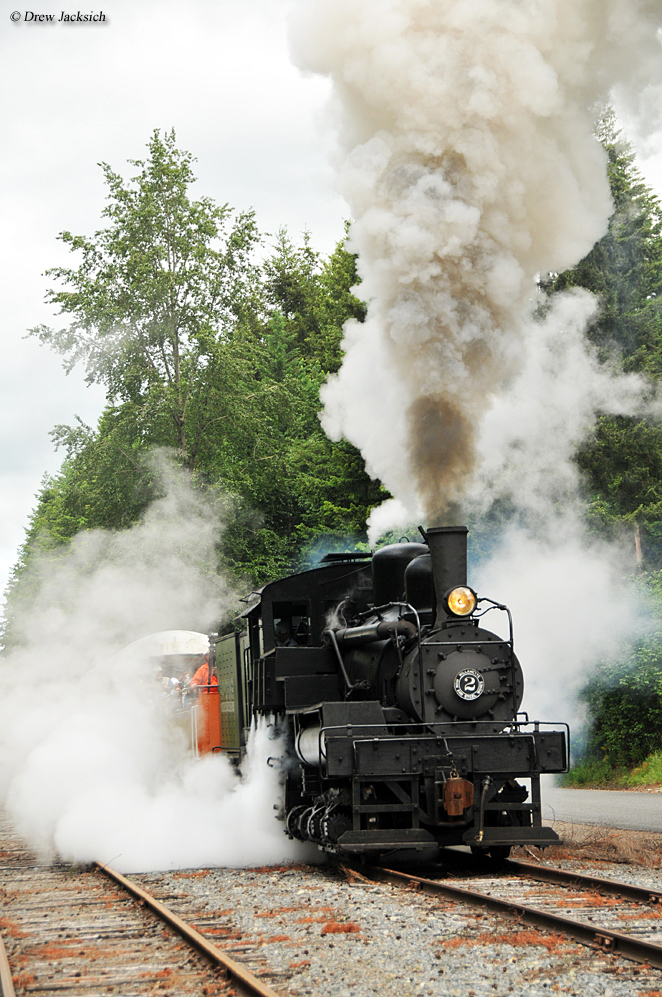 Great Northern NW2 #106 performs switching duties in Minneapolis as a crewman watches the photographer on June 8, 1964.
If you would like to learn more about the Milwaukee Road please click here. Also, for more information about excursion trains like the Mount Rainier Scenic Railroad you might want to consider the book Tourist Trains Guidebook, which is put together by the editors of Kalmbach Publishing's Trains magazine. The guide below is the latest, released in just April, 2011 that now includes more than 470 museums and tourist trains. In any event, if you're interested in perhaps purchasing this book please visit the link below which will take you to ordering information through Amazon.com, the trusted online shopping network.