The National Railroad Museum

The National Railroad Museum, located Green Bay, Wisconsin is one of the oldest and most respected such institutions in the country with its earliest beginnings dating back to 1956. It's interesting that this museum began as an endeavor to preserve a single steam locomotive in a local city park and has since snowballed into an institution that was recognized by Congress in 1958 as the National Railroad Museum with today a collection that features several dozen locomotives and even more rolling stock. In recent years the NRM came under fire for its handling of their most famous piece of equipment, Milwaukee Road 4-8-4 Northern #261. Leased by the Friend of the 261 since 1993 and operated on countless excursions it was in danger of being placed on permanent display until the museum decided to simply sell the locomotive to the group.
An A-B-A set of Milwaukee Road F7s have a merchandise freight at Sturtevant, Wisconsin on the afternoon of April 12, 1966. Note that by this date the Milwaukee had begun simplifying its paint scheme with the standard orange and black without the two-tone stripe.
The National Railroad Museum is based in Ashwaubenon, Wisconsin (near Green Bay) and was founded in 1956 by the locals of Green Bay who were interested in establishing a museum dedicated to the general history of American railroads and how they have helped to grow and shape this great country. By 1958 enough strings had been pulled to have Congress recognize the establishment as the railroad museum and provide it with needed funding. Property for the organization was located in southern Green Bay and their first display piece was Milwaukee Road 4-8-4 #261. Since then, the NRM has been able to amass quite a collection of steam and diesel locomotives, freight and passenger cars, and numerous other pieces of railroad memorabilia.
Aside from the NRM's large, and growing collection of locomotives and equipment it also features interactive and static displays (such as an entire room of original passenger train drumheads from various railroads around the country) in its indoor facilities. Aside from the drumheads other features include an operating model railroad, original railroad tower, and a short stretch of track that among other things plays host the very popular Day Out with Thomas event for kids. All in all, if you have the chance, a visit to the National Railroad Museum is one of the must-see such institutions in the country.
Given the National Railroad Museum's size it is somewhat surprising that they do not either operate their own excursion train or have one located nearby (such as the case with the Railroad Museum of Pennsylvania). In any event, the NRM does have two very nice indoor facilities, the Victor McCormick Train Pavilion and the Frederick J. Lenfestey Center, which houses most of their restored pieces. Aside from their exhibits and collections the museum also has activities available for youngsters including educational field trips hosted during April and also offers the Railroading Merit Badge for Boy Scouts, which are normally held during the fall each year.
In any event, as mentioned at the beginning of this article, the NRM has been criticized for its handling of Milwaukee Road #261 nearly electing to allow it to be shelved permanently. Additionally, the museum has received bad press in the historical and train enthusiast community for not doing enough to not only promote itself to the general public but also (and in particular) its apparent lack of interest in keeping its current collection better protected from the elements (such as Milwaukee Road E9 #38A). Despite this the NRM is still a worthy place to see and experience if you have the opportunity to do so.  Below is a list of some of the locomotives on display at the National Railroad Museum. For more information about visiting the National Railroad Museum please click here to discover everything available to see and do at the facility.
Diesel Locomotives
Chicago, Burlington & Quincy: EMD SD24 #510
Georgia Pacific Railway: Alco S-2 #63-146
Georgia Pacific Railway: Alco S-2 #63-180
Green Bay & Western: Alco C430 #315
Manistique & Lake Superior Railway: Alco S-3 #1
Milwaukee Road: EMD E9A #38A
Milwaukee Road: Fairbanks-Morse H-10-44 #767
Minneapolis & St. Louis Railway: EMD NW-1 #D538
Rock Island: AeroTrain Trainset
Soo Line: EMD GP30 #715
Southern Pacific: Alco S-6
St. Paul Union Depot: GE 44-Tonner #441
US Army Alco RSD-1: #8651
Electric Locomotives
Pennsylvania Railroad: GG1 #4890
Steam Locomotives
Chesapeake and Ohio Railway: K-4 Class 2-8-4 #2736
Lake Superior & Ishpeming Railroad: 2-8-0 Consolidation Type #24
London & North Eastern Railway/British Railways: A4 Class 4-6-2 #60008 Dwight D. Eisenhower
Duluth, Missabe & Iron Range Railroad: E-1 Class 2-10-2 #506
Pullman Car & Manufacturing Company: 0-4-0T #29
Santa Fe: 2-10-4 5011 Class Texas Type #5017
Soo Line: H-23 Class 4-6-2 Pacific Type #2718
Sumter & Choctaw Railroad: 2-8-2 Mikado Type #102
US Army: 2-8-0 Consolidation Type #101
Union Pacific: 4-8-8-4 Big Boy #4017
---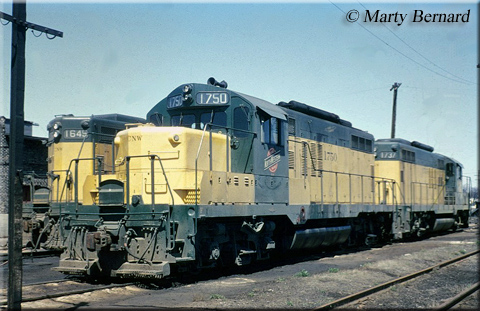 Chicago & North Western GP9s lay over at the road's Monona Yard in Madison, Wisconsin during May of 1966.
For more information about railroad museum's like the National Railroad Museum you might want to consider the book Tourist Trains Guidebook from the editors of Kalmbach Publishing's Trains magazine. The book lists and reviews over 400 excursions and museums found throughout the country and is an excellent resource, which has received superb reviews by readers, if you're looking for one to visit. In any event, if you're interested in perhaps purchasing either (or both) of these books please visit the links below which will take you to ordering information through Amazon.com, the trusted online shopping network.