The North Carolina Transportation Museums is also one of the only two locations, which keep a Day Out With Thomas locomotive on-site year round. Typically, the museum tries to showcase the famous character two or three times a year between September and October. Along with Thomas the museum offers other events just for kids including summer camps (offered each year, these camps typically are held during July and help teach kids the history of railroads and transportation as it affected the state of North Carolina) and Birthday Cabooses. Finally, the museum has special events for Boy and Girl Scouts as well.  As for the train rides themselves at the museum these are offered year-round; during the winter months it is usually just a day or two a week while during the warmer months rides usually run between Thursday and Sunday.
Preserved North carolina transportation museum Locomotives
Steam Locomotives
Atlantic Coast Line 4-6-0 #1031 (Built by the Baldwin Locomotive Works in 1913.)
Carolina Power & Light "Fireless" 0-4-0F #3 (Built by H.K. Porter in 1937.)
Duke Power 0-4-0T #111 (Built by the American Locomotive Company's Cooke Works in 1922.)
Graham County Railroad 3-Truck Shay #1925 (Built by the Lima Locomotive Works in 1925.)
Seaboard Air Line 2-10-0 #544 (Built by Alco's Brooks Works in 1918.)
Southern Railway 2-8-0 #542 (Built by Baldwin in 1903.)
W. R. Bonsal Company 0-6-0T #7 (Built by H.K. Porter in 1943 as U.S. Army #5012.)
Diesel Locomotives
Amtrak F40PH #307 (Built by Electro-Motive in 1979.)
Atlantic Coast Line E3A #501 (Operational.  Built by Electro-Motive in 1939.  The only example of its kind still in existence.)
Beaufort & Morehead H12-44 #1860 (Built by Fairbanks-Morse in 1953 as U.S. Army #1860.)
Duke Power 25-Ton Switcher #5951 (Built by General Electric in 1953.)
Norfolk & Western GP9 #620 (Operational.  Built by Electro-Motive in 1958.)
Norfolk Southern AS416 #1616 (Built by Baldwin in 1955.)
North Carolina State Ports Authority 45-Ton Switcher #L-3 (Built by General Electric in 1943.)
Southern Railway GP30 #2601 (Operational.  Built by Electro-Motive in 1963.)
Southern Railway/Cincinnati, New Orleans & Texas Pacific FP7 #6133 (Operational.  Built by Electro-Motive in 1950.)
Southern Railway E8A #6900 (Operational.  Built by Electro-Motive in 1951 as #2923.)
U.S. Army 44-Ton Switcher #7497 (Built by General Electric in 1943.)
U.S. Navy 44-Ton Switcher #65-00556 (Built by the Davenport Locomotive Works in 1953.)
Electric Locomotives
Piedmont & Northern Boxcab #5103 (Built by General Electric in 1913.)
In last few years NCTM's stature has risen immensely with several notable events and activities taking place there.  First, during the July 4th holiday in 2012, in conjunction with Norfolk Southern the museum held a large celebration 20 heritage locomotives adorned in liveries of predecessor railroads which make up the current NS system.  Two years later in the late spring of 2014 NCTM held the "Streamliners At Spencer" event with several pieces of historic equipment celebrating the sleek designs common during the last great age of passenger rail travel.  The ending of this event coinciding with the much anticipated restoration of Norfolk & Western J Class #611, which took place within the roundhouse.  The project was completed in May of 2015, returning the big 4-8-4 to excursion service.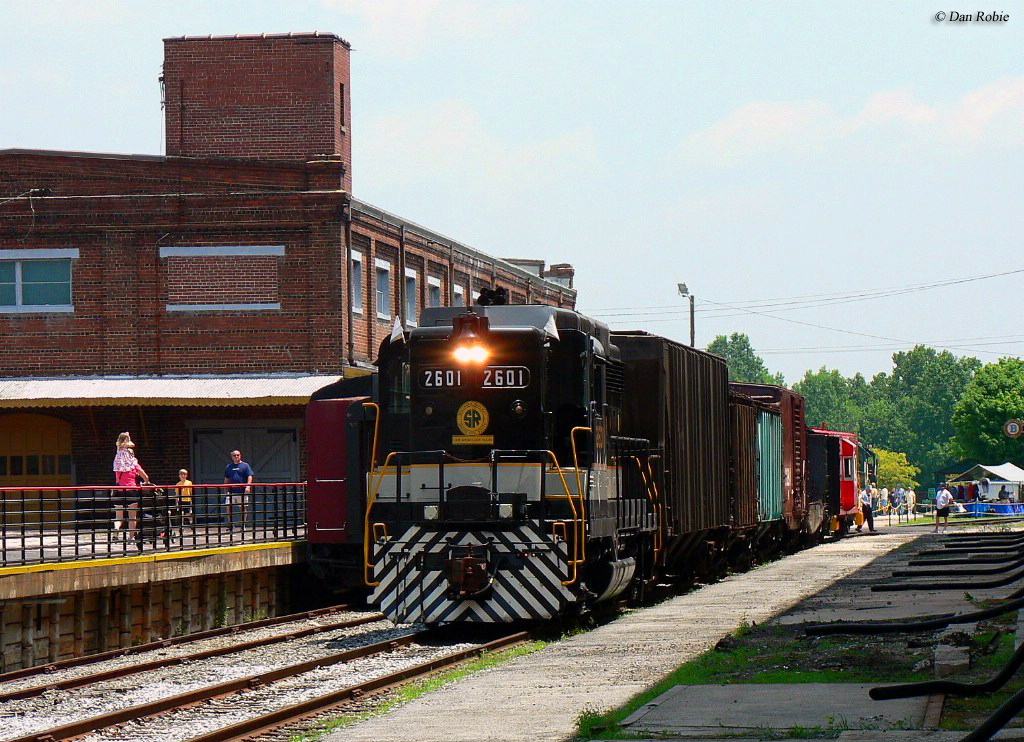 Southern hi-hood GP30 #2601 also pulls excursions, seen here on June 14, 2009. The Geep was built in October of 1963.
The train trips are not long, traveling about a mile or so around the 57-acre site and lasting for about 25 minutes. Additionally, the museum offers turntable rides, and other special events aside from Thomas the Tank Engine such as the Easter Bunny Express and Christmas excursions (they do not yet offer the true Polar Express experience although they do feature a Santa train and "Jingle Bell Express").  Everything listed here is just a sampling of what NCTM truly has to offer, which should be noted is not only rail-related. For instance, they also showcase historic aircraft, cars and trucks, other automobiles, and much more (such as smaller static display pieces).  For more information about the North Carolina Transportation Museum please visit their website.