If you are seriously interested in becoming a railroader it would do you well to research it all a bit beforehand (if you are not familiar with the industry). Railroading is one of those careers you truly have to enjoy, at least a little, to stick with it for twenty, thirty, or forty years. It requires one to be away from home for long periods of time with completely unpredictable hours. If you are interested in a more predictable work schedule and being with family often then life as a railroader probably isn't for you.  While Class Is, which offer the best pay in the industry, do not operate in New Hampshire CSX Transportation is located nearby and you may want to check into the railroad's available openings. Remember, though, that by hiring on with a Class I like CSX you will be located wherever they need you (which could be as far south as Florida or as far west as Chicago).
Short Lines And Regionals
Pan Am Railways: Pan Am Railways operates trackage formerly owned by historic lines like the Maine Central and Boston & Maine. It operates a regional railroad that stretches across southern Maine and into Massachusetts, Connecticut, New Hampshire and even Vermont (not all of its lines are connected, however).
Claremont Concord Railroad: This historic railroad dates back to the mid-19th century as the Claremont & Concord Railroad and today still operates between Claremont and Lebanon.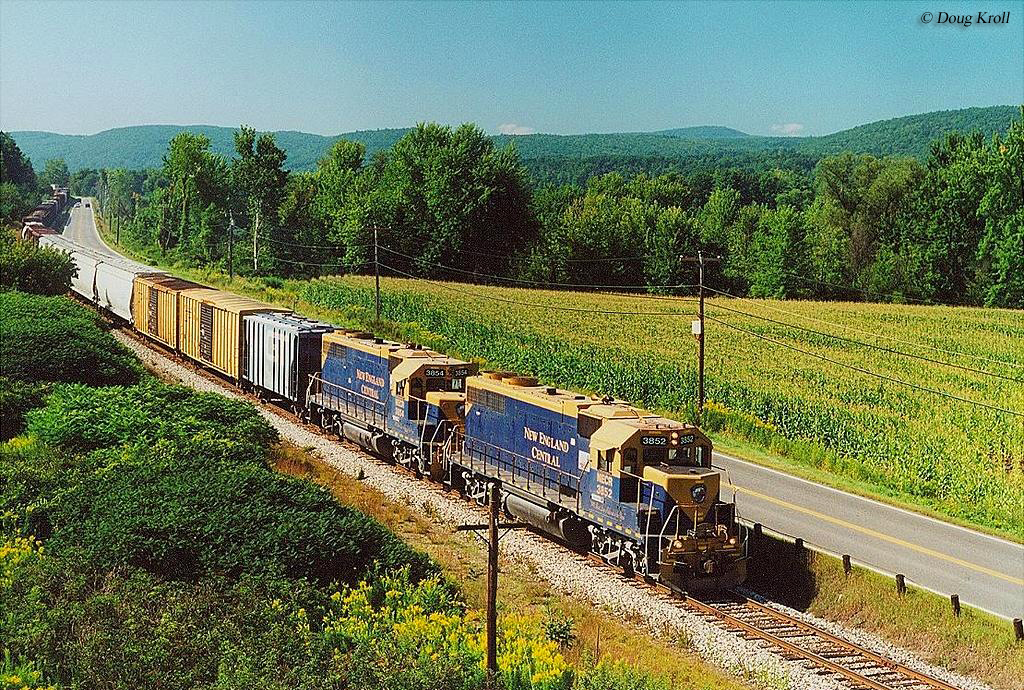 New England Central GP38s #3852 and #3854 lead train #323 along the Palmer Subdivision near South Charlestown, New Hampshire on August 26, 2000. The author notes that the line follows Highway 12 for several miles here.
New England Central Railroad: This large shortline, owned by Genesee & Wyoming operates nearly 400 miles of track between Connecticut, Massachusetts, western New Hampshire, and central/northern Vermont.
New England Southern Railroad: This railroad, based in Concord, operates a number of unconnected lines in the central part of the state. To contact the company; 8 Water Street, Concord, New Hampshire 03301-4844.
New Hampshire Central Railroad: This privately owned shortline operates two unconnected sections of track in western New Hampshire from Littleton to Groveton and also from North Stratford to Colebrook.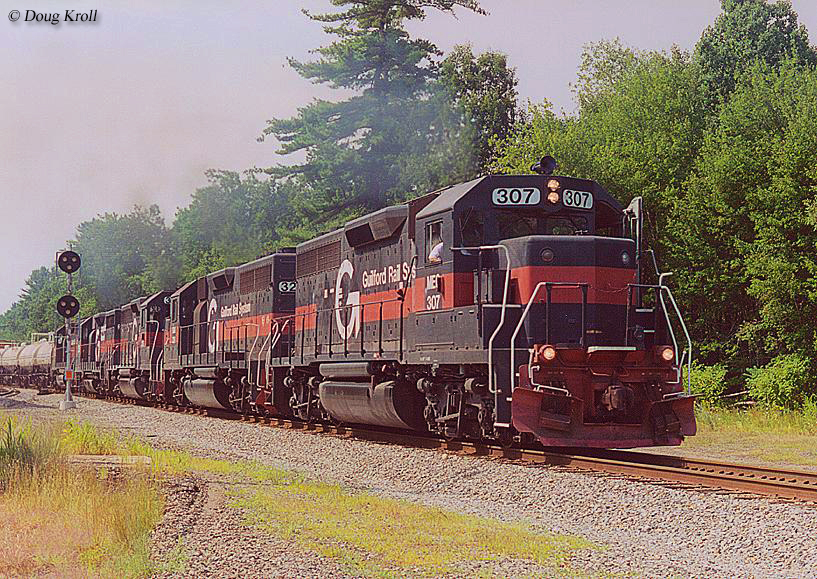 Guilford Rail GP40 #307 and a parade of mates have a northbound mixed freight in Rockingham County, New Hampshire as the train heads for Rigby Yard in Portland, Maine on August 16, 2002.
New Hampshire Northcoast: The NHN operates between Rollinsford and Ossipee, New Hampshire on a nearly 50-mile system formerly owned by the Boston & Maine. To contact the railroad; P. O. Box 429, Ossipee, New Hampshire 03864.

St. Lawrence & Atlantic Railroad: The StL&A is a Genesee & Wyoming shortline operating nearly 160 miles of trackage between Portland, Maine to Norton, Vermont crossing through northern New Hampshire.
---
---
Various Job Types



Brakeman



Conductor



Engineer


Signal Maintainer


Roadmaster


Tie Gang Laborer



Dispatcher


Trainmaster



Yardmaster