New Jersey Railroad Jobs
New Jersey's history with railroads dates back to the earliest days of the industry when the Camden & Amboy was chartered in 1830 (just three years after the Baltimore & Ohio). If you are interested in New Jersey railroad jobs, today the state is still home to several companies including three Class Is (CSX Transportation, Norfolk Southern, and Canadian Pacific), one Class II (the New York, Susquehanna & Western Railway), and a handful of smaller Class III, shortlines. Today, New Jersey mostly originates mixed, scrap, or waste freight hauled by rail as combined they make up 61% of the state's total.  To search for New Jersey railroad jobs directly please use the below search box from Indeed.com.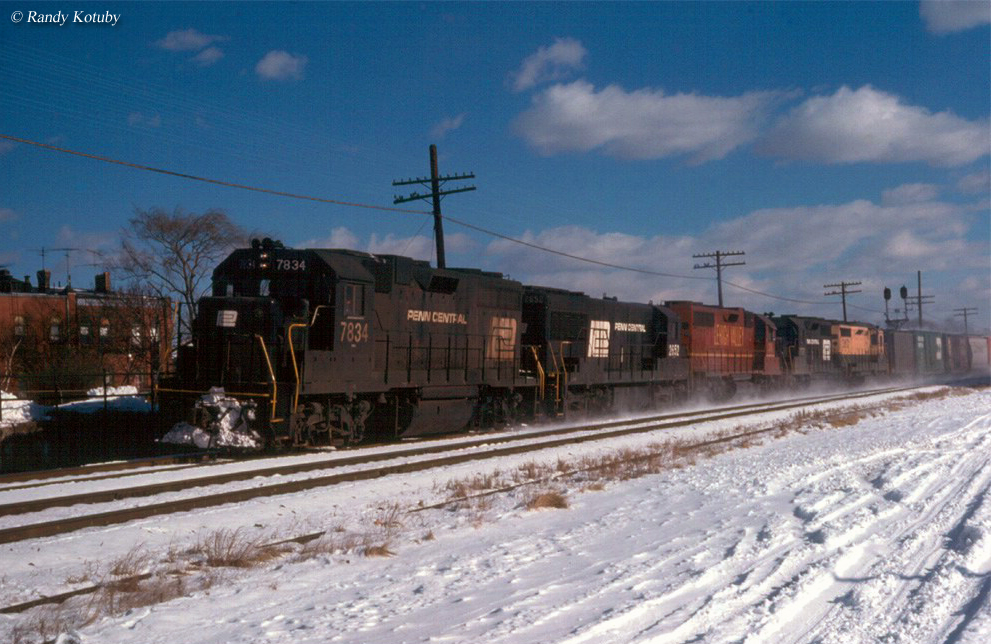 It's the early Conrail era although one would never know it in this scene as a set of five units, led by Penn Central GP38 #7834, remain unpatched as they hustle a mixed freight through the snow at Bound Brook, New Jersey on December 26, 1976.
Working in the railroad industry is not a career suited for everyone. So, if you are unfamiliar with trains and their operations you may want to take the time to learn more about them before deciding if it is truly something you want to do. Being a railroader is a very tough requiring one to be away from home and family on a regular basis. While hiring on with a smaller railroad offers better hours, Class Is offer the best pay in the industry along with excellent retirement and benefits (some Class I railroaders are able to earn a six-digit salary in a single year).  Also, if you are either in or plan to attend college and are interested in the fields of business (such as accounting, management, or economics) you may want to check out the career pages of the Class Is. Many offer summertime internships and graduate programs to help potential candidates get their "foot in the door" so to speak before they finish college (while the programs are aimed at grooming potential new hirees they offer excellent experience for whatever field you ultimately choose). Finally, the contact information listed below is accurate to my knowledge and I do apologize for any errors you may come across.
Short Lines And Regionals
New York, Susquehanna & Western Railway: This historic regional, also affectionately known as the "Susie-Q", the NYS&W dates back to the early 1880s and today connects New Jersey, New York, and extreme northeastern Pennsylvania (the railroad reaches as far north as Utica and Syracuse).

Belvidere & Delaware River Railway: This shortline is owned and operated by the Black River Railroad, which also runs excursion trains for the general public during the summer months.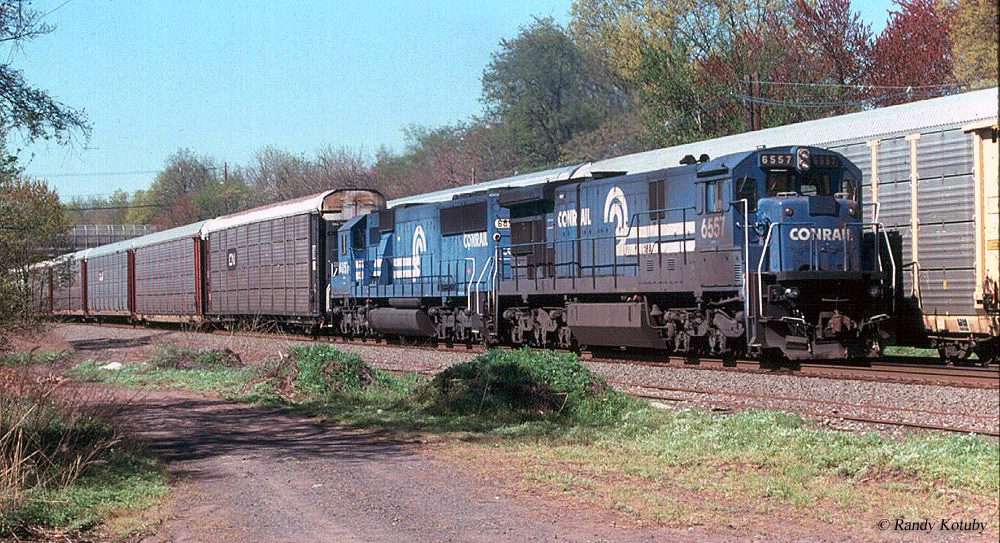 Conrail C30-7A #6557 and a mate have autorack train ML440 at Clark, New Jersey as it passes another on the next track over on April 29, 1999.
Black River & Western Railroad: This shortline was started in the mid-1960s initially as a tourist railroad. Today, it is owned by the Black River Railroad (headquartered in Ringoes, New Jersey) and also operates freight service.

Cape May Seashore Lines: This freight line and tourist railroad operates former Pennsylvania-Reading Seashore Lines trackage.
East Jersey Railroad & Terminal Company: To contact this terminal railroad; P. O. Box 67, Bayonne, New Jersey 07002-0067.

Hainesport Industrial Railroad: To contact the railroad: 5900 Delaware Avenue, Hainesport, New Jersey 08036-3667.

Morristown & Erie Railway: This historic shortline dates back to 1902 when it originally connected Morristown with Essex Falls. Today, the M&E operates three unconnected lines west of New York City. Additionally, the railroad operates the Maine Eastern Railroad and the Stourbridge Railway in Pennsylvania.

New Jersey Rail Carriers, LLC: This terminal railroad provides switching services for industries located in or near Kearny.

New York & Greenwood Lake Railway: The NY&GL provides switching services for a few industries near Passaic. To contact the company; 1 Wildwood Terrace, Glen Ridge, New Jersey 07028-2310.
New York New Jersey Rail, LLC: This terminal railroad provides switching services between Jersey City, New Jersey and Brooklyn, New York. It is the last surviving carfloat railroad remaining on the harbor (years ago there were dozens). The railroad has been in operation since the mid-2000s. 

Port Jersey Railroad: To contact the railroad; 203 Port Jersey Boulevard, Jersey City, New Jersey 07305.
Raritan Central Railroad: This railroad offers terminal and industrial switching services in Raritan serving two locations. The company also operates similar services for the city of Chambersburg, Pennsylvania.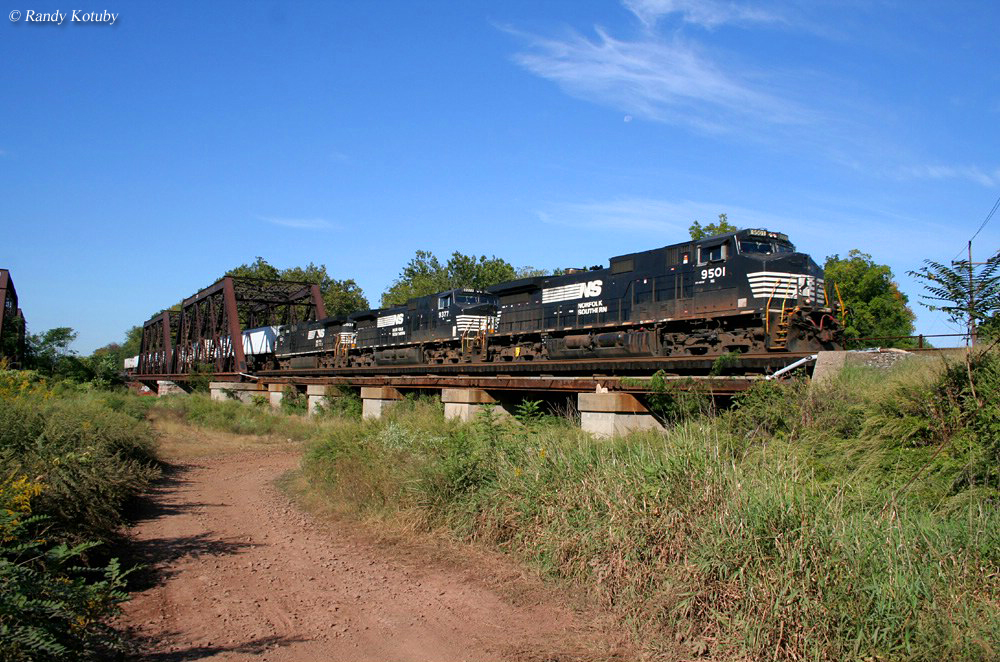 Norfolk Southern C40-9W #9501 and two mates lead a short train 212 eastbound near Manville, New Jersey on September 30, 2007.
SMS Rail Service, Inc.: Also known as SMS Lines, this shortline provides rail service for the Bridgeport, New Jersey region as well as Guilderland, New York.

Southern Railroad of New Jersey: This short line operates about 70 miles of former Central Railroad of New Jersey trackage.

Winchester & Western Railroad: The W&W's primary lines are located in northern Virginia and western Maryland. However, they also operate a few branch lines in New Jersey. To contact the railroad about jobs; 126 East Piccadilly Street, Winchester, Virginia 22601.