New Jersey Transit

New Jersey Transit, or NJ Transit as it is commonly called, is the largest commuter-railroading agency in the country stretching from New York City to Philadelphia and serving many of the suburban areas near the two cities. NJ Transit has been in operation since 1979 and was set up by the New Jersey Department of Transportation to provide reliable and efficient transportation to the New Jersey region. While NJT also offers bus services over its system it is best known for its commuter and light rail train services, which includes an incredible twelve commuter and three light railroad lines serving three different states!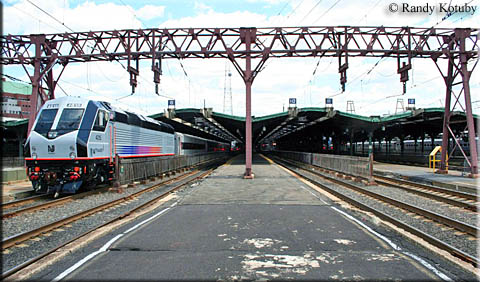 NJ Transit ALP-46 #1394 passes two other commuter trains with its bi-level consist at Rahway, New Jersey on May 22, 2009.
Along with Amtrak, state passenger railroading operations are gaining support and receiving increased attention and funding, particularly as highways become increasingly congested. Perhaps the two most noted states that are giving passenger railroading serious attention include North Carolina and California. Both are doing a magnificent job developing passenger rail corridors in their respective states, particularly North Carolina. If you are interested in seeing how a passenger rail network should be properly implemented, planned, and carried out have a look at what the Tarheel State is doing.
When NJT began operations in 1979 it relieved then Conrail of its commuter burdens, which had previously been operated by Conrail predecessors including the Pennsylvania Railroad, New York Central, Erie Lackawanna, and Reading Railroad. With better funding and more reliable service NJ Transit has become a very popular mode of transportation today for commuters heading to work in and around New York City and Philadelphia. Today, the commuter agency offers fifteen different rail lines of service with many more either planned or in the works. They are all briefly mentioned below:
Commuter Rail 
Northeast Corridor (NEC) and Princeton Branch: Between Trenton, New Jersey and New York City's Penn Station NJT operates over Amtrak's NEC, as well as serves a branch connecting Princeton, New Jersey.
While these trains appear to be going the same direction they are actually passing one another; GP40PH-2 #4108 is pushing its eastbound run while counterpart #4107 leads its consist westbound through Seacacus, New Jersey on May 24, 2006.
Morris & Essex Lines: Heading west from NYC's Penn Station these lines split near New Providence, New Jersey where one, the Morristown Line heads northwest to serve Hackettstown and another, the Gladstone Branch heads due west to serve Gladstone.
Raritan Valley Line: Connects Newark Penn Station with High Bridge, New Jersey.
Main Line: The Maine Line is the ex-Erie Railroad main line connecting Hoboken with Suffern, New York.
Bergen County Line: Connecting virtually the same two points as the Maine Line this route splits off for a time at Secaucus and heads north, paralleling the Maine Line to the east until Glen Rock where both lines merge.
Montclair – Boonton Line: Connects NYC's Penn Station with Hackettstown.
Pascack Valley Line: Heads north from NYC's Penn Station and connects Spring Valley.
Atlantic City Line: Connects the resort town of Atlantic City, New Jersey with 30th Street Station in Philadelphia.
North Jersey Coast Line:  Connects Bay Head, New Jersey with Lackawanna's former Hoboken Terminal.
Light Rail (LRT)
Hudson-Bergen Light Rail: The HBLR line runs 21 miles connecting Hoboken Terminal, Bayonne, and North Bergen.
River Line: A 20-mile line connecting Trenton and Camden, New Jersey.
Newark Light Rail:  Totals over 5 miles connecting such points as Newark and Bloomfield.
---
At the Lackawanna's historic Hoboken Terminal NJ Transit PL42-AC #4015 is about to lead its train out of the classic train shed on May 24, 2006. Note all of the other trains under the shed.
As New Jersey Transit continues to gain popularity it has several future extensions or proposals on tap. These include direct New York City – Atlantic City service (a 3-year trial that began in 2006); a light rail project connecting Newark and Elizabeth, the double-track Trans Hudson Express Tunnel that will serve its lines connecting NYC's Penn Station; the Sparta Branch which will serve communities northwest of downtown Manhattan; and most famous of all the currently defunct Lackawanna Cutoff, which was purchased the NJT in 2001 in hopes of connecting Scranton, Pennsylvania with Hoboken Terminal (a 7-mile section is in the works to be reopened as we speak). All in all, without New Jersey Transit not only would thousands of daily commuters have a difficult time finding a way their workplace but also its serves help to keep highways less clogged than they already are. For more information about New Jersey Transit and riding the system please visit their website by clicking here.