Today, New Jersey no longer features commuter trains of the PRR and CNJ, and passenger trains like the The Blue Comet (CNJ's premier train) and the Reading's Crusader but several state transit services continue to ferry commuters from suburbia to downtown Manhattan and other urban locations in the region. These include the ever-busy Northeast Corridor that sees over 300 daily trains of Amtrak and NJ Transit along with the latter's extensive commuter operations like the Hudson-Bergen line, Newark Light Rail line, and the RiverLINE between Trenton and Camden. PATH (Port Authority of New York) trains also serve Hoboken Terminal and Newark Penn Station, connecting both with points across the river such as Lower and Midtown Manhattan. 
Class I freight operations in the state are handled exclusively by Conrail Shared Assets, the neutral paper company that jointly serves Norfolk Southern and CSX freight trains (both also own the railroad). New Jersey also includes historic regional (Class II) New York, Susquehanna & Westernand a number of short line including; the Belvidere & Delaware River Railway, Black River & Western Railroad, New York & Greenwood Lake Railway, Cape May Seashore Lines, East Jersey Railroad & Terminal Company, Hainesport Industrial Railroad, New Jersey Rail Carriers, New York New Jersey Rail, Port Jersey Railroad, SMS Rail Service, Raritan Central Railway, Winchester & Western, Morristown & Erie Railway, and the Southern Railroad Company of New Jersey whose logo is inspired from the Jersey Central.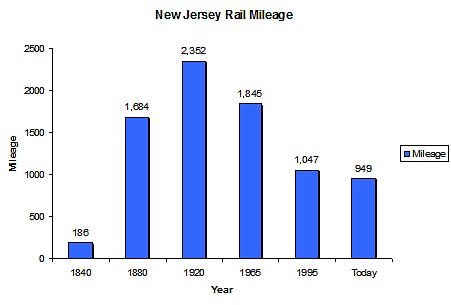 In total New Jersey today is home to just 950 miles of trackage. During the height of rail operations in this country the state boasted some 2,350 miles of track and has stunningly lost 60% of its infrastructure since the 1920s (in comparison, the average percentage loss among states is about 45%-50%). This can be attributed to two factors; first, of course, is the decline the industry experienced during World War II, particularly amongst Northeastern railroads that resulted in many lines serving New Jersey to be abandoned or cutback after most were absorbed into Conrail; however, additionally, the state has never been very rail-friendly since the 1960s and has had no problem in seeing or wanting rail corridors to be cutup or turned into trails. For a more in-depth look at the state's rail mileage over the years please have a look at the chart above.  If you tire of the commuter trains, however (which are prolific throughout the state), or are just looking for something different, New Jersey also feature several railroad museums and tourist railroads like the New York, Susquehanna & Western 2-8-2 #142 that operates seasonally and the New Jersey Museum of Transportation, which owns the famous sunken 1850-era 2-2-2s.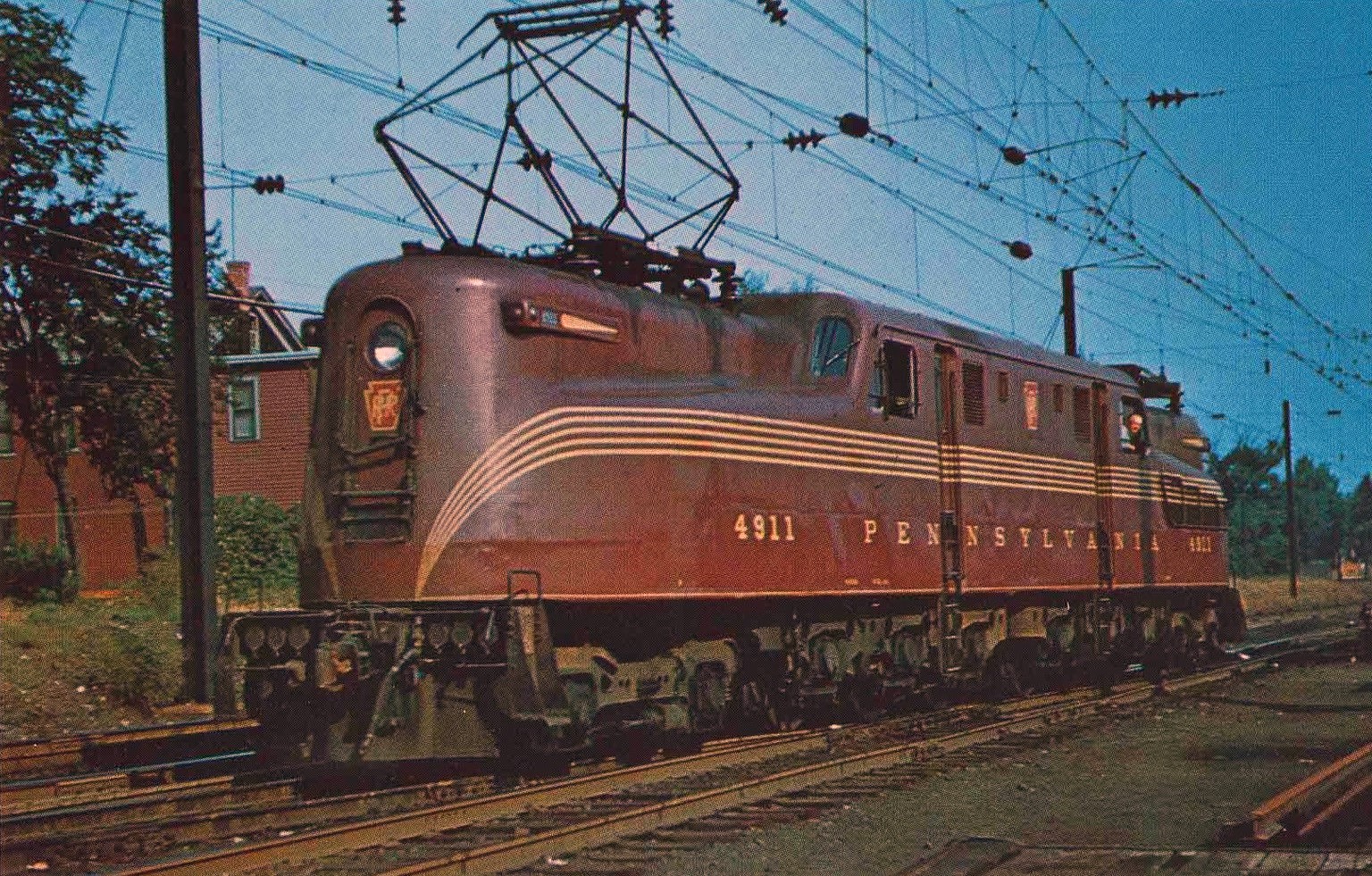 Today, while the CNJ's Jersey City Terminal no longer serves as a commuter rail station the Lackawanna's Hoboken Terminal is alive and well, and what's more the historic building is being completely restored with the ferry slips the final phase yet to be opened at which point passengers heading across the river to downtown Manhattan can once again board their ferry directly from these historic slips.  While the CNJ's famous four-track main line, Jersey City Terminal and legendary Newark Bay Bridge either no longer stand or serves in its original capacity, New Jersey railroads are rich in history and feature a wide variety of operations that should appeal to whatever interests you may have from commuter and high-speed rail to freight trains and railroad museums.
Related Reading You May Enjoy


Home

›

The States

› New Jersey