Norfolk Southern Railway Careers

If you are interested in Norfolk Southern Railway careers you will be working for a company that is the most efficient Class I railroad in the country boasting a very low operating ratio while earning healthy profits (despite the fact that it is smaller than rival CSX Transportation). However, this is actually nothing new. The railroads which primarily formed the company in 1982, Southern Railway and Norfolk & Western, were likewise very well respected for years due to their sound management practices and efficient operations. With its addition of Conrail in 1999, NS, like CSX, now operates in most states east of the Mississippi River.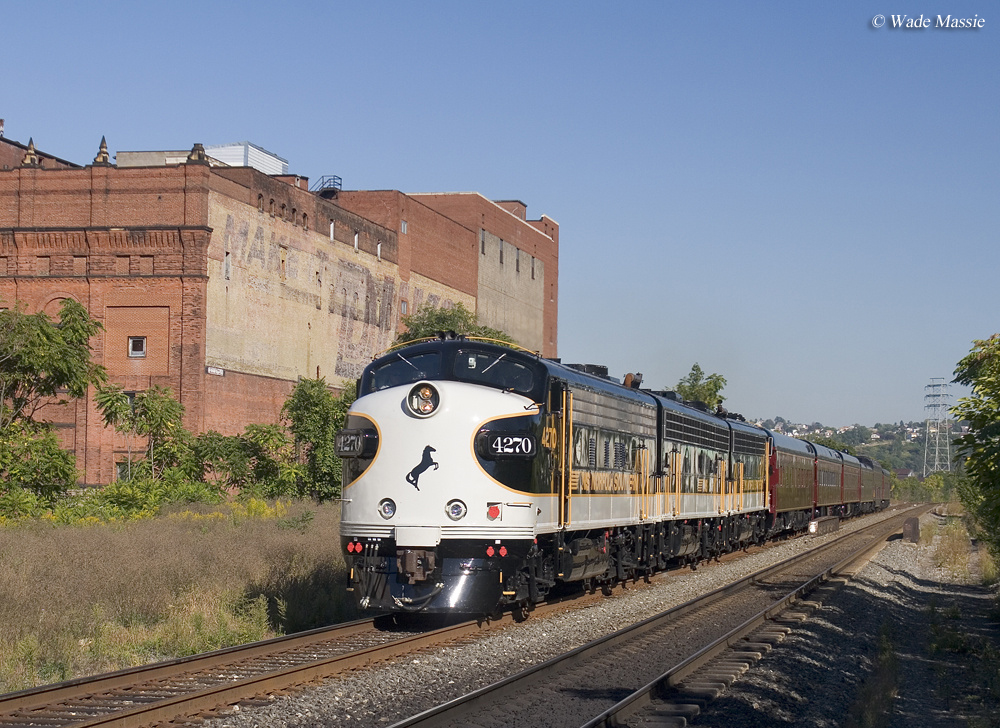 Norfolk Southern's "Office Car Special" led by F9A #4270 rolls through the south side of Pittsburgh, Pennsylvania on September 24, 2007. The F units wear a paint scheme inspired from Southern's freight livery.
While the Norfolk Southern Railway has been lauded for its sound management and efficient operations the company has sometimes received a rather poor reputation for its work environment where it has been criticized for being extremely strict. In truth I cannot state this with certainty, as it is only what I have read although it is something to keep in mind if you are looking to apply for a position within the industry. Also, of note, is that what I have heard only applies to the transportation field and I am not sure if it would also be the case for other areas within the company. Despite this criticism, Norfolk Southern Railway careers in management offer excellent co-op and intern programs so if you are in college and interested in the field you may want to look into what the company has to offer.
In terms of its size, Norfolk Southern is actually the smallest Class I in the United States behind only Kansas City Southern. Despite this, the railroad boasts the third highest profits behind only BNSF Railway and Union Pacific. While NS does not penetrate the Northeast or Florida as deeply as rival CSX it serves virtually every other eastern state reaching as far west as New Orleans to the south, Kansas City in the Great Plains, and of course, Chicago. Please keep in mind that if you decide to go into the fields of transportation or maintenance you will be based wherever NS needs you, which could be anywhere between New York, Illinois, Georgia, and Louisiana.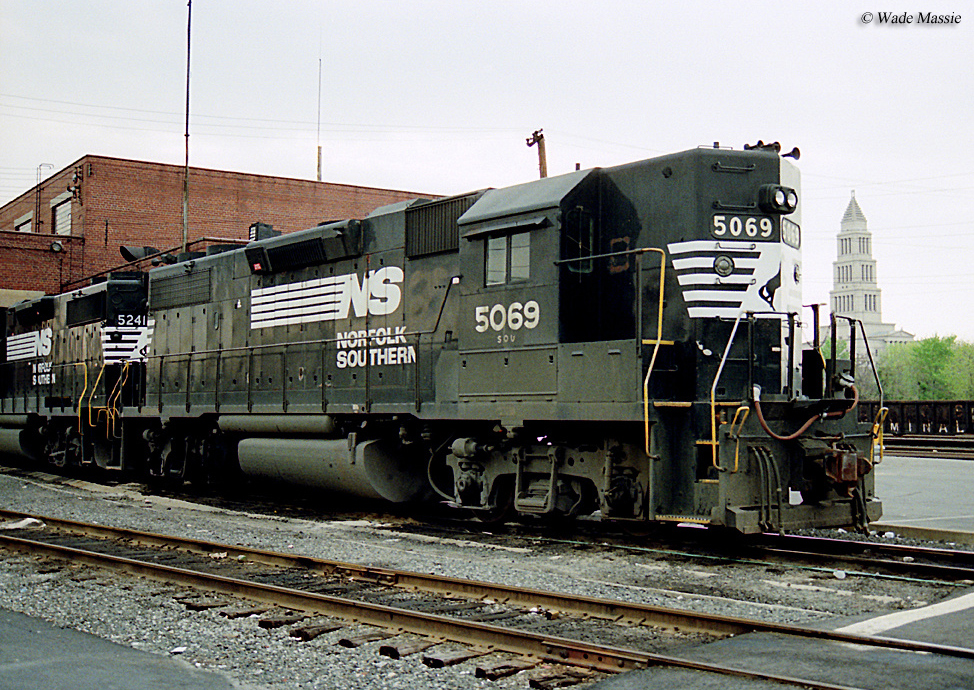 A pair of NS GP38-2s #5069 and #5241, sit just outside the shop at the Southern's old Duke Street Yard in Alexandria, Virginia during the spring of 1989. The facility was redeveloped a few years after this photo was taken.
To give you an idea of what it means to be termed a "Class I" railroad, this is a name given by the Association of American Railroads (AAR) listing the largest such companies in North America by annual revenue. Today, there just seven of these companies including CSX Transportation, Union Pacific, Canadian National, Canadian Pacific, BNSF Railway, and Kansas City Southern. To learn more about Class I railroads please click here to visit the section of the website which covers the subject in more detail.
If you do decide, or are interested in, the true railroading aspect of the industry (i.e., jobs like conductors, engineers, roadmasters, signal maintainers, etc.) please let me stress that this type of work is not exactly for everyone. Hours on the job and away from home can be extremely long and perhaps more than even the physical demands of the job, fatigue becomes the biggest issue for railroaders. So, please keep in mind when deciding if railroading is right for you.

---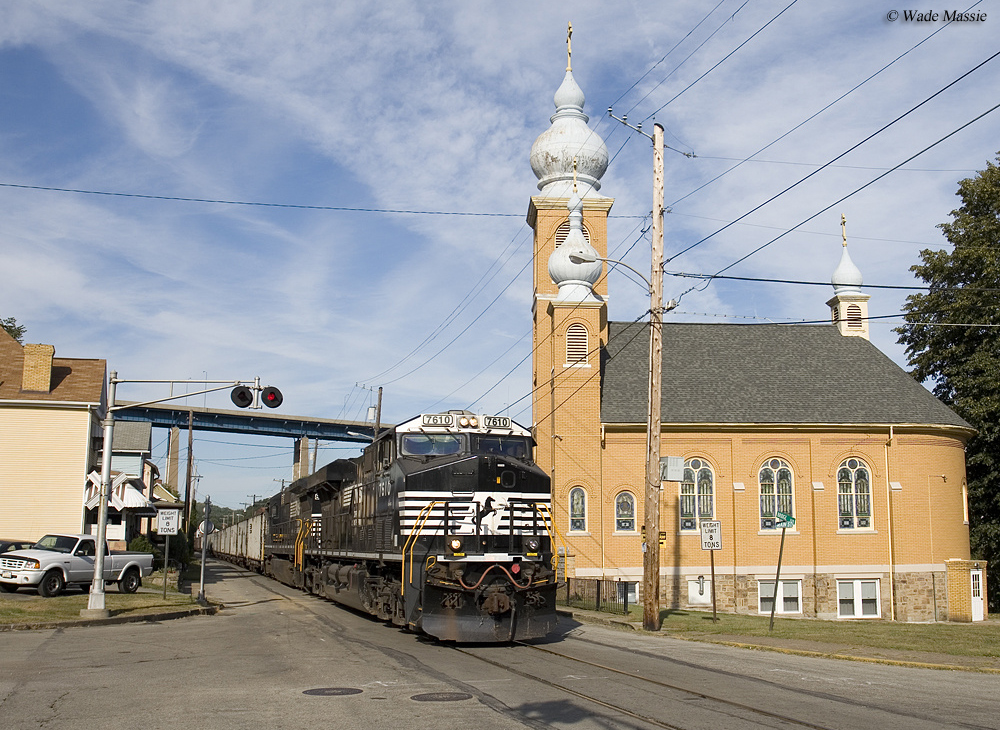 Norfolk Southern ES40DC #7610 leads an empty string of coal hoppers down Main Street in West Brownsville, Pennsylvania on August 25, 2008.
Of course, there are plenty of upsides to being a railroader including excellent pay, retirement, and benefits.  In the end it will be a personal decision on your part to decide if a career in the industry, whatever the position, is right for you.  To search for careers with NS please feel free to use the search box below from Indeed.com, one of the leading online career resource guides. Finally, for more information regarding Norfolk Southern careers please click here to visit their official page, which also includes information about management internships and co-ops for college students.