Norfolk Southern Railway, The Thoroughbred Road

Today's Norfolk Southern Railway was mostly formed out of desperation. Once the Southern and Norfolk & Western Railways realized that the Chessie System and Seaboard Coast Line Industries were seriously planning a merger they knew their railroads would be completely dwarfed and surrounded by this gargantuan new railroad. Also realizing that there were few other options of merger partners, especially after the collapse of the Northeastern rail market, after much discussion in the late 1970s they came to a merger agreement and were formally merged to form the new Norfolk Southern Railway, a division of Norfolk Southern Corporation.  Since that time NS has further expanded, adding a little more than half of the Conrail network to its system beginning in mid-1999.  Today, the railroad is one of the most well-managed and run Class Is in the country and its future looks very strong.

Still in Southern paint, GP38 #2728 leads a Norfolk Southern freight southbound through Ashland, Virginia with help of three counterparts having just exited Potomac Yard along the RF&P during the summer of 1989.
Although both competed in similar markets, in many ways the Norfolk & Western and Southern were a good fit for another. Perhaps the one most important factor the two lines had in common were their management styles, which allowed for a rather smooth transition when the merger took place. While the Norfolk Southern Railway has often been criticized for its very structured management style which does not allow for much deviation, even amongst its own employees, this is the very reason why the company is successful and able to earn far more profits than its larger neighbor, CSX, all the while carrying a much lower operating ratio.
The 1999 acquisition of Conrail, jointly split with CSX, was perhaps the most important and critical time in the company's history. If CSX had been allowed to purchase Conrail outright, not only would NS have been entirely surrounded but also it could never again effectively compete with CSX, even if it was able to run a railroad much more efficiently and effectively than CSX. NS had been interested in Conrail for some time because it would add an important addition the railroad needed, direct lines to the markets of New York City and Philadelphia which Conrail had been effective in developing and exploiting by becoming a intermodal (i.e., the movement of ship containers which can be moved via over-the-road trucks as well) juggernaut moving containers between Chicago and the Northeast.
Norfolk Southern SD60 #6559 and a mate pass the old Norfolk & Western signals at milepost 104.8 at Ford, Virginia with a string of empty coal hoppers on November 22, 1991.
Not only was intermodal the wave of the future but NS also did not contain an effective business in such and had CSX gained complete control of the Northeast it would only have been a matter of time before NS was gobbled up as well, mostly likely by a Western road (by rules of competition, CSX would not have been allowed to purchase NS and control the entire Eastern rail market). So, thus began the battle for Conrail in the mid-1990s when CSX announced its intentions of purchasing the railroad outright. Through an aggressive bidding war NS was able to not only buy into Conrail but also was able to take the most profitable routes.
In 1999 the merger split was finalized, with a division of Conrail known as Conrail Shared Assets to operate a portion of the railroad in New Jersey jointly owned between CSX and the Norfolk Southern Railway. With the merger completed NS was able to diversify its traffic base much more broadly and became known as much for its intermodal business as for its traditional coal traffic in western Virginia, West Virginia, Kentucky, and Tennessee.
The above map gives a family tree of the largest railroads which have made up Norfolk Southern Railway. Not included within this map are the numerous subsidiaries of the Southern, which were part of the railroad for decades such as the Savanna & Atlanta, Alabama Great Southern, Cincinnati New Orleans & Texas Pacific, Georgia Southern & Florida, and numerous others.  Three of the more notable systems are listed below; the original Norfolk Southern, Tennessee Alabama & Georgia, and Norfolk Franklin & Danville. More information about each can be found in the below links:
Akron, Canton & Youngstown Railroad
New York, Chicago & St. Louis Railroad (Nickel Plate Road)
Norfolk, Franklin & Danville Railway

Original Norfolk Southern Railway

Tennessee, Alabama & Georgia Railway ("The Tag Route")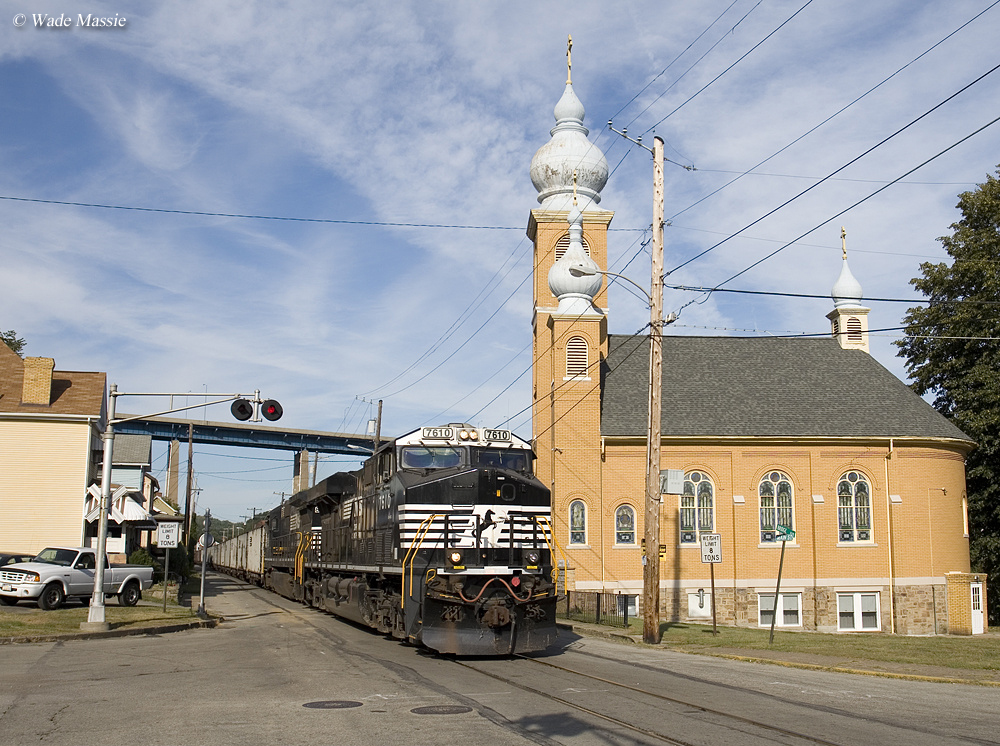 Norfolk Southern ES40DC #7610 leads an empty string of coal hoppers down Main Street in West Brownsville, Pennsylvania on August 25, 2008.
The Conrail merger at first overwhelmed both the Norfolk Southern Railway and CSX. However, NS was able to quickly stabilize itself and effectively meld Conrail into its system, much more so than CSX, which is still struggling with its half (although CSX is finally beginning to show improvements itself).
Norfolk Southern Railway Careers

If you are interested in Norfolk Southern Railway careers you will be working for a company that is the most efficient Class I railroad in the country boasting a very low operating ratio while earning healthy profits (despite the fact that it is smaller than rival CSX Transportation). However, this is actually nothing new. The railroads which primarily formed the company in 1982, Southern Railway and Norfolk & Western, were likewise very well respected for years due to their sound management practices and efficient operations. With its addition of Conrail in 1999, NS, like CSX, now operates in most states east of the Mississippi River.
While the Norfolk Southern Railway has been lauded for its sound management and efficient operations the company has sometimes received a rather poor reputation for its work environment where it has been criticized for being extremely strict. In truth I cannot state this with certainty, as it is only what I have read although it is something to keep in mind if you are looking to apply for a position within the industry. Also, of note, is that what I have heard only applies to the transportation field and I am not sure if it would also be the case for other areas within the company. Despite this criticism, Norfolk Southern Railway careers in management offer excellent co-op and intern programs so if you are in college and interested in the field you may want to look into what the company has to offer.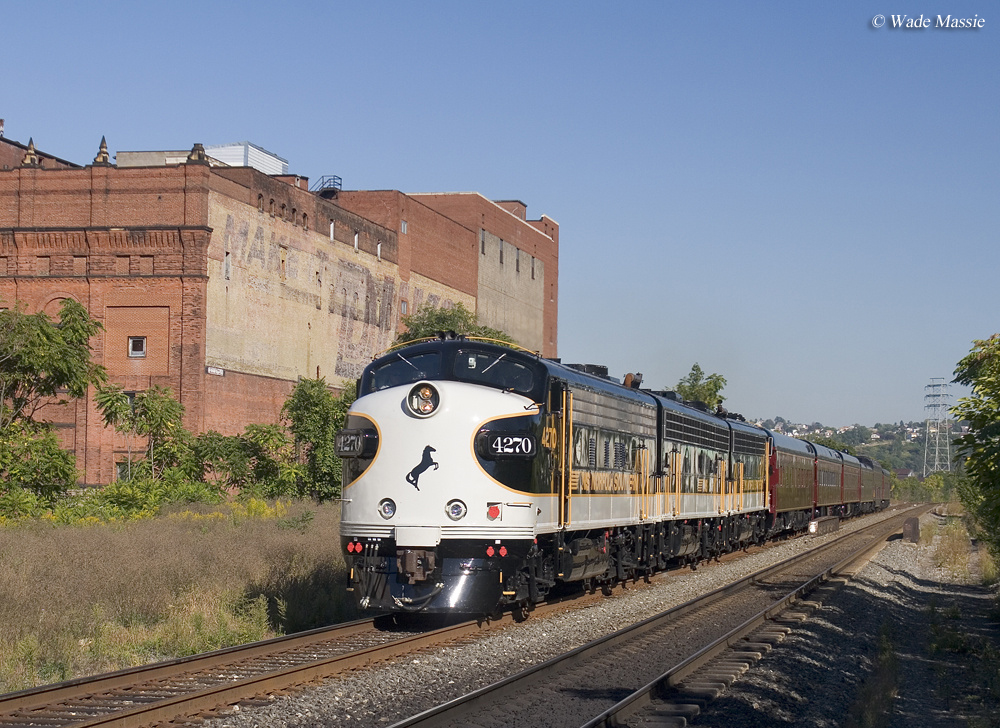 Norfolk Southern's "Office Car Special" led by F9A #4270 rolls through the south side of Pittsburgh, Pennsylvania on September 24, 2007. The F units wear a paint scheme inspired from Southern's freight livery.
In terms of its size, Norfolk Southern is actually the smallest Class I in the United States behind only Kansas City Southern. Despite this, the railroad boasts the third highest profits behind only BNSF Railway and Union Pacific. While NS does not penetrate the Northeast or Florida as deeply as rival CSX it serves virtually every other eastern state reaching as far west as New Orleans to the south, Kansas City in the Great Plains, and of course, Chicago. Please keep in mind that if you decide to go into the fields of transportation or maintenance you will be based wherever NS needs you, which could be anywhere between New York, Illinois, Georgia, and Louisiana.  If you do decide, or are interested in, the true railroading aspect of the industry (i.e., jobs like conductors, engineers, roadmasters, signal maintainers, etc.) please let me stress that this type of work is not exactly for everyone.
Hours on the job and away from home can be extremely long and perhaps more than even the physical demands of the job, fatigue becomes the biggest issue for railroaders. So, please keep in mind when deciding if railroading is right for you. Of course, there are plenty of upsides to being a railroader including excellent pay, retirement, and benefits.  To search for Norfolk Southern Railway careers please feel free to use the search box below from Indeed.com, one of the leading online career resource guides. Finally, for more information regarding Norfolk Southern Railway careers please click here to visit their official careers page, which also includes information about management internships and co-ops for college students.
---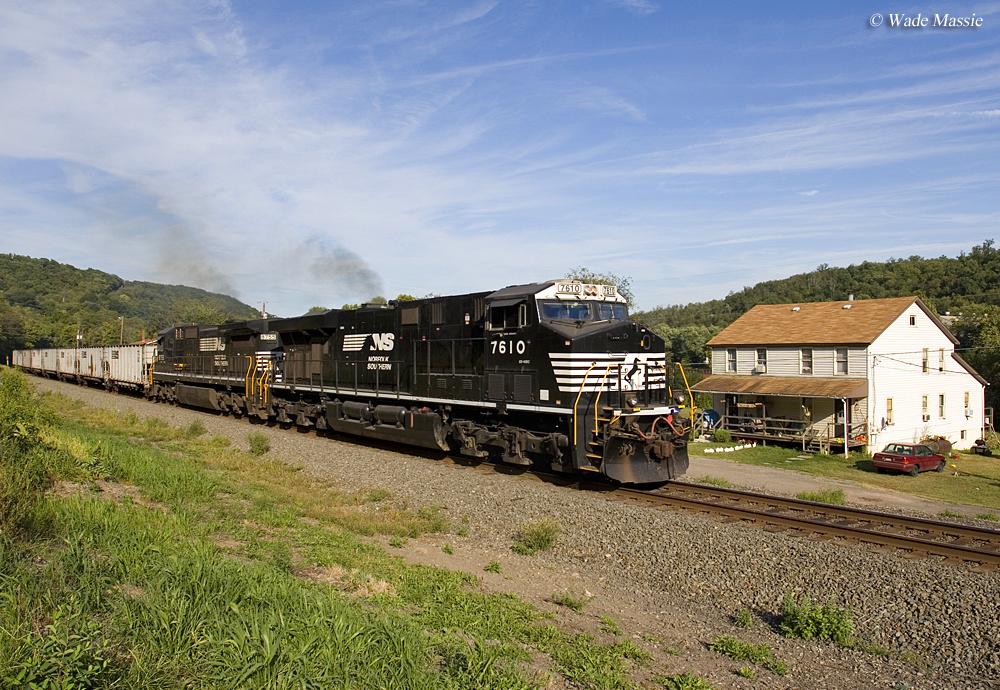 NS ES40DC #7610 leads empty coal train #NO9 through rural Denbo, Pennsylvania near the Monongahela River on August 25, 2008.
For more information about the Norfolk Southern Railway please click here to visit their official website. Today Norfolk Southern is a moneymaking machine, much like it was before Conrail and even during the days of its predecessors, the Southern and Norfolk & Western Railways. Given the company's sound management and business practices the future looks bright for Norfolk Southern and it will be curious to see what happens with the railroad when the merger movement begins again at some point in the future. For more reading on NS, consider the book Norfolk Southern Railway by author Richard Borkowski. The author does a great job of giving a general history of the railroad from its earliest beginnings in 1982 to its present day system that includes Conrail. Along with being filled with photographs if you have any interest in the present-day Norfolk Southern system you will very likely enjoy this book. If you're interested in perhaps purchasing this book please visit the link below which will take you to ordering information through Amazon.com, the trusted online shopping network.
Adam Burns, Site Author